Posted By Cliff Tuttle | June 3, 2012
No. 846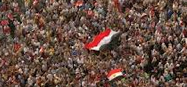 A court in Egypt sentenced former President Mubarak to life for the murder of protesters.  This sparked public outrage, as reported in the Wall Street Journal.
What a breath of fresh air.  Democracy is experiencing a violent birth in one of the world's oldest civilizations.  It would have been politically expedient for a court to give Mubarak and other members of his former government a death sentence.  The fact that it did not happen says that the judiciary in Egypt is not a politically-driven institution.
CLT
|
Comments Off

on Life or Death in Egypt.
Comments