Recently Written
Categories
Archives
Blogroll
Posted By Cliff Tuttle | June 3, 2012
No. 846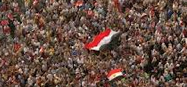 A court in Egypt sentenced former President Mubarak to life for the murder of protesters.  This sparked public outrage, as reported in the Wall Street Journal.
What a breath of fresh air.  Democracy is experiencing a violent birth in one of the world's oldest civilizations.  It would have been politically expedient for a court to give Mubarak and other members of his former government a death sentence.  The fact that it did not happen says that the judiciary in Egypt is not a politically-driven institution.
CLT
|
Post a Comment
Comments
Welcome
CLIFF TUTTLE has been a Pennsylvania lawyer for over 40 years and (inter alia) is a real estate litigator and legal writer. The posts in this blog are intended to provide general information about legal topics of interest to lawyers and consumers with a Pittsburgh and Western Pennsylvania focus. However, this information does not constitute legal advice and there is no lawyer-client relationship created when you read this blog. You are encouraged to leave comments but be aware that posted comments can be read by others. If you wish to contact me in privacy, please use the Contact Form located immediately below this message. I will reply promptly and in strict confidence.
Search
Admin