Posted By Cliff Tuttle | December 22, 2012
No. 923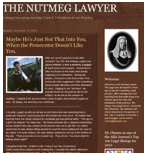 Here's what you get when you go to nutmeg lawyer.com.  If you followed the link and came back, be advised that the person in the picture is not Adrian Baron, the author of the prize winning law blog called Nutmeg Lawyer.
Now try thenutmeglawyer.blogspot.com.
But "nutmeglawyer.com" was (until tonight) the url I used to reach the real Nutmeg Lawyer from my blogroll. (I think) The last time I clicked the link on my blogroll it worked fine.  Tonight, not so much.
So I checked for Nutmeg Lawyer on the AVVO list of  top legal blogs. The imposter came up. On the other hand, the correct blog came up when I clicked the link on the ABA Journal's directory of Top Blogs web page.
Perhaps Adrian has given up blogging.  I could understand that.  A new post hasn't appeared since September. But you would expect at least a farewell message.  At least.
So what happened? Was the url nutmeglawyer.com hijacked? Or was it sold? Or was the url in my blogroll and the AVVO list changed?  Can such a thing be done?  A check of other links in other blogs were okay.  What gives?
Hey, Adrian!  If you are out there, enlighten me.
CLT
|
Post a Comment
Comments