Posted By Cliff Tuttle | January 24, 2013
No. 932                  The Antisocial Behavior of Horace Rumpole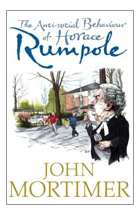 We thought we had heard the last of Horace Rumpole, several times. Last time out (2005) he told us the story of the Penge Bungelow Murders, his great early case that put a very young Rumpole on the front page of the Sunday Times.  He more or less said goodbye at the end of the book. But no  —  in his parlance, he keeps coming back like a bloody opera singer.
Fabulous!  At the beginning of the story, we find Rumpole pining for a good murder.He is putting up with the pettiness of Soapy Sam Ballard, the evangelical Christian head of chambers, in the hopes of receiving a brief for a murder case.
Meanwhile, Rumpole's old nemesis, Judge Bullingham, the Bull, who is now a high court judge, has been playing a lot of bridge with Hilda Rumpole.  Hilda has decided, after all these years, to read for the law.
You can get it on audiobook (just released) from Audible, if you want.  Then sit back in an overstuffed chair with a glass of Chateau Thames Embankment plonk and journey in your mind to the Old Bailey, where Rumpole will entertain, amaze and otherwise improve your education.
CLT
|
Comments Off

on Rumpole Redux!
Comments