Posted by Cliff Tuttle| September 22, 2018 | © 2018
No. 1,561
If Judge Kavenaugh had never been nominated to the Supreme Court, no one would have heard the accusations made by Dr. Ford.  She is stepping forward only because he was nominated to the Supreme Court and is about to be confirmed by the Senate.
She says she didn't tell her parents about the sexual assault at the time because she obviously wasn't supposed to be at a drinking party.  They would probably have grounded her for that and for sneaking around and for getting drunk. And justly so.
But there was more to her motivation. Accusations of this kind don't usually come to light unless the police become involved or worse. Even today, young girls are unwilling to report events like this because they fear being branded by society as "that kind of girl."  She would have been the big loser and she knew it.
Fast forward to 2018.  Its now the era of #Me Too. Women make the cover of Time Magazine and are called heroines for outing bosses and other men in power as adult sexual predators.  These cases follow a pattern where the accuser's entire career was at stake. If she resisted, she feared being blackballed.
With the Ford/Kavenaugh matter, the #Me Too revolution is evolving to a new and frightening stage.  The key elements of the classic #Me Too scenario are missing. According to Dr Ford's story, he was a 17 year old and she was 15.  They were both underaged drinkers and drunk. There was no threat of retribution involving career or employment.  Ironically, the only career that is in danger is the nominee's.
Until now, #Me Too accusations involved only public shaming. If an accusation lead to a subsequent prosecution, as some did, the accused was afforded all of the rights under our Constitution and the judicial system. But the hearings before the Senate Judiciary Committee are not just a public shaming.  They are in reality a high-stakes trial.  This one deserves to be treated as such.
If this proceeding lacks due process, the shame will be on the members of the Committee. That doesn't mean that it should be conducted with all of the formalities and evidentiary rules required in a criminal case. We apply the constitutional concept of due process to administrative proceedings of all kinds as a matter of course.  But, at the minimum, it does mean that the accused is entitled to hear live testimony of the accuser, together with the right to test the truth of the allegations by cross examination.  The accuser's suggestion that the nominee must testify first and not be present during her subsequent testimony is contrary to our tradition of fundamental fairness and due process. Nor does it make any sense.  Until she testifies under oath in a formal hearing, there is nothing to deny.
At the time of this posting, it is not clear whether Dr Ford will ultimately choose to appear before the committee.  Her lawyers are still negotiating with Chairman Grassley regarding the rules.  In the end, she will probably appear "under protest", possibly claiming that the game was rigged against her.
CLT
Posted by Cliff Tuttle| September 20, 2018 | © 2018
No. 1,560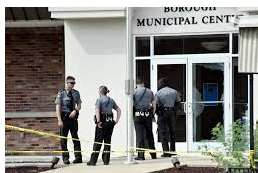 The shooting at the Magisterial District Judge's Office in Masontown underlines the exceptional vulnerability of these venues.  Typically, an entire morning or afternoon of cases will be scheduled for one time and twenty or more people will be crowded into a small waiting room.  A shooter who plans to do so could easily kill all or most of them, since everyone would be at close range.
I've been to a few Magisterial Offices where the litigants are checked for weapons by a constable with a wand.  Most offices don't, at least not until now.  It would not surprise me to see that situation changing abruptly. One or more constables are usually on hand when the court is in session.  It probably would not increase the operating cost of the court very much.
Some of the offices that currently do screening let people enter the waiting room freely and check them as they enter the court room.  That is not good enough.  As we saw at Masontown, the waiting room and even the corridor can be dangerous.  Screening should be performed at the front door.  Even that procedure is not foolproof, since the shooter could enter the building with a gun held under his coat and surprise the guard. If necessary, a higher level of security might be afforded by the glass enclosure installed in the doorway by some banks where each person is briefly locked inside until cleared to proceed.
Our experience since 2001 has proven that there are would-be terrorists who look for such opportunities and will plan a killing spree carefully.  We cannot afford to continue to provide such an attractive target, especially after its vulnerability has been demonstrated so clearly.
I am assuming that a full-sized screening station, complete with an x-ray to examine briefcases and bags, as they have at the County courthouses and the City Courts downtown, would be too expensive to provide and to staff in neighborhood magistrate offices.  But an armed constable with a wand and a panic button would be a step in the right direction.
CLT
Posted by Cliff Tuttle| September 20, 2018 | © 2018
No. 1,559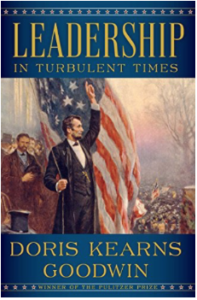 I'm reading (actually listening to) a new book by one of my favorite biographers, Doris Kearns Goodwin. It is titled "Leadership in Turbulent Times".  Goodwin has been writing books about Presidents Abraham Lincoln, Theodore Roosevelt, Franklin Roosevelt and Lyndon Johnson for fifty years. This one draws upon a lifetime of study to focus on the components of great leadership.
All of them were great communicators.  One characteristic they all shared was that they were all superb storytellers.  The stories they told from the podium fascinated listeners.  They were remembered, repeated in the newspaper, quoted in books.  They were often funny, disarmingly so.  They were usually instructive.  They didn't require much education of the listener. And they came naturally.
We lawyers are in the business of persuasion.  Unfortunately, our audience is sometimes predisposed to reject the message we are trying to communicate.  They can also be already bored and tune you out before you even start.
And so you have to wake 'em up and, if appropriate, get 'em laughing.  At least, you must be interesting.  Your presentation should be conversational, not oratorical.  As LBJ instructed the high school debaters he coached, you look one of them in the eye, talk to that person for a little while and then look somebody else in the eye.
When you are discussing the facts of your case, tell them in the form of a story.  When you are discussing a another case in your brief that you want to rely upon as precedent, tell the facts in the form of a story, too.
A well-told story can be disarming.  When Lincoln had removed his Secretary of War for profiteering, he was besieged by demands to fire other members of the cabinet.  He responded with a story about an Illinois farmer who discovered a pack of skunks in the hen house.  "I shot one", the farmer said.  "But the stench was so bad, that I figured that one was enough."
CLT
Posted by Cliff Tuttle| September 14, 2018 | © 2018
No. 1,558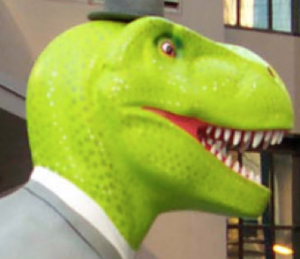 JACK SEZ: Writing a blog post is like sending a message out to sea in a bottle.  You never know if anybody will ever read it or who the reader might be.
Posted by Cliff Tuttle| September 14, 2018 | © 2018
No. 1,557
The former TV actor who played the son on the Cosby Show, Geoffrey Owen, was photographed bagging groceries at Trader Joe's and publicly humiliated in the world media. But he courageously turned the situation around when he was interviewed on the national news.  Any job is a good job, he stated. He turned the shame onto the shamers — exposed them for the mean, petty people that they are.  In his case,  this unsought publicity resulted in an acting job on NCIS New Orleans. An apparent calamity can sometimes turn into an opportunity. When called for a TV interview, he was ready and grabbed that brass ring.
Once in a while, I encounter a credentialed lawyer who is struggling after a year or more to enter the profession.  It is always an embarrassment for both of us.  I feel their fear and frustration and humiliation by proxy, but only for a short while. They feel it all of the time, especially during sleepless nights and during social events that cannot be avoided.
Graduation from law school is a daunting task.  It is a strenuous intellectual exercise spanning at least three years and it costs a lot of money.  After that, there is admission to the bar.
Just accomplishing all of that is something to be proud of, no matter what the future holds. But, for a long time our law schools have been producing a surplus of new lawyers compared to the ability of the marketplace to absorb them.
To you, my brother and sister lawyers who are still looking for a real job, be aware that you have more friends than you think.  Stop believing that its your own fault.  You were good enough to get this far and with a bit of luck and persistence you can make the next step.  I know you've heard this before.  Maybe you've even told it to yourself. But do you truly believe it?
Don't hide.  Do what other lawyers have to do to get clients. Do it all day, every day. Join church and community organizations.  Volunteer. Go to every bar association event you can.  After a short while, the fear will go away.
Practice your elevator speech. Be interesting.  Be proud of who you are.  When the opportunity comes, and it will, shine.
CLT
Posted by Cliff Tuttle| September 12, 2018 | © 2018
No. 1,556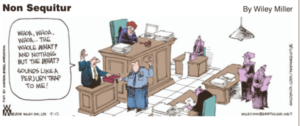 Posted by Cliff Tuttle| September 10, 2018 | © 2018
No. 1,555
THEODORE HAYES; AQUEELA FOGLE V. PHILIP E. HARVEY, NO. 16-2692, THIRD CIRCUIT COURT OF APPEALS (2018).
"The Hayes family receives enhanced voucher rental assistance from the federal government, and a federal statute provides that enhanced voucher holders "may elect to remain" in their housing developments, even after their landlord has opted out of the federal housing assistance program. 42 U.S.C. § 1437f(t)(1)(B). But the Hayes family's landlord, Appellee Philip Harvey, contends that this statutory right to "elect to remain" does not apply at the end of a lease term. Thus, according to Harvey, he is permitted to evict the Hayes family without cause once their lease has expired. The District Court agreed and granted Harvey's motion for summary judgment. We will reverse, however, because the statute's plain language and history make evident that enhanced voucher holders may not be evicted absent good cause, even at the end of a lease term."
Click the link on the case name above to read why a landlord with a tenant in the enhanced voucher rental assistance program cannot be evicted, except for good cause.  You might want to look at Judge Michael Fisher's dissent in which he claims that the "clear language" of the statute isn't so clear.  This case was decided after reargument before the court en banc. If you are a Pennsylvania landlord or tenant in the enhanced voucher program, its the law — unless the US Supreme Court says otherwise.
CLT
Posted by Cliff Tuttle| September 6, 2018 | © 2018
No. 1,554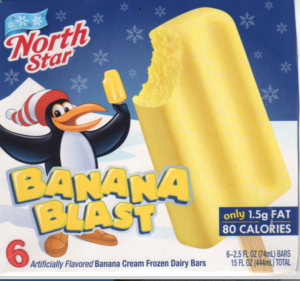 Posted by Cliff Tuttle| September 5, 2018 | © 2018
No. 1,553
I found the following classic in the junk mail.
Attn:Beneficiary,
I am Mrs. Anna Joy, I am a US citizen, 48 years Old. I reside here in New Braunfels Texas. My residential address is as follows.108 Crockett Court.Apt 303, New Braunfels Texas, United States, am thinking of relocating since I am now rich. I am one of those that took part in the Compensation in Nigeria many years ago and they refused to pay me,I had paid over $20,000 while in the US, trying to get my payment all to no avail.
So I decided to travel down to Nigeria with all my compensation documents, And I was directed to meet Reverend.Anderson ,who is the member of COMPENSATION AWARD COMMITTEE, and I contacted him and he explained everything to me. He said whoever is contacting us through emails are fake.
He took me to the paying bank for the claim of my Compensation payment.Right now I am the most happiest woman on earth because I have received my compensation funds of $800,000.00 Moreover, Reverend.Anderson, showed me the full information of those that are yet to receive their payments and I saw your name as one of the beneficiaries, and your email address, that is why I decided to email you to stop dealing with those people, they are not with your fund, they are only making money out of you.I will advise you to contact Reverend. Anderson. You have to contact him directly on this information below.
Name : Reverend.Anderson
Email:  [email link has been deleted to protect the innocent or absent-minded]
Telephone: [ditto]
You really have to stop dealing with those people that are contacting you and telling you that your fund is with them, it is not in anyway with them, they are only taking advantage of you and they will dry you up until you have nothing.
The only money I paid after I meet Reverend. Anderson was just $355 Usd for the paper works, take note of that. Once again stop contacting those people, I will advise you to contact Reverend. Anderson so that he can help you to Transfer your Fund into your account, instead of dealing with those liars that will be turning you around asking for different kind of money to complete your transaction.
Thank You and Be Blessed.
Mrs. Anna Joy
Posted by Cliff Tuttle| August 25, 2018 | © 2018
No. 1,552
One of the greatest American composers.  He not only wrote classical music, but Broadway and Movie Music.  West Side Story changed the Broadway stage forever and the movie became a great American classic.
Of course, he was a great conductor, performer and one of the most famous personalities of the 20th Century.  Time Magazine published a story today about how he conducted performances by an orchestra comprised of holocaust survivors.  There are a million Bernstein stories. Here's one by Tom Wolfe about Bernstein's 48th birthday.
CLT
keep looking »