Posted By Cliff Tuttle | July 8, 2014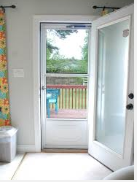 No. 1,072
When reviewing contract language drafted by the other party, look for the back door. Can the other party delay or avoid performance for trivial reasons — or no reason at all? Can he cancel the contract for vague or unrelated reasons?  Are there unreasonable covenants that enable him to declare you in breach of contract over factors out of your control?
If you encounter a pre-printed contract full of such devices, run, fast.
So what do you do if you foolishly signed one of these contracts of adhesion?  Yes, they call them contracts of adhesion, because you are stuck. You may be able to successfully argue that the contract cannot be enforced against you, because the other party, under the terms of the contract, can easily avoid performance.
CLT