Posted By Cliff Tuttle | July 12, 2015
No. 1,187
The following headline and photo appeared recently in "Hercules and the Umpire"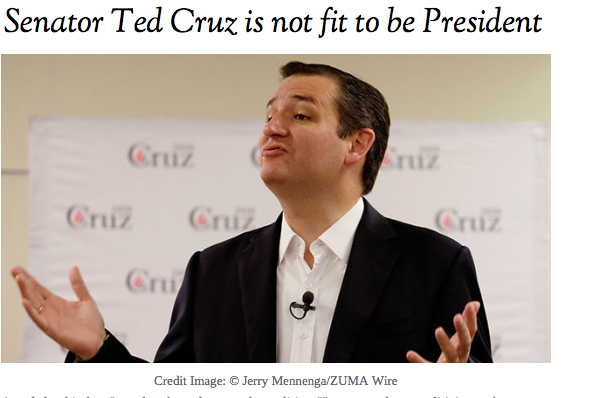 U.S. District Judge Richard Kopf announced on July 9 that he has discontinued blogging because employees of his District of Nebraska think that "Hercules and the Umpire" is an embarrassment to the court, according to the ABA Journal. He said that the welfare of District of Nebraska is his primary concern and that if its employees think the blog embarrasses the District, it is not in its best interest. Kopf  says that there are no disciplinary complaints or medical/mental health reasons involved.
In his  final post, Kopf also stated that the decision had nothing to do with his criticism of Presidential Candidate Senator Ted Cruz. Cruz had suggested a constitutional amendment to require retention elections for Supreme Court Justices. Kopf declare Cruz to be "a right-wing ideologue . . demonstrably unfit to become President."
Law Professor and blogger Orin Kerr, in a blog post carried  in the Washington Post, stated that he is concerned whether there was a violation of Canon 5 of the Code of Conduct for Federal Judges. While a federal judge is free to comment on political proposals, Kerr stated, he crosses the line when he makes a statement endorsing or opposing a candidacy.
"The ethics canons allow judges to publicly oppose a reform proposal but do not allow them to publicly oppose a candidate for public office," Kerr stated.  "The two may be related from the perspective of voters, as presumably they would want to vote against a candidate with bad ideas. Or at least they would weigh a bad idea against a candidate when they decide who among the candidates in the race they should support. But I don't think the two are intertwined for the judges who have to follow the ethics canons."
On July 8, Kerr followed up with another post citing the Calabresi decision of the Judicial Counsel of the Second Circuit. Judge Guido Calabresi had stated to an audience during the 2004 Presidential Campaign that the 2000 election of Bush raised structural issues because Bush had come to office "in an illegitimate way." He likened the election of Bush in 2000 to the rise of Hitler and Mussolini. Judge Calabresi defended his statement as a comment of an academic nature, but also made written apologies.
After reading the second Kerr post and the Calabresi opinion, Judge Kopf published his own apology: "Professor Kerr is Correct on Canon 5 and for that I Apologize."  He pointed out that the Calabresi ruling is probably not a binding precedent in his circuit and that it involved certain outrageous statements, such as a Hitler and Mussolini comparison, not present in his case.  Nevertheless, if the Calabresi decision were applied to his remarks, he observed,  he is in violation of Canon 5.
The message here appears to be that a judge can criticize anything and everything a candidate says but must not express an opinion regarding the candidacy. While such a distinction may appear to be clear, it would be extremely easy to circumvent.
Suppose, for example, a judge wrote a blog piece systematically destroying a candidate's signature campaign proposal.  Would anyone interpret such an attack as neutral regarding the candidacy?  Or suppose that Judge Kopf had simply eliminated the sentence where he described Senator Cruz as unfit for the Presidency.  Would this cure any violation of Canon 5?
In other words, can Canon 5, as applied to Judge Kopf's statement that Senator Cruz is unfit for the Presidency, pass First Amendment scrutiny?  I suggest that when the criticism is based upon a candidate's expression of ideas (not personal characteristics such as leadership ability) the First Amendment trumps Canon 5. Such is the case with the Cruz comments by Judge Kopf.  But is not the case with the Calabresi comments.  Those involved comment upon the presidential election itself.
Too bad Judge Kopf won't be around to blog on the First Amendment issue.  Someone else will have to take up  the banner.  Let it be known that Pittsburgh Legal Back Talk is prepared to answer the call.
CLT