Posted By Cliff Tuttle | June 5, 2014
No. 1,059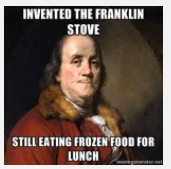 What do you do when you have to eat lunch alone?
As I was eating alone today, reading Tweets on my iPad, I noticed that several solo diners were holding a sandwich in one hand and a smart phone in the other — except for two (sitting together) who were each holding a newspaper.
How lonesome.  Wouldn't it be better to have an interesting lunch companion?
How about an App that would allow people dining alone to dial up a lunch partner on FaceTime, or its non-Apple equivalent?  You log in, he or she logs in, and the software matches you up.  It would know all about you both, of course.  And you could state your preferences — sports, celebrity gossip, dogs, Game of Thrones, whatever.   Or ask for somebody from your home town, or Paris.
Then again, why be restricted to real people?  With a little bit of programing, you ought to be able to have a lunch conversation with an avatar created for the purpose — Sportsbot, moviesbot, dogsbot — you get the idea.  And then, why not famous people from history?  BenjaminFranklinbot.  Rasputinbot.  Or even people still alive — PopeFrancisbot.
Or — here's the ultimate —  yourself!  A conversation with yourself!  Fascinating conversation.
CLT