Posted By Cliff Tuttle | June 2, 2014
No. 1,058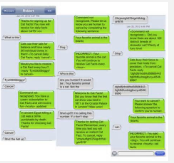 Communication by text message has become so popular that it is inevitable that text messages are going to end up as trial evidence.  So how do you preserve and display such evidence at trial? You cannot  print out text messages on your computer without special software.  I have seen litigants — usually pro-se litigants, pass around their cell phone with the message displayed on the screen.  This is cumbersome and time-consuming, especially if you have a string of messages, usually the case. And, I have seen arbitrators refuse (more than once) to look at cell phone pictures when offered as evidence.
A lawyer I know took a picture of each of the text messages in a string with a second cell phone.  Each of the pictures showed one message displayed on a screen.  This worked, but it is not in my opinion the best way to do it.
I use the instant message feature on my computer to display one or more messages on my desktop computer screen.  Then I take and save a screen shot to the desktop or a file.  I can then print it out.   The text is dated.  But you can also copy it to an email if you wish and send it to yourself for additional authentication.
By the way, I tell clients not to send me text messages with confidential information.   I understand that texts are easily hacked.  But trial evidence is a different matter.  You have what you have.  And it may be the only written record of a key fact.
CLT