Posted By Cliff Tuttle | March 11, 2014
No. 1,004
Yes, Virginia, the You Tube production below is a real lawyer advertisement.  And, of course, the embarrassment is all ours, Pittsburgh lawyers!  Those are the front steps of our venerable 114 year-old Allegheny County Court House where Dan plies his trade in the Criminal Division of our venerable Common Pleas Court. This video, which even its detractors admit is pretty slick, has had over 100,000 viewings and who knows how many more in another week or two? National news media have covered this story. It has even attracted the attention of the BBC.
If Dan Muessig's law practice seems a lot like show biz, it is. Law is a second career  for Mr. Muessig.  He's a professional rapper.  Dos Noun is his stage name. In an interview with Crew of One blog he says that he is and will always be a rapper first. "I do underground kinda avante garde rap with an emphasis on freestyling and I do a lot of international touring.  I think the legal and lyrical skill sets compliment one another."
Some experts on lawyer advertising think its a brilliant ad for a lawyer admitted to practice a little more than a year.  William Peacock of Strategist Blog, a law firm business blog says:
"Maybe, if you're facing a third strike, or a murder rap, you're going to be spooked into going with the guy who looks like Matlock. But we'd be willing to bet that many alleged criminals are going to see Dan's viral ad and at least give him a call."
On the other hand, according to a post by Reuters, Tom Loftus, a spokesman for the Allegheny County Bar Association, called the video "insulting to Pittsburgh lawyers and lawyers across the country, who take great pride in their profession." No surprise here.  Figure that the Bar Association doesn't get it. But then, Dan doesn't get the Bar Association either. He isn't a member.
Here's a couple more classic lines from the video:
"Any criminal defense attorney who promises you a result is most likely a liar or a scumbag."
"I pick up the phone, I answer calls, I return letters, and I make jail visits. Because I'll probably be there, visiting my friends anyway."
Criminal defense lawyer Pat Thommasey called it "circling the bowl" in a recent article in Post-gazette.com.
"For 40 years, guys like me have tried to show people we're not scumbags; that we're good, ethical people who make sure our clients get a fair trial. Then this clown comes out and shows his video, which says in so many words, we're all scumbags. I personally resent it, and if I see him in court, I'll tell him that."
I'll bet that he will.
And don't be surprised if a few judges will join in the chorus.  Do I see a TV script in the making here? Or even a rap opera?
Muessig may be the first law practitioner in history who openly claims to "think like a criminal." He sells his brand as "street smarts."  In an interview with Slate.com, Muessig painted a picture of himself that few lawyers would like, but many younger criminals in search of a lawyer who understands them might. " I was a really horrible student in law school. I was a rebel, I flouted authority at every opportunity, and I graduated near the bottom of my class. I had zero respect for most of my teachers."
He says he sees nothing unethical in the ad, but he will take it down if asked by law enforcement or the bar.  Apparently, nobody has.
If you are going to get it, you shouldn't take too much of what Mr. Muessig says too seriously. Its all part of his schtick.  Here's his Avvo page.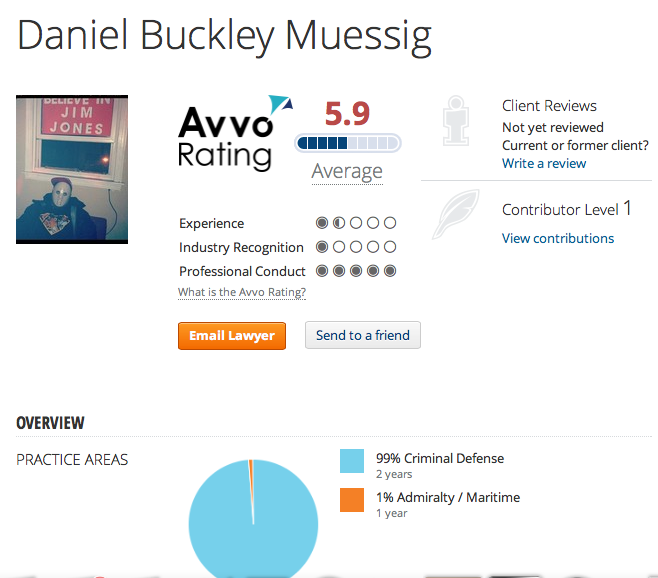 And here's the now-famous video. Bear in mind, its half spoof.  But which half? Admiralty indeed!