Posted By Cliff Tuttle | April 30, 2020
No. 1,644
The Court of Common Pleas has automatically postponed all sheriff's sales scheduled on May 4, 2020 to July 6, 2020.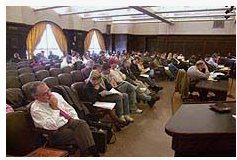 Problem is, will the spacing and mask requirements be enforced?  Anyone who has ever attended a sheriff sale knows that the Gold Room is always packed. Any attempt to enforce spacing would probably reduce the number of bidders.  That would be subject to attack at motions court by disappointed bidders.
Perhaps the Sheriff will initiate remote bidding using a televised network.  The registered bidders could watch the proceedings and phone in their bids.  Problem is, yes, that would take days.  And electronic payment would have to be arranged. They take cash only on bid deposits.  That would take time, too.
Don't bet on the sheriff doing anything like that.  It would cost a fortune and take a lot more time to set up than 60 days.  There are contractors who could do it (they auction government surplus equipment world-wide).  And the electronic auction would probably be a bonanza for lenders and even some defendants, since it would probably increase overbids to paying off creditors and perhaps other lien holders, with the surplus going to the debtor.
But don't expect anything like this by July.  Just expect more postponements.
CLT