Posted by Cliff Tuttle| July 22, 2018 | © 2018
No. 1,534
JACK SEZ:  I never take my mobile phone to church.  If God calls me, it won't be by phone.
Category:
Uncategorized
Comments Off

on On Leaving Your Cell Phone Behind
Posted by Cliff Tuttle| July 22, 2018 | © 2018
No. 1,353
JACK SEZ: The sun has risen every morning for our entire life and we think nothing of it.
Category:
Jack Sez
Comments Off

on Consistency
Posted by Cliff Tuttle| July 21, 2018 | © 2018
No. 1,532
We don't know much about the future, except that it begins today.
The Pittsburgh Pirates made it back to .500 late last night.  It took a 7 game winning streak to do it. Only ten games back they were at rock bottom. But today they are playing as well, maybe better, than when they were briefly in first place.  And Sean Rodriquez, who has been on the disabled list and undergoing rehab for a while, rejoined the team last night and contributed to the 12-1 victory with a three run homer.
During his time in rehab, S-Rod did a comprehensive self-analysis of the problems with his batting swing and worked with the Pirate's hitting coach to fix them.  Before going on the disabled list he had an abysmal average.  But now a new beginning, a second season, has begun for both team and player.  At least we hope so.  We don't know much about the future, except that it begins today.  But if we have a plan and a reason for optimism, the Pirates, S-Rod and you and I can start again today and make something better.
It doesn't matter that many, maybe most, fans think that the team will fade back into oblivion at the next opportunity.  Those guys are just passive (and noisy) observers.  It is the doers who make things happen. As John Sibelius, the great Finnish composer  said: there aren't any statues of critics.
Make a deal with yourself.  A one-week plan of action.You can do anything for a week no sweat, right?  So go full-blast under your plan for one week. Push as hard  as you can and don't give yourself any excuses to slack off.  After the week is over, do an evaluation.  If you like what you see, even if you haven't yet succeeded, do it again for another week.
If anybody tries to discourage you, turn it into motivation. Make the critics eat their words.
CLT
Posted by Cliff Tuttle| July 18, 2018 | © 2018
No. 1,531
IN RE: FORTIETH STATEWIDE INVESTIGATIVE GRAND JURY
The Pennsylvania Constitution contains a provision guaranteeing the right to reputation. It has been applied in a number of cases.  The PA Supreme Court is about to shed additional light on this little known state constitutional right.
In January 2016, a Statewide Grand Jury was convened by Order of the Pennsylvania Supreme Court to investigate alleged child abuse by priests and others in six Catholic Dioceses in Pennsylvania, including the Diocese of Pittsburgh. The Presiding Judge of the Grand Jury Investigation, Cambria County Common Pleas Judge Krumenacher, had announced his intention to release the report of the Grand Jury to the public without redaction of names of individuals, some or all of whom are not to be indicted.  This action has been challenged by attorneys for a number of persons named in the report.  The appeal is being heard by the Supreme Court, which announced a briefing schedule.
Various media, including the Pittsburgh Post-Gazette, have sought to force publication of the Report of the Grand Jury through the Right to Know statute, Act 3 of 2008.
While many of the names of many of the priests and other individuals involved have been made public through other proceedings, others have never been formally accused or publicly identified.
This right is set forth in Article I, Sections 1 and 11 of the Pennsylvania Constitution.  Article I, Section 1 states:
"All men are born equally free and independent, and have certain inherent and indefeasible rights, among which are those of enjoying and defending life and liberty, of acquiring, possessing and protecting property and reputation, and of pursuing their own happiness."
Article I, Section 11 address the remedy for violation of the right to reputation:
"All courts shall be open; and every man for an injury done him in his lands, goods, person or reputation shall have remedy by due course of law, and right and justice administered without sale, denial or delay. Suits may be brought against the Commonwealth in such manner, in such courts."
 Petitioners will argue that their Constitutional right to reputation will be violated by release of the grand jury report under the Right to Know law. Judge Krumenacker stated that he is proposing to release the report to protect the rights of children and he has no authority to redact names of persons who are not to be indicted, or any names.
While the particular issues in this case are matters of first impression, there are cases that construe the right to reputation.  In the next few weeks, we will explore some of them under a new category:  Right to Reputation.
CLT
Posted by Cliff Tuttle| July 14, 2018 | © 2018
No. 1,530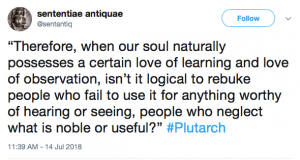 Category:
Uncategorized
Comments Off

on Guest Post: Plutarch on Using Your Brain for Suitable Endeavors.
Posted by Cliff Tuttle| July 9, 2018 | © 2018
No. 1,529
How did he ever find the time to do all those things on top of being a judge?   Coached his daughter's basketball team to a championship. Ran the Boston Marathon twice, no less.  Taught at three major law schools. Amazing.
Posted by Cliff Tuttle| July 9, 2018 | © 2018
No. 1,528
Ten Years is a long time for a blog.  It is exceptionally long for a legal blog.  Nearly all lawyer bloggers run out of juice long before then.  Ten years in, Pittsburgh Legal Back Talk is not only going strong but, if you will allow me a bit of self-congratulation, is going stronger than ever.
It is really hard to continuously come up with new ideas.  They are only partly original.  I read and borrow parts of other people's ideas and stories every day.  But I always add my own twist. I try to make them relevant and interesting to local readers.  I'm not trying to gain a world-wide readership or post big numbers.  I want to inform and entertain people from Pittsburgh and the surrounding area. In this mission, this blog is unique.  If somebody reads and likes it somewhere else, that's great.
Every new day is a gift.  I want to keep writing for as long as those daily gifts keep coming. Hopefully, you'll keep reading.
CLT
Posted by Cliff Tuttle| July 9, 2018 | © 2018
No. 1,527
Thomas Hardiman, the Pittsburgher on the list of potential Supreme Court nominees, would be the third Pittsburgher to sit on the Supreme Court. The first was Henry Baldwin, who was appointed by Andrew Jackson in 1830.  The second was Justice George Shiras, who was appointed in 1892 by President Benjamin Harrison.
Although Baldwin had established a successful law practice in Pittsburgh in the 1790's, he moved to Crawford County, where he was elected the first District Attorney and served two terms in Congress. Strictly speaking, he was no longer a Pittsburgh resident when he was appointed to the Court.
Justice Shiras served until 1903, when he resigned, having announced in advance his intention to serve only ten years. He had never previously  judged a case, nor had he held any public office. He was a prominent and respected private law practitioner, who often represented Pittsburgh's rising industrial enterprises. He was recommended to Harrison by an influential relative, James G. Blaine, former Presidential Candidate who was Harrison's Secretary of State.
Depending upon which prognostication you read, Hardiman is either the favorite, co-favorite or out of the running.  The President is said to like his story — son of a taxi driver, worked his way through school, first in his family to graduate from college. Judge Hardiman sits on the Third Circuit Court of Appeals.
CLT
Posted by Cliff Tuttle| July 8, 2018 | © 2018
No. 1,526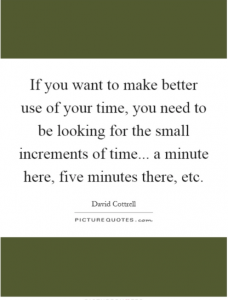 From time to time you have five minutes to burn. You don't want to just waste it.  So what can you do with an extra 300 seconds? Maybe more than you think.
Here's ten ideas:
 Make a list;
Check a list you have already made;
Make a note on something you recently did or an idea that you recently thought or heard ;
Make a note on information you need to remember;
Call someone just to check in;
Check your appearance in the mirror and make adjustments;
Take inventory of the tools, files and other objects you need to use that day;
Put a few stray objects back where they belong;
Count the cash in your wallet;
Observe with a sharp eye what is going on around you.
Would doing even one of these things be worth 300 seconds? You might actually be able to do more than one of them in the allotted time.
Consider how often you get five minutes of down time during the day.  If you have five spare minutes per hour during a twelve hour work day, you have (yes, do the math) an extra hour.  How would you like to find an extra hour every day?  Well, you probably can.
CLT
Posted by Cliff Tuttle| July 7, 2018 | © 2018
No. 1,525
She spent the 4th of July in Iraq, visiting the  troups, touring Mosul, meeting with Iraqi officials — all the things a future Presidential candidate does.  Last election, Trump famously called her Pocahontas.  This time, he will probably be calling her Hillary II.  When that time comes, she will embrace it. You heard it here first.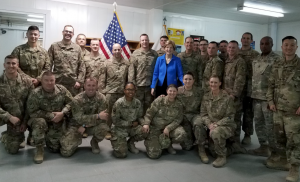 Category:
Uncategorized
Comments Off

on Senator Elizabeth Warren is Running for President
keep looking »