Posted by Cliff Tuttle| October 29, 2013 | © 2013
No. 999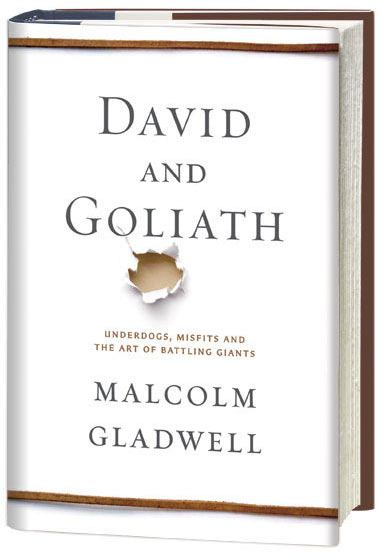 We hear it all of the time, but we don't really believe it.  The race is not to the swift or the battle to the strong.
Yet its true.  When David slew Goliath, Malcolm Gladwell teaches, it wasn't a fluke.  David knew exactly what he was doing and he said as much.  As a shepherd (the lowliest occupation) he had killed the wolf.  He had used the same technique he would use to fell Goliath — a single blow from a stone propelled from a sling at high speed with deadly accuracy.
No, it was not divine intervention or even luck.  David had practiced for endless hours until his skill was honed perfectly.  Then came the once in a lifetime opportunity. Big risk, big reward.  One killing blow to the forehead, that is all it would take.  Literally and figuratively, Goliath never saw it coming.
The story repeats itself endlessly throughout history.  Jack Weatherford tells the story of Ghengis Khan, perhaps the most improbable conqueror of all times from the most improbable homeland, leading the most improbable army.  He started at the bottom, just like David.  But opportunities came and he was never afraid of the risk.  It wasn't a one-time event that brought him to power.  He was patient.  But most of all, he was resourceful — endlessly resourceful.
Ghengis Khan turned surprise and an array of apparent weaknesses into strengths.  Swift cavalry, traveling light, incredible endurance, shrewdly changing yesterday's enemy into today's ally. He was a master of psychological warfare — subduing enemies through fear before the first blow was struck.
Gladwell's book explores the phenomenon from many perspectives.  In each case, an apparent weakness becomes the foundation of great strength.  One is the story of a leading American lawyer of our day — David Boies.
Boies, who has been lead counsel in several of the most important cases of the past two decades, is dyslectic.  This is an incredible disability for a law student, since the dyslectic reads so slowly and so painfully that it is impossible to keep up with the assigned reading.  But his reading disability had caused Boies to develop another skill to a very high level.  He became an exceptional listener and memorizer.  Since he couldn't read the assignments very well, he had to develop the ability to listen and remember as few others could.  It was doing it the hard way, the very hard way.  But it enabled him to cross examine witnesses based upon a near-perfect recollection of their testimony.
Think about it.  With fortitude, ingenuity and practice any of us may be able to overcome the natural advantages of our adversary.  We can potentially be Ghengis Khan.
Genghis Kahn and the Making of the Modern World by Jack Weatherford
David and Goliath: Underdogs, Misfits and the Art of Battling Giants by Malcolm Gladwell
Posted by Cliff Tuttle| October 28, 2013 | © 2013
No. 998
I don't watch the Good Wife on CBS, Sunday night too often.  But since it follows the Amazing Race, I caught the latest episode.
The title character, Alicia, is a partner in a large Chicago law firm called Lockhart/Gardner.  Up to now, from what I can piece together, she has been the good one in a world populated by evildoers. But now, she is leading a band of Lockhart/Gardner rebels (mostly fourth year associates) who are secretly planning to set up a spin-off firm and to take at least one of the firm's mega-clients with them.
Panic ensues.  Then war. Then treachery.
Of course, Alicia's husband was recently elected Governor of Illinois and you would think that she could attract a gazillion new clients in her own right.  Apparently not. She and her cohorts are driven to engage in all kinds of unethical conduct, like attempting to download the firm's client files.  And not to be outdone, one the most ruthless partners call the Board of Health to quarantine the office building where the insurgents are attempting to set up shop.
They all end up in court, of course, each side getting restraining orders against the other against contacting the same client. Can this stuff really happen?
Give us a break!
Next week the mayhem continues — but without me. I'll be reading a book.
CLT
Posted by Cliff Tuttle| October 25, 2013 | © 2013
No. 997
Today is the 40th Anniversary of the day I was admitted to the Bar of the Supreme Court of Pennsylvania, October 25, 1973.  I want to thank all the people who helped me achieve that milestone and assisted me along the way from there to here.  Too many of them are no longer on this earth and the opportunity for thanks is gone.  I have lost touch with others. Perhaps some of that can be fixed.
Appropriately, a client posted a very flattering review yesterday on my AVVO page. I received notice of it this morning, just before I decided to write this post. I could not have received a better anniversary present. I honestly don't know who it was, but I like it that way.  The whole point of practicing law is to serve the needs of clients.  Many are at critical points in their lives, sometimes in danger of losing everything.
Not long after being admitted to the Bar, I handled my first trial.  My client had been put away for many years in Farview State Hospital, which was really a prison for criminal defendants who are deemed by a psychiatrist to be incompetent to stand trial.  The criminal offense was too long in the past to obtain a conviction, so the District Attorney wanted to keep him in Farview.
The case turned on the evaluation of my client by the Director of Farview, who was a psychiatrist and as much of an expert on the subject as you were likely to find.  He was a kindly old gentleman (although he may not have been any older than I am today) but his testimony on direct examination was devastating. I made a few objections, more than anything to reassure my client, who was filled with visible panic. The judge treated them with that signature annoyance that can destroy your self-confidence for the rest of the trial.  Just as it appeared that my client was certain to spend the rest of his life in Farview, the judge called a Noon recess.
To my amazement, the DA came up to me and said that he had a lunch appointment and would appreciate it if I would take the doctor (who was a visitor to our city) to lunch.  I couldn't believe my ears.
At lunch, the doctor and I naturally talked about his patient, my client.  I actually knew a lot about my client because we had been corresponding for a while. One thing lead to another and I soon began to realize that the doctor was moderating his position.  Perhaps my client wasn't so sick after all.  Perhaps he was capable of successfully living in the world.  When the trial resumed, the tide had turned completely. My client experienced freedom for the first time that afternoon.  Like a bird released from a cage, he rapidly flew away and I never saw him again.
That was the exact point in time when I knew for a certainty that I could make a difference as a lawyer.
I am grateful for family, teachers, mentors and colleagues who gave me so much without asking for anything in return.  But I am grateful most of all to clients, many of whom have trusted me with the most important assets in their lives.
To all of you, thank you.
CLT
Posted by Cliff Tuttle| October 22, 2013 | © 2013
No. 996
When the e-cigarette burst upon the scene, the confrontation was inevitable. Could they be used in a no-smoking office?  Could they be smoked in a no-smoking restaurant? Maybe so, for now.
The e-cigarette does not burn tobacco.  Instead, it vaporizes nicotine. And of course, what we breathe in, we must breathe out. This may be enough of a difference to take them outside the scope of laws prohibiting smoking in certain public places.
The FDA says that second hand smoke from e-cigarettes may constitute a health hazard. They emit vapors of tiny droplets of dangerous chemicals that stick to your lungs. It may not be burning tobacco, but it still results, apparently, in medical risks.
Because smoking laws may not apply to e-cigarettes, municipal governments, schools and other agencies  are not waiting for the issue to reach the courts.  They are starting to amend their ordinances, rules and regulations.
So e-smoking may not be safe much longer, in the legal sense. Nice try, though.
CLT
Posted by Cliff Tuttle| October 21, 2013 | © 2013
No. 995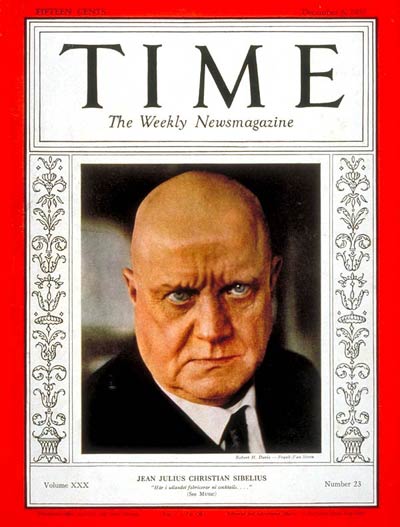 All you hear about on the news these days is Health and Human Services Secretary Kathleen Sebelius.
But do you remember who the other Sebelius is?
Aw, c'mon.  Sure you do.  Jean Sebelius was a famous Finnish Composer.  He wrote 7 Symhonies and a lot of other music during a long career, including Finlandia.  His birthday, December 8, is a national holiday in Finland.
He is credited with saying: "Never pay any attention to what critics say . . . A statue has never been set up to honor a critic."
When Katherine has been long forgotten (which won't be that far in the future) we will be listening to Finlandia.
But you knew that.
CLT
Posted by Cliff Tuttle| October 20, 2013 | © 2013
No. 994
In  the case of Garden State Equality et al v Dow, the New Jersey Supreme Court in effect affirmed a Superior Court decision holding that New Jersey's Civil Union Act did not provide equal treatment to same-sex couples because a civil union does not confer the same rights as marriage. Since the claim was based in State Constitutional Law, it is not eligible for review by the United States Supreme Court.  The SCOTUS blog provides a commentary.
Since the Windsor case, in which the Supreme Court held that a state that does not recognize same-sex marriage must give full faith and credit to legal same sex-marriages, the trend seems to be going one way.
CLT
Posted by Cliff Tuttle| October 15, 2013 | © 2013
No. 993
Former Justice Orie Melvin appeared in Court today.  Judge Lester Nauhouse wanted to know why she hadn't complied with the part of her sentence that required her to send letters of apology to all of the members of the judiciary in Pennsylvania accompanied by a photograph of her wearing handcuffs.  The short answer, delivered by her attorney, was that the sentence was under appeal.
Indeed.  I would be willing to bet a month of lunches that no modern appellate court anywhere in America has ever endorsed such an unusual sentence. And what is the purpose of requiring the former Justice to distribute copies of a photo of herself in handcuffs?  It could only have one effect — humiliation.
And I will bet you a year of lunches that if such a photograph is ever distributed that it will turn up on the internet within 48 hours. And then, on the front page of newspapers around the world.
Am I missing something here? Assuming that former Justice Orie Melvin does not have any such photos lying about, is she supposed to hire a photographer to take a picture of her in handcuffs?  Am I the only person who thinks that this sounds slightly kinky?
If I remember correctly, a raft of legislative leaders in this Commonwealth were convicted of more-or-less similar offenses.  None of them were required to distribute photographs of themselves in humiliating circumstances. If the sentence here is not unusual, why hasn't it been employed in sentences for similar crimes?
Then again, maybe stocks would be better.  I think there may be some available in Williamsburg. And what about a dunking stool?  But wasn't that the kind of punishment that the Eighth Amendment was supposed to abolish?
The Eighth Amendment is about human dignity. Thats why we don't have any stocks in the Courtyard of the County Courthouse.  The Supreme Court, the United States Supreme Court that is, said that handcuffing a prisoner to a post was a violation of the Eighth Amendment in the case of Hope v Pelzer, 536 U.S. 730 (2002).   
Part of what made this sort of punishment cruel and unusual was that it humiliated the prisoner so grievously that it was an affront to human dignity.
In Trop v Dulles, 356 U.S. 86 (1958), Chief Justice Earl Warren wrote:
"The basic concept underlying the Eighth Amendment is nothing less than the dignity of man.  While the state has the power to punish, the Amendment stands to assure that this power is exercised within the limits of civilized standards.  Fines, imprisonment and even execution may be imposed depending upon the enormity of the crime, but any technique outside the bounds of these traditional penalties is constitutionally suspect."
Even convicted ex-jurists are entitled to the proper  modicum of human dignity.  Its in the Constitution.
CLT
Posted by Cliff Tuttle| October 14, 2013 | © 2013
No. 992
There used to be a lot of nonsense published every Columbus Day about how various others had reached the New World first. Then there were a spate of Columbus Day articles that painted Columbus as an evil, ruthless, greedy, petty man, unworthy of our adulation. All of which missed the point.
None of the others (some of whom apparently traveled one way) changed the world.  Columbus, whatever his personal imperfections, did. And that's the whole point.
Various groups mark the occasion as an opportunity for a statement of ethnic pride.  That's fine. But let me suggest to you that the true meaning of Columbus Day can be bigger than that.
Columbus Day is about changing the world.  It is about the unexpected breakthrough.The game changer.
We have seen more than a few of these game-changers in our lifetime.  The internet is perhaps the most obvious. Some are not welcomed by many of us — like the rise of the global economy. But such new worlds exist whether we personally choose to embrace them or ignore them.
On Columbus Day, celebrate the continuous and never-ending discovery of new worlds. It didn't only happen in 1492.  Its happening now.
CLT
Posted by Cliff Tuttle| October 3, 2013 | © 2013
No 991
Justice Michael Angelo Musmanno died on Columbus Day, October 12, 1968.  But his name is still on the door of his chambers, 45 years later.  This door is located on the Eighth Floor of the City County Building, on the upper level, where the Office of the Board of Viewers is now located.
It appears that someone put a plaque over the Justice's name, but that's gone now.  There's a paper sign taped over it now.  I hope that somebody doesn't remove the lettering because I called attention to it.  Its historic.  It ought to be preserved.
If you are wondering whether the Justice's ghost is living here, I seriously doubt it. In the codicil to his will, Justice Musmanno requested that he be buried in Arlington National Cemetery as close to his beloved idol John F. Kennedy as possible. After Musmanno died, Congressman Jim Fulton arranged it. And so, he is interred a short distance from the graves of John F. and Robert F. Kennedy.  I suspect that he has no desire to return home.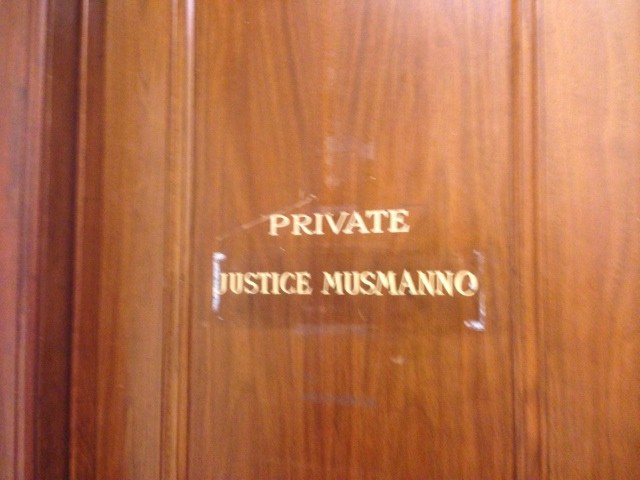 Posted by Cliff Tuttle| October 1, 2013 | © 2013
No. 990
Spectator sports are, of course, a form of entertainment but unlike most other public performances there is no script.  So after all these years of frustration, the Pirates are finally hosting a playoff game at PNC Park. But that outcome was not scripted.  After two seasons where the team collapsed in late summer, they could easily have done it again.They didn't.
History seems inevitable in retrospect.  But nothing in a competitive world is really that way. Persistence is more than just keeping on keeping on.  Persistence in every important undertaking involves suffering and pain.It requires countless re-evaluations and new beginnings, often every day. It frequently requires irrational continuation in an apparent lost cause.  And then there is luck. Always, there is luck.
On the other end of the cycle are the Pittsburgh Steelers. Memories are short, however.  It wasn't so long ago that the Steelers faced, and eventually overcame, the same demons.  There is no reason to believe that it cannot be done again.  Nevertheless, fans (who seem to think they are entitled to watch — that's right, watch –championship teams year after year) are quick to turn on anyone they believe to be responsible.
I read something in the newspaper the last time the Steelers were down which seems appropriate again.
A young boy was rescued by CYF after his parents had continuously beaten him.  The judge awarded temporary custody to the grandparents, but the violence continued.  Since there were no other family members available, the judge asked the boy if he had a request for a foster home.  To everyone's amazement, he said he would like to be adopted by the Pittsburgh Steelers.
"Why is that?"  asked the judge.
"Everybody knows," the boy said, "that the Steelers can't beat anybody."
Have faith.  The wheel of fortune turns.
CLT
keep looking »