Posted by Cliff Tuttle| March 5, 2014 | © 2014
No. 1,000
Distinguished Professor of Law Alfred S. Pelaez has been teaching at the Duquesne Law School for 48 years. In an interview he reflected on trends in legal education during those years, including his role in the development of the law school curriculum in China. The Bridget and Alfred Pelaez Legal Writing Center at Duquesne Law School is named for Professor Pelaez and his late wife.  
Q: What has changed in 48 years of teaching law school?
A: You know, surprisingly little.  Dean Ken Gormley and some of the younger faculty are finally moving us into the 21st Century. The curriculum hasn't changed much from the time I started until now.  But today we're doing some marvelous things with the legal writing program.  And were expanding our offerings with the clinical program.
Dean Gormley has been in the process of expanding our international offerings. I've been interested in this for a long time with my China Program. Its been 22 years now.
Q;  What is changing now?
A: Legal writing, instead of being a step-child of the curriculum, done haphazardly by giving added assignments to the faculty — which they were not qualified to do — including me — we have three full-time legal writing instructors now.  Jan Levine, well known in this field, oversees the whole program.  Jan has moved our legal writing program from a nonentity to one of the ten best in American law schools.  During the last three years, that has been the case.  I'm proud to say that the Legal Writing Center is named after my wife and me.
Q:  Well, you created it, didn't you?
A:  I didn't do a thing.  Jan Levine did.  The money for the Legal Writing Center came from a former student. I didn't do a thing.
Q:  Its a fitting memorial, I would suggest.
A:  Well, it quite an honor.  I am extremely pleased with how it is turning out.  They now have their own building down on Fifth Avenue, the Tribone Center.
Q: Oh, is Mr. Tribone the student you mentioned?
A:  He graduated in about 1986.
Q: Some of the most remarkable lawyers, you wouldn't have guessed their future when they were students.
A:  Not at all.  They go from practicing lawyers to corporate executive to hedge fund managers and everything in between.
Q:  Has the law school faculty changed over the years to reflect those things?
A:  The composition of the full-time faculty has gotten stronger.  It is much harder to get a faculty position today.  Its also incredibly difficult to get tenure.  You have to do extremely well in research, teaching and service.  Those qualities are rated by outside peer review.  Today, the credentials of the younger faculty are extraordinarily  strong.
Recruiting is a longer process than it once was. You start with a list of people who go to the AALS convention in Washington DC (Association of American Law Schools).  Anyone who is interested in teaching fills out a resume-like application. They range from lawyers coming off clerkships, government lawyers, faculty at other law schools who want to move, lawyers in private practice. You send someone to Washington to interview 20 or 30 of them. Sometimes you can't get an interview with the person you really want because he or she is sought after by so many law schools.  After the interviews, you come back and report to the faculty and they select maybe five or six, who visit the law school and meet the faculty. They are asked to put on sample classes for the students or presentations for the faculty.  All of this is put on film so that if someone misses a presentation, he/she can look at it later.  Out of that group, we vote on who should fill a faculty position that is vacant.  But such vacancies are relatively rare.
We hired Jan Levine, who runs the writing program, from Temple where he had managed the same program.   Steven Baicker-McKee was a partner in Jones Day, one of the largest law firms, for fifteen years before deciding to come into teaching. Most new faculty today  come with a tremendous amount of experience.  Jacob Rooksby, who does the China Program with me, is an intellectual law practitioner with a PhD and a law degree from the University of Virginia.
Q:  Its unusual to have two China lawyers on the same faculty, isn't it?
A:  He is my successor in the China Law Program.  I guess they figured that I am too long in the tooth to take the program to the next level.
Most of our students in the China Law Program come from outside Duquesne.  We do it in Beijing. We had a high of 47 students. We only have 13 students now.  We're trying to build the enrollment back up. We have also started actively recruiting Chinese law students to come to our campus. They get an LLM in U.S. Law for Foreign Students.  We have seven of them at Duquesne this year.
Q:  Do you teach the LLM program in English or is it bi-lingual?
A: Its in English.  The students have to have a very high English proficiency.
Q:  When you go to China, do you teach Chinese law students?
A:  We teach English-speaking law students from all over the world.  Our students come from across the United States, Canada, Europe,  – most of the European Union countries have sent students to our class — Australia, Japan.  Students who want to get their feet wet and get a little bit of an understanding of the Chinese legal system.  What I do is teach how China got to the point where it felt the need for a legal system.  After Mao died they had no legal system.  All of the legal institutions of the past had literally been destroyed.  In this respect, China was worse-off than a third world country.  In the post-Maoist era, the leadership realized that foreign investment would be necessary to modernize China and that would require protection of contract rights and property rights.  So they started with foreign contract law in the special economic zones and it just burgeoned from there. Once the camel got its nose under the free enterprise tent,  there was no stopping.
Q: Is English the official language of Chinese Law?
A:  No.  Mandarin is the official language.  One thing that Mao did that was beneficial (he did many bad things, like being responsible for the death of millions) was to unify a country that had forty or fifty different languages or more. It is the language of academia, the educated people.  Anyone who goes to school learns Mandarin.
Q:  You don't teach in Mandarin, I assume.
A: No. Sad to say, I don't speak Chinese.  But I teach how they got to that point.  There weren't any private Chinese lawyers until 1992. They were all government employees. Westerners doing business there had to hire government employees to represent them because if you are not a Chinese citizen you can't practice law in China. So you hired a Chinses government employee to negotiate with the Chinese government.  They said — hey, there's a bit of a conflict of interest here.
Q:  And the response probably was " What's a conflict of interest?"
A: Right. As long as the government agrees, there is no conflict.
Q:  You've been going to China for how long?
A: 22 years. I didn't start out teaching.  The course we teach there, for English-speaking law students, started in 1995.  I first went over as a consultant to the NPC (National People's Congress)  on Maritime Law.
Q:  So I gather you have had quite a bit of input into the development of law in China?
A:  Most of what they wanted me to discuss they didn't adopt.  So I don't know how much input I had.  But it was an enlightening experience.  I was talking about in rem jurisdiction, which they were not too keen on, but they wanted to know how it worked.
Q: Isn't the head librarian at Duquesne a native Chinese?
A:  Yes. Frank Liu is a good friend.  He and I went over to China originally.  He is bilingual.  We made friends there, many of whom have helped make our program a success.
Q: Do you  have competitors in teaching law in China?
A:  We were the first program in China.  Now there must be twenty programs similar to ours and maybe a dozen more that specialize in some aspect of Chinese Law, like intellectual property or labor law.
Q:  Can any student take it as an elective, or do you have to be enrolled in the program?
A:  If you are an enrolled law student anywhere in the world you can do it.
Q: What do you think is the future of the Chinese Law program at Duquesne?
A: I think it depends on the ability to recruit students.  It is a very good law school.  But it doesn't have the name cashe of other law schools that are active in China.  Harvard, Yale, NYU and Berkeley have been over there for a long time. Schools with better name recognition are competing for the same students. Where it goes, I'm not sure.
Q:  What about the students?  How have they changed?
A: The students have always been pretty good.  They are hard-working and conscientious.  The students today are more serious. So many are going to come out deeply in debt and have to work out a plan to amortize that debt.   They write very well, which surprises me because they don't take many essay exams in college. I suppose out legal writing program gets much of the credit for that.
Q; What about exams?
A:  None of us who are law professors are experts in preparing examinations.  On the typical multiple choice exam, the average student does better than the truly bright student.  Your average student won't see the nuances and will go straight to the best answer because he doesn't see the possibility in the others.  Your bright student will see possibilities in other answers and it will slow him or her down. The only course where I use multiple choice questions is Federal Courts, where I have a tight time schedule for grading before I go to China every summer. I have multiple choice questions where you have to explain your answer — the explanation is the key. Sometimes the people who give the best explanation select what I intended as a wrong answer.
Q: What about computer tutorials?  Do you think that they will have a place in law curriculum?
A: I think that the whole college curriculum is going to change radically.  Brick and mortar universities, except for a few very elite schools, are going to be difficult to maintain.  People don't have the resources or time.  I think thats unfortunate, because that's still the best way to get an education.  Instead of a law school having two or three contracts professors, there will be a handful of nationally known profs whose lectures will be picked up by a majority of law schools.You'll be able to do it on your own time schedule.  I think that is the direction where most universities will be headed.
The practice is changing, too.  Hardly anything changed from when I started to teach in 1966 to ten years years ago.  But  I suspect that the rate of change will accelerate over the next ten, fifteen, twenty years.
Classroom lectures were effective for prior generations of students.  For this generation, I suspect that there is a better way to teach them and were gravitating into it.
Q:  Are you getting more inquiries from students about international issues?
A:  All the time.  Thats one area where Ken Gormley is doing a terrific job.  Forcing us — and with a lot of the faculty it is grudging — to integrate things like the Convention of the International Sale of Goods, for instance, and concepts from other legal systems into our core courses.
Q:  Does this affect lawyers with a primarily local practice?
A: I think that any lawyer increasingly has to deal with international law. Even small clients can make contracts in the EU or China.  The world is shrinking.  For example, Clients go overseas on cruises and become ill or injured.  The passenger ticket has all kinds of limitations on your ability to recover.  If you go to Europe and take a river cruise, the governing documents will probably not apply American law — which restricts liability severely — but the Athens Convention.  Sixty-seven nations, but not the U.S., adopted it and a lawyer has to be sensitive to the possibility that foreign law applies.
Q:  What does a newly-minted lawyer need to know today that the law school, when planning the curriculum, may have to run to catch up?
A: Today's lawyer has to be technologically savvy.  I still do research by pulling books from the law library shelf.  But that's not how its done in a modern law firm.Those guys do sophisticated research without ever once cracking the spine of a book.  A lot of the law books that I have grown to depend upon, the libraries aren't ordering anymore.  They have it all on line. Habits are hard to break. I still work on a typewriter and give marked-up revisions to the secretaries.
Q:  Do you still do the updates on Admiralty for Moore's Federal Practice?
A:  No, I did the Second Edition, but gave it up on the Third Edition, when I became too busy with China.
Q:  Is Admiralty law changing?
A:  Of course, every area of the law is changing.
Q:  Is that change incremental or sweeping?
A:  Its changed to meet the needs of changing technology.  Not that long ago, there were no such things as cargo containers, which handle the bulk of shipping now.  Its a different industry, but the underlying principles are pretty familiar.
Q:  What about the interface between admiralty and international law?
A:  Admiralty law is supposed to be uniform nationally — it isn't, you have splits among the circuits — but it is generally so, and nearly uniform internationally. There are differences in terminology and procedure, but the underlying similarities are dictated by the need for predictability and safety in trade.  The one thing admiralty law strives to do in all countries is to perpetuate maritime commerce. That is its goal.  Keeping ships carrying cargo is important to the economy of all seafaring nations.  To do this, you must have a system of laws that accommodates the whole range of competing interests.  This includes those who invest in ships that can cost over $100 million.  It also includes those who entrust their valuable cargo to these ships. And just as important, the needs of seamen who sail these vessels must be considered.  Its a hazardous job —  just as hazardous as it was centuries ago, surprisingly enough.  The law of admiralty seeks to accommodate them all, which is why it has become a separate body of law.
Q:  Is salvage part of the law of admiralty?
A:  Salvage rights  under admiralty law are intended to encourage others to come to the aid of vessels in distress.  They give an economic inducement to the saving vessel and also to its crew.
Q: Have you had a lot of demand for your Admiralty class?
A: I've always had a demand for that class.  Students seem to like it.  I get good student feedback all of the time.
Q:  Is admiralty an opportunity for students to get employment?
A: Yes, but there are more jobs in New Orleans, California and Houston than in Pittsburgh.  I've done admiralty cases in Pittsburgh but it usually involves seamen who were injured while working on the barges.
Q:  How many practitioners in that field are there in Pittsburgh?
A: Probably not more than a dozen. I've had students who have gone to get a masters in admiralty at Tulane, which is the best program in the United States.  Strangely enough, the admiralty bar is the highest paid legal specialty in the United States.
Q:  Thank you.  I know that your many students and colleagues will be interested in the things you have had to say in this interview.
CLT
Posted by Cliff Tuttle| October 29, 2013 | © 2014
No. 999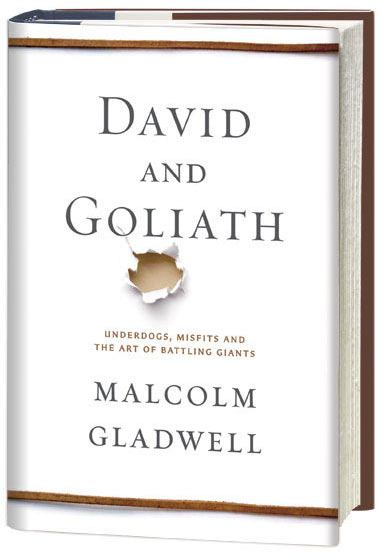 We hear it all of the time, but we don't really believe it.  The race is not to the swift or the battle to the strong.
Yet its true.  When David slew Goliath, Malcolm Gladwell teaches, it wasn't a fluke.  David knew exactly what he was doing and he said as much.  As a shepherd (the lowliest occupation) he had killed the wolf.  He had used the same technique he would use to fell Goliath — a single blow from a stone propelled from a sling at high speed with deadly accuracy.
No, it was not divine intervention or even luck.  David had practiced for endless hours until his skill was honed perfectly.  Then came the once in a lifetime opportunity. Big risk, big reward.  One killing blow to the forehead, that is all it would take.  Literally and figuratively, Goliath never saw it coming.
The story repeats itself endlessly throughout history.  Jack Weatherford tells the story of Ghengis Khan, perhaps the most improbable conqueror of all times from the most improbable homeland, leading the most improbable army.  He started at the bottom, just like David.  But opportunities came and he was never afraid of the risk.  It wasn't a one-time event that brought him to power.  He was patient.  But most of all, he was resourceful — endlessly resourceful.
Ghengis Khan turned surprise and an array of apparent weaknesses into strengths.  Swift cavalry, traveling light, incredible endurance, shrewdly changing yesterday's enemy into today's ally. He was a master of psychological warfare — subduing enemies through fear before the first blow was struck.
Gladwell's book explores the phenomenon from many perspectives.  In each case, an apparent weakness becomes the foundation of great strength.  One is the story of a leading American lawyer of our day — David Boies.
Boies, who has been lead counsel in several of the most important cases of the past two decades, is dyslectic.  This is an incredible disability for a law student, since the dyslectic reads so slowly and so painfully that it is impossible to keep up with the assigned reading.  But his reading disability had caused Boies to develop another skill to a very high level.  He became an exceptional listener and memorizer.  Since he couldn't read the assignments very well, he had to develop the ability to listen and remember as few others could.  It was doing it the hard way, the very hard way.  But it enabled him to cross examine witnesses based upon a near-perfect recollection of their testimony.
Think about it.  With fortitude, ingenuity and practice any of us may be able to overcome the natural advantages of our adversary.  We can potentially be Ghengis Khan.
Genghis Kahn and the Making of the Modern World by Jack Weatherford
David and Goliath: Underdogs, Misfits and the Art of Battling Giants by Malcolm Gladwell
Posted by Cliff Tuttle| October 28, 2013 | © 2014
No. 998
I don't watch the Good Wife on CBS, Sunday night too often.  But since it follows the Amazing Race, I caught the latest episode.
The title character, Alicia, is a partner in a large Chicago law firm called Lockhart/Gardner.  Up to now, from what I can piece together, she has been the good one in a world populated by evildoers. But now, she is leading a band of Lockhart/Gardner rebels (mostly fourth year associates) who are secretly planning to set up a spin-off firm and to take at least one of the firm's mega-clients with them.
Panic ensues.  Then war. Then treachery.
Of course, Alicia's husband was recently elected Governor of Illinois and you would think that she could attract a gazillion new clients in her own right.  Apparently not. She and her cohorts are driven to engage in all kinds of unethical conduct, like attempting to download the firm's client files.  And not to be outdone, one the most ruthless partners call the Board of Health to quarantine the office building where the insurgents are attempting to set up shop.
They all end up in court, of course, each side getting restraining orders against the other against contacting the same client. Can this stuff really happen?
Give us a break!
Next week the mayhem continues — but without me. I'll be reading a book.
CLT
Posted by Cliff Tuttle| October 25, 2013 | © 2014
No. 997
Today is the 40th Anniversary of the day I was admitted to the Bar of the Supreme Court of Pennsylvania, October 25, 1973.  I want to thank all the people who helped me achieve that milestone and assisted me along the way from there to here.  Too many of them are no longer on this earth and the opportunity for thanks is gone.  I have lost touch with others. Perhaps some of that can be fixed.
Appropriately, a client posted a very flattering review yesterday on my AVVO page. I received notice of it this morning, just before I decided to write this post. I could not have received a better anniversary present. I honestly don't know who it was, but I like it that way.  The whole point of practicing law is to serve the needs of clients.  Many are at critical points in their lives, sometimes in danger of losing everything.
Not long after being admitted to the Bar, I handled my first trial.  My client had been put away for many years in Farview State Hospital, which was really a prison for criminal defendants who are deemed by a psychiatrist to be incompetent to stand trial.  The criminal offense was too long in the past to obtain a conviction, so the District Attorney wanted to keep him in Farview.
The case turned on the evaluation of my client by the Director of Farview, who was a psychiatrist and as much of an expert on the subject as you were likely to find.  He was a kindly old gentleman (although he may not have been any older than I am today) but his testimony on direct examination was devastating. I made a few objections, more than anything to reassure my client, who was filled with visible panic. The judge treated them with that signature annoyance that can destroy your self-confidence for the rest of the trial.  Just as it appeared that my client was certain to spend the rest of his life in Farview, the judge called a Noon recess.
To my amazement, the DA came up to me and said that he had a lunch appointment and would appreciate it if I would take the doctor (who was a visitor to our city) to lunch.  I couldn't believe my ears.
At lunch, the doctor and I naturally talked about his patient, my client.  I actually knew a lot about my client because we had been corresponding for a while. One thing lead to another and I soon began to realize that the doctor was moderating his position.  Perhaps my client wasn't so sick after all.  Perhaps he was capable of successfully living in the world.  When the trial resumed, the tide had turned completely. My client experienced freedom for the first time that afternoon.  Like a bird released from a cage, he rapidly flew away and I never saw him again.
That was the exact point in time when I knew for a certainty that I could make a difference as a lawyer.
I am grateful for family, teachers, mentors and colleagues who gave me so much without asking for anything in return.  But I am grateful most of all to clients, many of whom have trusted me with the most important assets in their lives.
To all of you, thank you.
CLT
Posted by Cliff Tuttle| October 22, 2013 | © 2014
No. 996
When the e-cigarette burst upon the scene, the confrontation was inevitable. Could they be used in a no-smoking office?  Could they be smoked in a no-smoking restaurant? Maybe so, for now.
The e-cigarette does not burn tobacco.  Instead, it vaporizes nicotine. And of course, what we breathe in, we must breathe out. This may be enough of a difference to take them outside the scope of laws prohibiting smoking in certain public places.
The FDA says that second hand smoke from e-cigarettes may constitute a health hazard. They emit vapors of tiny droplets of dangerous chemicals that stick to your lungs. It may not be burning tobacco, but it still results, apparently, in medical risks.
Because smoking laws may not apply to e-cigarettes, municipal governments, schools and other agencies  are not waiting for the issue to reach the courts.  They are starting to amend their ordinances, rules and regulations.
So e-smoking may not be safe much longer, in the legal sense. Nice try, though.
CLT
Posted by Cliff Tuttle| October 21, 2013 | © 2014
No. 995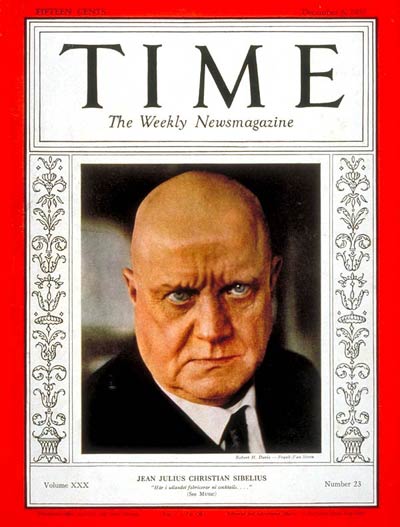 All you hear about on the news these days is Health and Human Services Secretary Kathleen Sebelius.
But do you remember who the other Sebelius is?
Aw, c'mon.  Sure you do.  Jean Sebelius was a famous Finnish Composer.  He wrote 7 Symhonies and a lot of other music during a long career, including Finlandia.  His birthday, December 8, is a national holiday in Finland.
He is credited with saying: "Never pay any attention to what critics say . . . A statue has never been set up to honor a critic."
When Katherine has been long forgotten (which won't be that far in the future) we will be listening to Finlandia.
But you knew that.
CLT
Posted by Cliff Tuttle| October 20, 2013 | © 2014
No. 994
In  the case of Garden State Equality et al v Dow, the New Jersey Supreme Court in effect affirmed a Superior Court decision holding that New Jersey's Civil Union Act did not provide equal treatment to same-sex couples because a civil union does not confer the same rights as marriage. Since the claim was based in State Constitutional Law, it is not eligible for review by the United States Supreme Court.  The SCOTUS blog provides a commentary.
Since the Windsor case, in which the Supreme Court held that a state that does not recognize same-sex marriage must give full faith and credit to legal same sex-marriages, the trend seems to be going one way.
CLT
Posted by Cliff Tuttle| October 15, 2013 | © 2014
No. 993
Former Justice Orie Melvin appeared in Court today.  Judge Lester Nauhouse wanted to know why she hadn't complied with the part of her sentence that required her to send letters of apology to all of the members of the judiciary in Pennsylvania accompanied by a photograph of her wearing handcuffs.  The short answer, delivered by her attorney, was that the sentence was under appeal.
Indeed.  I would be willing to bet a month of lunches that no modern appellate court anywhere in America has ever endorsed such an unusual sentence. And what is the purpose of requiring the former Justice to distribute copies of a photo of herself in handcuffs?  It could only have one effect — humiliation.
And I will bet you a year of lunches that if such a photograph is ever distributed that it will turn up on the internet within 48 hours. And then, on the front page of newspapers around the world.
Am I missing something here? Assuming that former Justice Orie Melvin does not have any such photos lying about, is she supposed to hire a photographer to take a picture of her in handcuffs?  Am I the only person who thinks that this sounds slightly kinky?
If I remember correctly, a raft of legislative leaders in this Commonwealth were convicted of more-or-less similar offenses.  None of them were required to distribute photographs of themselves in humiliating circumstances. If the sentence here is not unusual, why hasn't it been employed in sentences for similar crimes?
Then again, maybe stocks would be better.  I think there may be some available in Williamsburg. And what about a dunking stool?  But wasn't that the kind of punishment that the Eighth Amendment was supposed to abolish?
The Eighth Amendment is about human dignity. Thats why we don't have any stocks in the Courtyard of the County Courthouse.  The Supreme Court, the United States Supreme Court that is, said that handcuffing a prisoner to a post was a violation of the Eighth Amendment in the case of Hope v Pelzer, 536 U.S. 730 (2002).   
Part of what made this sort of punishment cruel and unusual was that it humiliated the prisoner so grievously that it was an affront to human dignity.
In Trop v Dulles, 356 U.S. 86 (1958), Chief Justice Earl Warren wrote:
"The basic concept underlying the Eighth Amendment is nothing less than the dignity of man.  While the state has the power to punish, the Amendment stands to assure that this power is exercised within the limits of civilized standards.  Fines, imprisonment and even execution may be imposed depending upon the enormity of the crime, but any technique outside the bounds of these traditional penalties is constitutionally suspect."
Even convicted ex-jurists are entitled to the proper  modicum of human dignity.  Its in the Constitution.
CLT
Posted by Cliff Tuttle| October 14, 2013 | © 2014
No. 992
There used to be a lot of nonsense published every Columbus Day about how various others had reached the New World first. Then there were a spate of Columbus Day articles that painted Columbus as an evil, ruthless, greedy, petty man, unworthy of our adulation. All of which missed the point.
None of the others (some of whom apparently traveled one way) changed the world.  Columbus, whatever his personal imperfections, did. And that's the whole point.
Various groups mark the occasion as an opportunity for a statement of ethnic pride.  That's fine. But let me suggest to you that the true meaning of Columbus Day can be bigger than that.
Columbus Day is about changing the world.  It is about the unexpected breakthrough.The game changer.
We have seen more than a few of these game-changers in our lifetime.  The internet is perhaps the most obvious. Some are not welcomed by many of us — like the rise of the global economy. But such new worlds exist whether we personally choose to embrace them or ignore them.
On Columbus Day, celebrate the continuous and never-ending discovery of new worlds. It didn't only happen in 1492.  Its happening now.
CLT
Posted by Cliff Tuttle| October 3, 2013 | © 2014
No 991
Justice Michael Angelo Musmanno died on Columbus Day, October 12, 1968.  But his name is still on the door of his chambers, 45 years later.  This door is located on the Eighth Floor of the City County Building, on the upper level, where the Office of the Board of Viewers is now located.
It appears that someone put a plaque over the Justice's name, but that's gone now.  There's a paper sign taped over it now.  I hope that somebody doesn't remove the lettering because I called attention to it.  Its historic.  It ought to be preserved.
If you are wondering whether the Justice's ghost is living here, I seriously doubt it. In the codicil to his will, Justice Musmanno requested that he be buried in Arlington National Cemetery as close to his beloved idol John F. Kennedy as possible. After Musmanno died, Congressman Jim Fulton arranged it. And so, he is interred a short distance from the graves of John F. and Robert F. Kennedy.  I suspect that he has no desire to return home.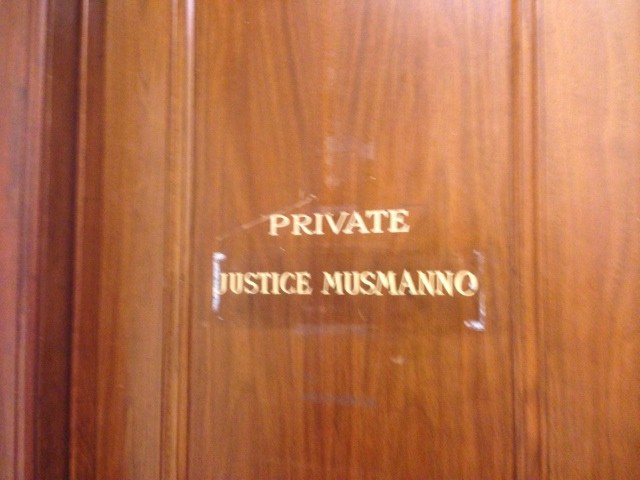 keep looking »