Posted by Cliff Tuttle| September 20, 2016 | © 2016
No. 1,284
I answered a question on AVVO yesterday asked by a landlord who was planning to engage in self-help, that is, locking out a tenant without filing suit under the Landlord and Tenant Act.
Of course, if you lock the tenant out, you lock his property in.  Since you have to do something with the current tenant's property in order to prepare for the next tenant, it is likely that the landlord will either move it to storage or discard it.
Before the 2012 amendment to the Landlord and Tenant Act, codified at 68 P.S. § 250.504, the tenant did not have a practical remedy to this practice.  However, under the amendment, the landlord must give a notice that the tenant has 10 days to remove the personal property in the unit and may request that the property be held (either on or off the premises) for 30 days.  Failure to comply entitles the tenant to sue for treble damages and attorneys fees.
Landlords who short circuited the judicial process in the past had a fair chance of getting away with it.  But not anymore.
To see a copy of the form of the required notice, scroll down to Post No. 1,279.
Posted by Cliff Tuttle| September 19, 2016 | © 2016
No. 1,283
Congratulations, Jim Edwards, who took the bar exam this summer at age 75.  The successful businessman had sold his companies and didn't need the money.
He wants to try cases in behalf of people with meritorious causes but not enough money to pay the tab.  Nothing wrong with that — its called giving back.
Mr Edwards has a lot of experience in life and business. He has also shown a fearless desire to follow his dreams in spite of the popular wisdom that 75 year-old men belong in rockers on the front porch.
And those qualities just might make this late-comer into one of the best lawyers in town.
Here's what the Wall Street Journal Law Blog had to say.
CLT
Posted by Cliff Tuttle| September 19, 2016 | © 2016
No. 1,282
This illustrated ad appeared in the Althouse blog today.
The Satyrs, by the way, were half-goat, half human creatures in ancient Greek mythology.  They are depicted on the Parthenon attending a wedding where everyone drank too much and fighting broke out. However, I think they didn't have wings.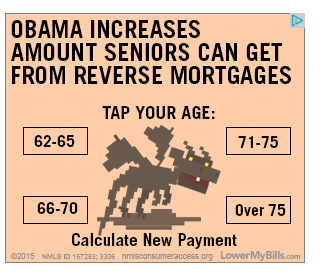 Posted by Cliff Tuttle| September 8, 2016 | © 2016
No. 1,281
During the past 5 years I have given seminars for lawyers several times per year at the Community College of Allegheny County, including the following topics:
• Landlord–Tenant Litigation
• Defending Mortgage Foreclosure Actions
•

Preliminary

Objections
• The Law of Contracts Applied to Real Estate
• The Pennsylvania Unfair Trade Practices and Consumer Protection Law
I am planning to give the three hour UTPCPL class again at the CCAC North Campus on Monday November 28 at 6:30 PM. CCAC classes a re good way to pick up CLE credits without taking time from your work day.  Contact Beverly Stellfox for information on registering for this and other seminars.  (412) 788-7385.  bstellfox@ccac.edu.
I am also planning to give a one-hour seminar on Consumer Real Estate Legislation  on December 9 in Philadelphia as part of a two-day 20th Annual Real Estate Institute.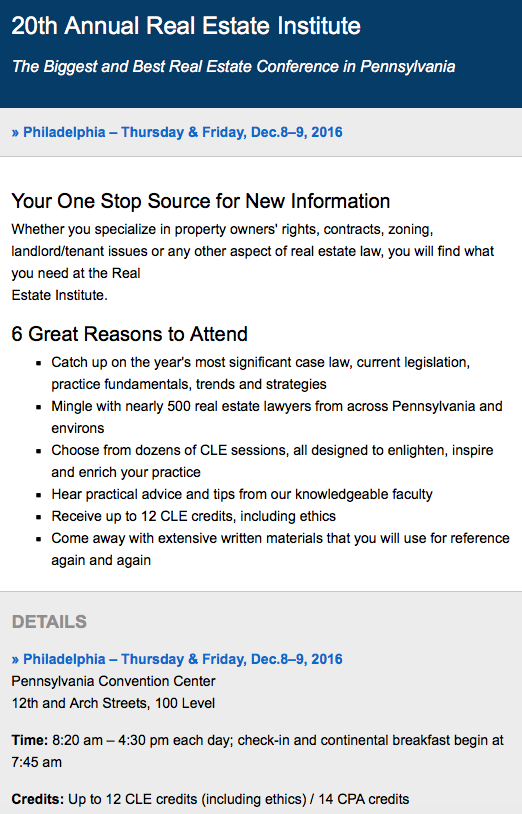 Posted by Cliff Tuttle| September 5, 2016 | © 2016
No. 1,280
Here are 5 reasons you should mail every tenant the notice provided in 68 P.S. Section 250.505, the Landlord and Tenant Act.  Although it is not mandatory to do so, and many or most landlords do not, following the procedures outlined in the act could prevent costly trouble. The following does not apply when an order of possession has been served by the constable or writ of possession has been served by the sheriff, because the notice is incorporated into the order. The provision does not apply when the tenant is deceased.  It then becomes a matter of estate administration through the orphan's court.
A similar notice should be included in the lease or a lease addendum. If the lease or addendum does not contain such a provision, a copy must also be mailed to any emergency contact set forth in the lease.
What may appear to the landlord be trash may contain items that the tenant wishes to retrieve.  By giving a notice you cover everything.
If a landlord violates the provision, he/she/it shall be subject to treble damages, attorneys fees and court costs.
Once the applicable time period has expired, the landlord may discard anything and everything.
The landlord can also sell some or all of the property, although any amount collected above that owed to the landlord must be paid to the tenant.
If the notice is not sent, under the literal language of the statute, the property can never be removed.
Posted by Cliff Tuttle| September 4, 2016 | © 2016
NO. 1,279
Its been four years since the Pennsylvania legislature  enacted an amendment to the Landlord and Tenant Act regarding disposal of abandoned property. Most tenants leave something behind, including trash. Often the tenant intends to return to pick up certain property and does not communicate this clearly (or at all) to the landlord.  Thus, it is a very good idea for the landlord to send the following notice to the tenant by regular mail immediately after receiving possession.This is not necessary, however, if an eviction notice has been served after judgment, since the eviction notice contains the same information.
If you wish, a copy of this notice will be emailed to you in pdf format upon request.  Use the message box on the right to provide your email address.
NOTICE TO TENANT REGARDING PERSONAL PROPERTYLEFT BEHIND IN THE LEASED PREMISES AFTER THE TENANT HAS SURRENDERED POSSESSION
TO: __________________
_____________________
_____________________
DATE:  _______________
Personal property remaining at _______________________________(address) is now considered to be abandoned.  Within ten days of the postmark date of this notice you must retrieve any items you wish to keep or contact your landlord at ______________ (telephone number) or _______________________ (address) to request that the property be retained or stored.  If requested, storage will be provided for up to thirty days from the postmark date at this notice at a place of your landlord's chasing and you will be responsible for the cost of storage,
__________________
Landlord
Posted by Cliff Tuttle| August 13, 2016 | © 2016
No. 1,278
For a very long time, real estate lawyers and title insurance companies have rightly required spouses to join in conveyances of land, even when they clearly do not have an record interest in the property.  The reasons are complex, but they involve rights that spouses may have, sometimes even after divorce.  For example, if a husband pays for improvements or maintenance of a home owned by his wife, he might have a right to equitable distribution in the property.
Nevertheless, a title insurance company may be willing to accept a waiver of spousal rights.  Although this document does not become a part of the public record, the company will retain the waiver in its files and could defend a claim by producing the document.
It doesn't hurt to ask.
Posted by Cliff Tuttle| August 7, 2016 | © 2016
No. 1,277
Hint:  it took over 200 years to ratify.
Posted by Cliff Tuttle| August 3, 2016 | © 2016
No. 1,276
Lawyers sometimes take cases because they get publicity.  I recently read about a law firm in Florida who was suing in behalf of Pokemon hunters because the rules were grossly one-sided and absolved the company of any liability for anything.  The post speculated that this firm had grown too large over past years by performing servicing of delinquent mortgages and  that the decline in mortgage foreclosure activity had left them looking for something else to do.
Pokemon Go will not go away soon.  Thus, it is only a matter of time before electronic trespass suits start appearing on the dockets. One eager plaintiff wrote to AVVO about this this morning, looking for a lawyer to do something about uninvited persons walking across his/her land. You can bet this potential client has a contingent fee in mind.  A tall fence might be a better investment than a lawyer in the long run. This is especially true if there is something on the land worth keeping trespassers away — like a large garden.
Of course, you could sue the little urchins for walking onto your land, but they are minors (who cannot be sued directly in many states) and they probably don't have any real money anyway.  Even if they did,  the damages would most likely be nominal.  Better to sue a large corporation for multiple trespasses, preferably in a class action.  You know the drill.
But then again, lawyers who bring such cases run the risk of being portrayed in the media as some kind of Scroogy spoilsport or otherwise ridiculed. Unless you subscribe to the maxim that all publicity is good publicity, that could be a negative.
I don't intend to take any Poke-cases myself, but I will gladly write about them.  To that end, I just initiated a new category in this blog: "Pokemon Litigation."
Anyway, here's the AVVO inquiry:
Posted by Cliff Tuttle| August 1, 2016 | © 2016
No. 1,275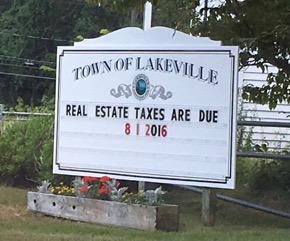 keep looking »