Posted by Cliff Tuttle| November 11, 2017 | © 2017
No. 1,360
As the day comes closer, many people become apprehensive about giving testimony in court.  One way to relieve the tension is for the witness to rehearse the testimony with counsel.  This enables the witness to obtain a good idea of what he/she is expected to say.  Extraneous information can be culled away.
Don't worry about forgetting.  Most of the time you are telling a story. A story has a beginning, middle and end.  You start at the beginning and then move along to each next thing.  One link leads to the next.  Don't get ahead of the questioner. Don't overthink the answer. With a moderate amount of practice you and your lawyer get into synch. Soon, everything should fall into place. You both get into the flow and hopefully you can ride the wave to the end.
Are you concerned about being cross-examined?  You can rehearse that too. Of course, your lawyer will not anticipate every question.  But practice will give you self-confidence and help you answer directly and credibly.
CLT
Category:
Civil Litigation
Comments Off

on On the Witness Stand: Tell Me Your Story.
Posted by Cliff Tuttle| November 6, 2017 | © 2017
No. 1,359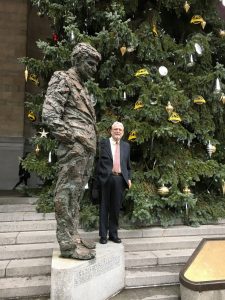 Posted by Cliff Tuttle| October 31, 2017 | © 2017
No. 1,358
Perhaps you remember when the North Carolina legislature passed a bill restricting bathroom use to biological members of that sex.  Well, that's history. Here's a bathroom sign at Campus Y at the University of North Carolina at Chapel Hill.
Category:
Uncategorized
Comments Off

on Signs of the Times: Bathroom Iconography
Posted by Cliff Tuttle| October 22, 2017 | © 2017
No. 1,357
AJEMIAN v. YAHOO!, INC., SJC – 122337, Supreme Judicial Court of Massachusetts, October 16, 2017
John Ajemian died in a bicycle accident.  He had an email account with Yahoo! when he died, containing four years of stored emails.  The administrators of his estate, his brother and sister, would really like to read those emails.  They might contain information helpful in estate administration, like bills and electronic receipts and who knows what? And besides — this account was the property of their deceased brother and so, under the law of intestate succession, now it belongs to them!
But Yahoo won't give access to them.  Something about needing to use the password.  And of course, brother John took that information with him to the grave.
And so, Robert and Marianne Ajemian did what any two red blooded Americans would do.  They sued. The trial court granted summary judgment to Yahoo! on the grounds that a federal statute, the Stored Communications Act, 18 USC § 2701 et seq, prohibits it. The Supreme Judicial Court of Massachusetts accepted jurisdiction on its own motion.
The Supreme Judicial Court made short work of that defense.  "We conclude that the SCA does not prohibit such disclosure.  Rather, it permits Yahoo to divulge the contents of the e-mail account where, as here, the personal representatives lawfully consent to disclosure on the decedent's behalf. Accordingly, summary judgment for Yahoo on this basis should not have been allowed."
Yahoo refused to divulge the contents because, it argued, it had no right to release the information under the service agreement, at least, not without the password. Concluding that there were unresolved material facts involved in that determination, the case was remanded.
One interesting determination of the decision is that the SJD concluded that the administrator could not claim the right of access as the decedent's agent.  An agent, it noted, is under the control of the principal.  Being dead, the decedent can not exercise control.
This decision doesn't yield much, if any, precedent in Massachusetts and none in Pennsylvania.  However, it signals issues that will become increasingly important in an electronic era.  Encourage clients to keep passwords in a safe place and to communicate the information to named executors or likely administrators.  This should include not only the password for email accounts, but other passwords as well. And then, once an account is accessed, change the passwords.
CLT
Category:
Uncategorized
Comments Off

on Be Sure to Bequeath All Your Passwords to Your Heirs, Executors, Administrators, Successors and Assigns
Posted by Cliff Tuttle| October 15, 2017 | © 2017
No. 1,356
A lot of people have trouble being on time for meetings and other events.  One of my favorite blogs, Time Management Ninja, had an excellent guest post on the causes of lateness.
Everybody is late at times and some of those are unavoidable.  But a habit of lateness is one that must be broken.
One way to break a bad habit is to replace it with a good habit. Here's a thought.
Develop the habit of focusing your attention on the future. Not the distant future or even next week.  Focus on the immediate future. Keep asking yourself "What's next?" Then do something about it.  Make that next thing happen.
If you don't know the answer immediately, you may need to make a list.  After a lifetime of estimating how long a task will take, I must admit that the actual elapsed time is almost always greater  — often multiples of the original plan. Travel time is one of those things that we constantly underestimate.  So, just double it.
And what do you do when you get to your destination early?  Prepare for the meeting or event. Check your schedule to plan to leave on time for the next event. Go over your plans for the rest of the day or even the week.  Being ready increases your confidence and therefore your effectiveness.
If an event starts late or you suspect it will not conclude on time, if you can, announce at the beginning the time when you must leave.
If you cannot control your departure time — text ahead.
CLT
Posted by Cliff Tuttle| September 29, 2017 | © 2017
No. 1,355

Category:
Uncategorized
Comments Off

on Yes, Even a Lawyer Can Give Back Ten Talents For Five.
Posted by Cliff Tuttle| September 29, 2017 | © 2017
No. 1,354
Ken Burns' Vietnam War just completed its original run tonight. It is the saga of my generation, coming of age in the turbulent '60's.  Watching those familiar scenes of bombings and firefights made me feel profoundly sad.  One good friend said that seeing it all again made her remember how angry she had been. Another said that after these past two weeks, he does not feel patriotic anymore.
As the narrator stated, there were things we have forgotten and things we never knew.  It was, in many ways, a secret war. But in others, it was the first one fought on television. The public had an opportunity to see the incredible carnage and destruction.  And yet, the close-up view somehow failed to convey the totality — thirty years of large scale killing of combatants and noncombatants that just went on and on and on.
The Vietnam War divided this Country and its families as never since the Civil War.  In some ways, this rift never healed.Burns' signature production, the Civil War, previously demonstrated like no documentary ever had, the terrible toll of that war.  And now, a century later, we've outdone ourselves.
On the other hand, there were also many inspirational moments.  Pay close attention to the amazing stories told by survivors from all sides, including families waiting at home, prisoners of war, Viet Cong fighters, CIA agents, campus demonstrators and others who lived through it all. But most of all, pay attention to the voices of those who fought the war — Americans and Vietnamese.  There are countless heroes in their number.  They deserve to be remembered.
And for those who consider the study of history a waste of educational dollars, I suggest that there are hard lessons of the Vietnam Experience to be applied today and tomorrow.
CLT
Category:
History
Comments Off

on Reliving the Vietnam Experience.
Posted by Cliff Tuttle| September 24, 2017 | © 2017
No. 1,353
Not what you think.  Its not what attorneys do.  It is usually what tenants of commercial property do — acknowledge the new owner as landlord or the mortgage holder as having rights that precede the lease. Its a verb, used as follows: "Lessee hereby agrees to attorn to subsequent purchasers of the leased premises and assignees of this Lease." I am told that it is also used by securities lawyers, which I am not.
Ken Adams, the expert's expert on contracts (Adams' on Contract Drafting) goes into it even further in a post on the subject. Although the word attorn could theoretically be used for non-legal purposes, this must be pretty rare, at least today.  Through the wonders of Google, I see that Shakespeare actually used this quaint word in Timon of Athens, when he wrote: "And the best half should have attorn'd to him."
Shakespeare notwithstanding, it is one of those antiques that has been preserved over centuries because passages from old leases were frequently copied into new leases. Commercial leases today typically contain a subordination, non disturbance and attornment agreement or SNDA.
So, how did the word attorney come into the language?  It is derived from a form of an Old French (i.e. ancient French dialect) word, "atorner."  An attorney is one who acts in behalf of someone else. This concept includes both an attorney at law and an attorney in fact.  The latter holds a power of attorney and exercises the powers enumerated in the document in behalf of the grantor of the power of attorney.
By the way, if you didn't click the last link, you missed a two hundred year-old lawyer quip, delivered by the great Samuel Johnson.
CLT
Posted by Cliff Tuttle| September 14, 2017 | © 2017
No. 1,352
How would you like to open your mail and receive an opinion on your appeal that begins like this?
"We note at the outset that at seventy-eight pages, Appellant's brief is more than two and a half times the 'safe harbor' maximum of thirty pages (2.6 times, to be precise). Counsel for Appellant certifies that the brief consists of 13,971 words, twenty-nine words less than the specified limit of 14,000 words prescribed in our rules of appellate procedure. (See Certification of Compliance with Word Count Limit, 3/24/17); see also Pa.R.A.P. 2135(a)(1).
However, on independent examination, we confirm a count of 18,519 words, making the brief about a third longer than the maximum permissible length, without permission. It appears that counsel, or his word processor, misstated the count by over 4500 words (4548, to be precise), failing to comply with the requirements of Pa.R.A.P. 2135.
We could issue a rule to show cause order, with the possible sanction of quashal unless counsel provides an adequate explanation for the discrepancy. See Commonwealth v. Spuck, 86 A.3d 870, 877 (Pa. Super. 2014), appeal denied, 99 A.3d 77 (Pa. 2014).
However, we decline to do so for reasons of judicial economy. While the brief is excessively rambling and could have benefited from more careful editing, nothing in the available record suggests that reworking the existing materials would furnish any proper basis to disturb the jury's verdict. To allow (or require) another round of briefs would place an additional burden on the Appellees, and their counsel, and merely delay the inevitable.
Accordingly, to the extent possible, we will review Appellant's non-compliant brief on the merits, despite the obvious procedural defects."
Florence James v. Albert Einstein Medical Center, Superior Court, No. 1723 EDA 2016 (Opinion dated September 12, 2017)
Judges, especially appellate judges, have to read a lot of stuff.  If you send in an "excessively rambling brief", how do you expect to hold your reader's attention? Here's a few points that we all know but often forget.
Don't preach.
Be interesting.
Tell a story.
Purge details that don't matter that much.
Say it only once in the main body of your argument.
Focus on your best case for each argument.
Remember that experienced judges have heard it all.
CLT
Posted by Cliff Tuttle| September 9, 2017 | © 2017
No. 1,351
Category:
Uncategorized
Comments Off

on EVERY SATURDAY DO ONE THING TO BE A KID AGAIN!
keep looking »