Posted by Cliff Tuttle| March 23, 2015 | © 2015
No. 1,131
Its part of the dashboard electronic set up, pictured below, that helps you make sure you never get lost, even if you want to.
But, Hertz says it is deactivated and it doesn't plan to use it.  Well, that's comforting. A useless, turned off camera. OK, Big Brother, be sure to give us lots of notice when you change that plan.
Do we have an expectation of privacy in this situation?  After all, its their car, not our's. Hertz is not the government, but the government can subpoena the tapes — if there were tapes, which of course there aren't.
Don't feel paranoid or anything, mind you, but you might want to put a small piece of  duct tape on the lens.  Peace of mind.  Then, just in case there's a recorder in there too, play loud music on the radio. Then drop it off at AVIS.  It's okay, Hertz can find it. GPS is part of the Never Lost package.
Posted by Cliff Tuttle| March 23, 2015 | © 2015
No. 1,130
Here's a link to the new  sample forms promulgated by the CFPB (Consumer Financial Protection Bureau) for real estate closing disclosures that will be required for loans originated after August 1, 2015.
If you are accustomed to using the HUD 1 settlement statement, you'll find the essence of it integrated into the various combined Truth in Lending and Real Estate Settlement Procedures Act Disclosures. But the HUD 1 itself will cease to exist.
These documents are intended to make loan disclosures more easily understood.  But do they, really?  The CFPB thinks they represent an improvement in clarity over prior disclosure forms.  And perhaps that is true in the abstract.
But in practice, the typical borrower will zone out somewhere on page 2.  People will need to have the information on these forms explained line by line, just as they do now.  This used to be done at the closing table.  Now, with disclosures being given three days in advance,  clients who want understandable explanations of the disclosures may call their lawyers.  Even though they are not conducting residential loan closings under the new regime, real estate lawyers should be prepared to assist bewildered borrowers before and perhaps during the closing.
Its too late to complaint. These changes are a done deal, or at least they seem to be.  Nevertheless, if history is a reliable guide, the CFPB will postpone the implementation date, possibly more than once.
CLT
Posted by Cliff Tuttle| March 22, 2015 | © 2015
No. 1,129
You may have heard that things are changing big time in the residential real estate closing business.  The operant words here are "big" and "business." Closing residential loans has become a big business and those who handle closings of residential mortgages are doing it full-time on a large scale.  While law firms are not excluded from this arena, most closers are not law firms but are title agencies owned and operated by non-lawyers.  The trend has been for lenders to establish in-house title agencies and they have a monopoly in closing their own loans.
Lawton Stokes is an attorney who with his wife Kristin, also an attorney, operates real estate broker Achieve Realty.  The Stokes also operate a real estate closing agency which is in the process of transition to the new world of residential real estate loan closings. This transition is not going to be easy, but Stokes says that it can be done.
Q:  How has the title insurance business changed in recent years?
A: The underwriters have un-loaded all the "small agencies" over the past several years. So if you still have an agency, you must do enough business to justify your relationship with your underwriter. Problem is, the work load is going to increase.
Q:  Such as, what?
A: In my mind, the largest ongoing challenge will be conducting daily reconciliations of the escrow account.  The largest one-time challenge for me will be to encrypt the email, our computers, and our server.
Q:  The Consumer Finance Protection Bureau is mandating major changes this year, what are they?
A: The way HUD-1's are prepared is going to change. You're going to need settlement software that "links" with the lenders' settlement software. If you're currently using a vendor like Title Express, you should consider using their "cloud" (as opposed to server-based) service. TSS is working on a protocol now. This ought to add expense to the process.
A:  So, where can a smaller title insurance agent look for guidance in this new era?
A: Underwriters are encouraging their agents to comply with the "Seven Pillars of ALTA's Best Practices."
They are as follows:
1.      Pillar No 1: Establish and maintain current license(s) as required to conduct the business of title insurance and settlement services. [Easy.]
2.      Pillar No. 2: Adopt and maintain appropriate written procedures and controls for escrow trust accounts allowing for electronic verification of reconciliation. [This should be easy if you currently use title insurance software that creates settlement statements and also handles the accounting function. These companies are all adapting to help their customers meet this requirement. If you don't have software that does this, you'll have to obtain it.]
3.      Pillar No. 3: Adopt and maintain a written privacy and information security program to protect non-public Personal Information as required by local, state and federal law. [This is a challenge for offices that are not "compartmentalized." If the public and/or your cleaning staff can access your files, regardless of the time of day, you have to modify your office layout. If you work from home and see no clients at home and conduct your closings away from home, you're okay as long as you don't have a cleaning person at your house. If you work from an office, you'll have to keep the files locked away when you're not working on them. Furthermore, you're going to have to encrypt your email. And while you're at it, encrypt your desk top and your server too.]
4.      Pillar No. 4: Adopt standard real estate settlement procedures and policies that help ensure compliance with federal and state consumer financial laws as applicable to the settlement process. [You probably already have these procedures in place. Formalize them.]
5.      Pillar No. 5: Adopt and maintain written procedures related to title policy production, delivery, reporting, and premium remittance. [Imagine recording, issuing your title policy and remitting within a maximum of 30-60 days.]
6.      Pillar No. 6: Maintain appropriate professional liability insurance and fidelity coverage. [You should already have this.]
7.      Pillar No. 7: Adopt and maintain written procedures for resolving consumer complaints. [Easy.]
CLT
Posted by Cliff Tuttle| March 22, 2015 | © 2015
No. 1128
The Consumer Finance Protection Bureau has been touting the Complaint Department on its Blog. 
They encourage consumers to tell their story and promise to forward the matter to the company involved and to give status updates. CFPB has been logging in complaints since July 2011 and says that there are hundreds of thousands of them. (Actually, there are 364,684 of them as of 8 AM on March 22, 2015.)
But don't get too excited.  The CFPB didn't publish 364,684 juicy stories.  Its a database and individual entries look (in part) like this: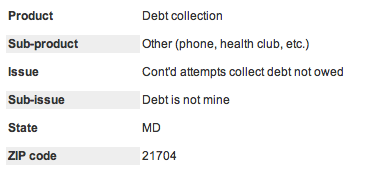 Posted by Cliff Tuttle| March 16, 2015 | © 2015
No. 1,127
MATTHEW HANSEN, ALEC SPERGEL, COLLIN SCHWARTZ AND COREY NORD-PODBERESKY v. MICHAEL BUPP, NO. 673 WDA 2014, Superior Court of Pennsylvania, filed February 24, 2014.
A group of students at the University of Pittsburgh entered into a residential lease with Michael Bupp. They paid the first and last month's rent and a security deposit in advance, for a total of $5,990.00.
The first of the group to move in, Spergel, identified some items in need of repair, including a bath drain, a light, various locks, which he communicated to Bupp by email.  Bupp responded with a text message stating: "I cannot deal with your group.  Please leave."
In a telephone conversation which Spergel's parents heard on the speaker phone, Bupp launch  an epic stream of expletives. As a result, Spergel moved out and the others never moved in.
Bupp refused to return the rent and security deposit payments.  He stated that they had abandoned the premises despite his promises to perform the repairs.
On appeal from the award of the Arbitrators, a jury entered a verdict for the tenants in the amount of $3,990.00.  The trial court thereafter took additional evidence on the Plaintiffs' claims under the Unfair Trade Practices and Consumer Protection Law. (UTPCPL)
"Based upon this evidence, the trial court molded the verdict to add $10,000 in attorneys' fees, $457.25 in costs, and $6,010 in exemplary damages. By order dated March 28, 2014, the trial court denied Bupp's post-trial motions and entered judgment in favor of Appellees in the amount of $20,457.25."
"Bupp contends that Appellants "offered no evidence that supports the contention that Bupp made misrepresentations to [Appellants] that could in any manner be construed as fraudulent or deceptive." Bupp's Brief at 13. Bupp further argues that Appellants "have offered nothing to suggest that Bupp represented he would make repairs and failed to make such repairs," and that the "uncontroverted testimony at trial" reflects that Appellants 'were substantially satisfied with the apartment on August 20, 2012, having moved in with no express intention of vacating….' Id. at 12."
The Superior Court held that a landlord wrongfully withholding a security deposit constitutes an unfair trade practice under the statute, relying on Wallace v. Pastore, 742 A.2d 1090 (Pa. Super 1999).
CLT
Posted by Cliff Tuttle| March 2, 2015 | © 2015
No. 1,126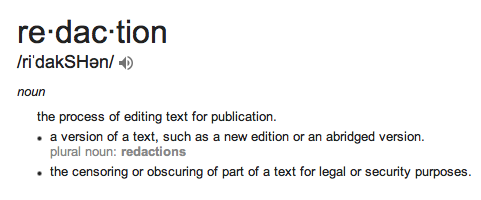 Once again, Howard Bashman of How Appealing has brought to our attention another crazy case.  This one is too rich.  Now who do you suppose these litigants might be?  And how long can the secret be kept?
Posted by Cliff Tuttle| March 2, 2015 | © 2015
No. 1,125
Sprint is responsible for one of the most idiotic commercials on TV today.
Kevin Durant is a professional basketball player, not a lawyer.
He jumps up in court and demands that cell phone bills be cut in half.  Then he does it — to the other lawyer's exhibit.  The gallery goes wild.  The tipstaff runs over to shake his hand.
But why does Sprint feel compelled to give a credit to the Law Offices Kevin Durant & Associates and disclaim it just below?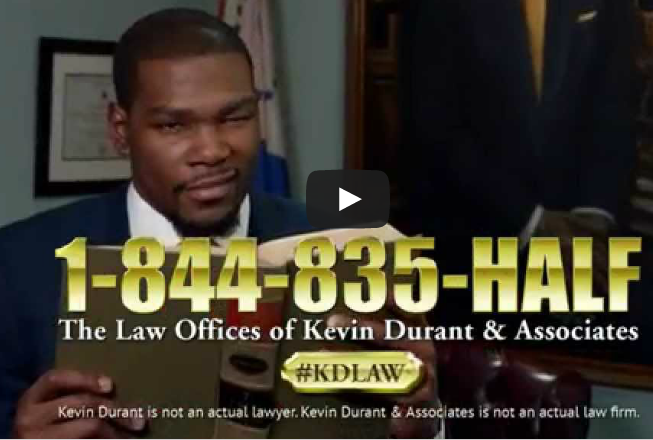 Posted by Cliff Tuttle| February 24, 2015 | © 2015
No. 1,124
Here's a news story from the Trib you may have missed about how there probably won't be any interim nominations this year to the Pennsylvania Supreme Court.
Centre County President Judge Thomas Kistler states that he can't afford to leave his present position, since the Centre County Common Pleas Court is also short-handed.
So, the deal is off. Nominating just one justice would potentially deadlock the court at 6-6.
However, the Trib article clearly implies that the real reason for the turn-down is that Judge Kistler doesn't want to be required to explain to the Senate Judiciary Committee why he forwarded a certain Christmas card to his friends in 2013. It shows a black couple hugging during a jail visit and says "Merry Christmas from the Johnsons."
The Judge acknowledges that he forwarded the card to about 22 people, stating that it illustrates the hardship upon families of incarceration during the holiday. Not surprisingly, there are people who don't believe that explanation.  And some of them would be very happy to testify at the confirmation hearings, inviting the national press to cover the story. The term "media circus" come to mind.
Of course, the Judge, together with his co-nominee, Dean Kenneth Gormley of Duquesne Law School, would almost certainly be confirmed. They have excellent qualifications. But would the game be worth the candle?
CLT
Posted by Cliff Tuttle| February 22, 2015 | © 2015
No. 1,123
In the Matter of Discipline of Howard Neil Shipley, No. 14D2827.
Live long enough and you can see everything.
Every lawyer has had clients who want to micromanage the case.  Its a serious handicap.  But most of the time, it just makes the task harder.
But not always.
In a rare move, the United States Supreme Court has issued an Order to show cause why sanctions should not be imposed against a lawyer who says that his client insisted upon dictating the content and style of arguments presented in a petition involving a patent matter.  The lawyer, Howard Neil Shipley, has had to hire a leading Supreme Court practitioner to plead his case.  Of course, being sanctioned by the the United States Supreme Court would be a severe blow to any lawyer's career.
According to the Response to the Order, recently filed, similar sanctions have not been imposed for 50 years.
Read more about it in the SCOTUS Blog.
CLT
Posted by Cliff Tuttle| February 15, 2015 | © 2015
No. 1,122
COLONIAL INTERMEDIATE UNIT #20
COLONIAL INTERMEDIATE UNIT #20
EDUCATION ASSOCIATION, PSEA/NEA
No. 983 C.D. 2014
The Commonwealth Court of Pennsylvania upheld the refusal of a Common Pleas Court decision that denied the employer's petition to vacate an arbitration award and reinstate a special education teacher who had been terminated due to an incident.  The Public Employee Relations Act PERA) provides that an arbitration award is governed by a highly deferential "essence test."
"Under the essence test, a reviewing court may vacate a PERA arbitration award only where the award is indisputably and genuinely without foundation in, or fails to logically flow from, the underlying collective bargaining agreement (CBA). If the essence test is satisfied, the court may further consider whether the award violates a well- defined and dominant public policy."
Here's the story: A group of special education students visited a petting zoo.  A 14 year old autistic student "repeatedly lured a goat with food and hit it on the nose.
Several days later the teacher learned about the incident.  So he hung a sign around the student's neck which read "I abuse Animals." The story goes on, with the teacher resisting the efforts of another teacher to ameliorate the humiliation of the sign by changing it to "I Love Animals." When the news of this reached the school administration, the teacher was dismissed.  This was followed by the filing of a grievance that was heard by an arbitrator.
At a hearing, other charges were added including extreme discipline, name calling and the use of trigger words.  The teacher was charged with immorality, cruelty, persistent negligence in performance of duties, willful neglect of duties and willful violation and failure to comply with school law and regulations.
The Arbitrator  sustained the grievance in part and denied it in part. She determined that the Grievant's conduct did not constitute immorality, cruelty, etc.  Therefore the Arbitrator ruled that Grievant was terminated without just cause. However, the Arbitrator found that the Grievant's conduct demonstrated a lack of professionalism and converted the termination to a 53 day suspension without pay, running from October 11, 2011 to the first day of school in January 2012. The reinstatement was conditioned upon successful completion of an improvement plan structured by the Employer.
The award was appealed by the Employer to common pleas court. The Court determined that the Arbitrator's award was rationally derived from the CBA, was not in violation of public policy and refused to vacate the award.
The Commonwealth Court upheld the trial court decision that the award was justified under the essence test.  It also observed that the public policy exception to the essence test is extremely narrow.
"In light of the conditions imposed by Arbitrator, which address Employer's concerns in this case, Arbitrator's award does not pose an unacceptable risk to any well-defined or dominant school law or policy. [citing cases] Accordingly, we reject Employer's contention that the trial court erred in failing to determine Arbitrator's award violates the public policy exception."
CLT
keep looking »