Posted by Cliff Tuttle| April 25, 2015 | © 2015
No. 1,146
If you guessed that this was the opening line of  George Orwell's 1984, you were right.
We tend to forget that we can have cold weather in April, but yes we can.  I'm not a gardener, but an expert one told me that you can have a frost as late as May 25.
Be thankful.  We could be living in Kathmandu.
CLT
UPDATE:  By 2 PM, Pittsburgh time, the death toll from the earthquake and an earthquake-like aftershock had risen to 1,500 and is expected to continue to grow.
Posted by Cliff Tuttle| April 23, 2015 | © 2015
No. 1,145
While looking up the word "pled" in Dictionary.com, I discovered that we will soon be able to get a Dictionary.com app for the Apple Watch.  Just imagine what a know-it-all you can be when you can look up any definition in a second by speaking to your watch! You can use the line Rumpole used to say: "Just trying to improve your education."
Unfortunately, your friends may start avoiding you.  So use it sparingly. Here's the ad: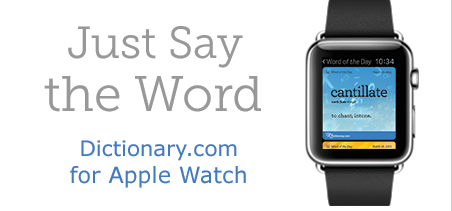 Posted by Cliff Tuttle| April 23, 2015 | © 2015
No. 1,144
According to Dictionary. com, both.
Lawyers use this word "plead" all the time as to indicate that some averment was stating in a "pleading", such as a complaint or answer.
However, some think that the past tense, pronounced "pled" is also spelled "plead", perhaps because the spelling "pled" just doesn't seem to look correct.
But "pled" is correct, as is "pleaded." The spelling "plead" is only used in the present tense.
Example: "The Plaintiff pled that the accident was caused by defendant's negligence." [Correct]
Or: "The Plaintiff pleaded that the accident was caused by defendant's negligence." [Correct]
But not: "The Plaintiff plead that the accident was caused by defendant's negligence." [Wrong]
If you were not confused about this before, perhaps you are now.
No — reverse that!
If you have any more questions about this subject, consult Grammar Girl.
CLT
Posted by Cliff Tuttle| April 22, 2015 | © 2015
No. 1,143
Its a Pittsburgh thing.  If you don't get it, turn in your badge.
Posted by Cliff Tuttle| April 22, 2015 | © 2015
No. 1,142
ASSOCIATIONS CODE (15 PA. C.S.) AND NAMES (54 PA.C.S.) OMNIBUS AMENDMENTS; Act of October 22, 2014, PL 2640, No. 172
As July 1 approaches, you'll be hearing a lot more about this statute.  Also known as the Entity Transactions Act or Law, it substantially modernizes and rearranges Title 15.
Under the new law, there are five fundamental kinds of transactions that may take place, regardless of the form of the business entity.
• Merger of one entity with or into another;
• Conversion of one type of entity to another type of entity;
• Interest exchange between two entities so that one of them is controlled by the other without a merger;
• Division of one existing entity into two or more resulting types of associations;
• Domestication into Pennsylvania of an entity originally organized in another state.
There will also be several new filing forms that will be available on the Corporations Bureau website before July 1.
There will undoubtedly be a variety of seminars coming out in the near future.  Keep tuned in.
CLT
Posted by Cliff Tuttle| April 21, 2015 | © 2015
No. 1,141
This sign was posted outside a courtroom in the Butler County Court House. Justice is not blind in all cases.
We saw a young lady on her way to the courtroom with a large tattoo on her upper back and another on her arm.  No prohibition against uncovered tattoos . . . yet.
If your client shows up violating these rules, (you and I never would) maybe you  can keep a spare raincoat in the car.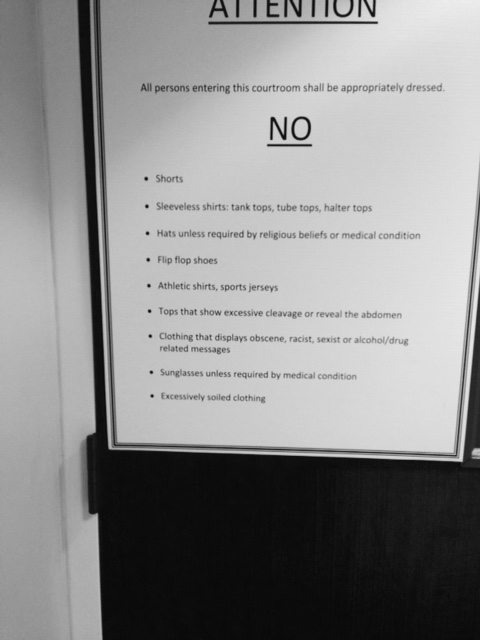 Posted by Cliff Tuttle| April 19, 2015 | © 2015
No. 1,140
IN RE; ORDER AMENDING RULES 801-816 AND 820 AND RESCINDING RULE 817 OF THE PENNSYLVANIA RULES OF CIVIL PROCEDURE GOVERNING ACTIONS AND PROCEEDINGS BEFORE MAGISTERIAL DISTRICT JUDGES.  Magisterial Rules Docket No. 382, March 13, 2015
It is now possible for a minor (defined as a person under age 18) to sue and be sued before a Magisterial District Judge. This includes a civil action and a landlord and tenant action for possession of real property.
The Official Note states: "This difference in procedure is due in part to the determination that magisterial district judges should not be required or allowed to appoint guardians ad litem, considering the expedition with which civil actions before magisterial district judges are required to be handled under the general rules of civil procedure applicable to magisterial district judges. Since magisterial district judges will not be permitted to appoint guardians ad litem (see Rule 819), it would be manifestly unfair to allow a minor plaintiff to bring suit by a "next friend" guardian but to require the appointment of a guardian by a court of common pleas before a suit could be brought against a minor defendant. It is considered that ample protection will be afforded the minor party under Rule 805. See also the note to Rule 807."
Of course, a guardian may still represent a minor before a magisterial district judge (MDJ).
Service may be made upon the minor. A judgment may be entered against the minor and the guardian, if any, shall not be personally liable.
In addition, the minor who is not represented by a guardian may enter into a compromise or settlement.  However, if there is a sum due to the minor who is not represented by a guardian, it must be paid to the natural guardian.
The Rules Change also addresses, "incompetents", who are now designated as incapacitated persons.  An incapacitated person is in all cases to be represented by his guardian, who would have been previously appointed by the Orphans Court.
Under Rule 813, if the MDJ finds that a party is an incapacitated person, but is not represented by the guardian, he may dismiss the action without prejudice as to the incapacitated person only.  The complaint may also be amended while the action is pending.
Under Rule 815, the MDJ shall dismiss a judgment against an incompetent person not represented by a guardian, unless the guardian consents.  But a judgment in favor of an incompetent person shall not be vacated or set aside for lack of the participation of a guardian.
The Rule Amendments and comments do not state whether appointment of a guardian is required on appeal of a magistrate's judgment to Common Pleas Court.  If either party appeals, must the minor seek an appointment of a guardian ad litem before the case can proceed?  Does this mean that the minor cannot file a complaint or answer until this is accomplished?
One has to assume that such a situation would be extremely rare.  A minor could not legally enter into a contract, such as an apartment lease, and if a parent or guardian has signed the lease, he or she would be a necessary party.
In the case of a small tort, such as property damage by a minor, the plaintiff would very much wish the parent/ guardian to be a party. However, under the Rules, the minor, not the guardian, would be financially responsible for the judgment.  Since most minors living at home have little income and few assets, this may not afford much relief. A criminal prosecution would be more likely in such a circumstance.
CLT
Posted by Cliff Tuttle| April 18, 2015 | © 2015
No. 1,139
The first Apple Watches are scheduled to ship on or about April 24.  Like children anticipating Christmas, many can hardly wait.  But the Apple Watch is not an expensive toy.  It is a tool, a valuable one for people who are out and about, including busy lawyers.
Time Management Ninja, a blog by Craig Jarrow, explains ten ways that the Apple Watch will save time. All 10 will be beneficial to lawyers.
Instead of a buzz that others can hear (and sometimes you don't) the Apple Watch will alert you of an incoming call or message by a silent tap on the wrist.  Although you are constantly being directed to turn off your phone by the judge's tipstaff and other authority figures, there are times when you can't.
Yes, there are certain calls that must be taken no matter where you are — your client had an accident or got lost on the way to a hearing, a family emergency occurred, you left your file in the office. The Apple Watch alerts you by a tap on the wrist.
Thus, you can leave the phone on, even while in court.  Nobody knows you are getting a call. You can dismiss it instantly. No quick draw to turn off the phone is required.
You can call up a list on your phone.  This could enable you to seamlessly refer to your notes while making a presentation. Of course, if your opponent and the judge have Apple Watches too, the magic is gone.
While working at your desk on a deadline, you can keep an eye on incoming calls or check your calendar. You can set alarms to silently tell you that you need to drive to a meeting or make a scheduled call.
You can also take calls while driving without taking your eyes off the road. No digging for a phone that stops ringing about the time you have it in your hand. If necessary,  you can ask Siri to make a call or tell you the address of your destination.
You can keep better time for billing purposes, too.  Tap to start, tap to stop, tap to start again.
And as Craig Jarrow points out, who knows what else? As we learn how to use this tool, we will find other uses we never even imagined.
CLT
Posted by Cliff Tuttle| April 17, 2015 | © 2015
No. 1,138
Back in the day, Internet Explorer (IE) was the overwhelming favorite web browser, attaining its peak of about a 95% usage share in 2002 and 2003, according to Wikipedia. The article stated:
"Its usage share has since declined with the launch of Firefox (2004) and Google Chrome (2008), and with the growing popularity of operating systems such as OS X, Linux, iOS and Android that do not run Internet Explorer. Estimates for Internet Explorer's overall market share range from 16.9% to 57.38% (or even as low as 13.09% when counting all platforms.)"
There once was a version of Internet Explorer for Macintosh.  It didn't last too long.  As Steve Wosniak and others soon discovered, it continuously crashed.
Lawyers, who once were overwhelmingly Microsoft users, now include a growing number of Macintosh devotees.  This trend, which started with solos and small practices, blossomed among the larger firms with the advent of iPad. If you need confirmation of this phenomenon, read a few posts from The Mac Lawyer blog. The introduction of the Apple Watch, from all indications, will only solidify and expand this trend.  
But incompatibility with certain operating systems and competition among platforms was not the only reason for the decline of IE.  Its primary problem, and the one most troubling to lawyers, was and is security. The threat of malware and the like grew so ubiquitous that patching IE has become an industry. And now, to nobody's surprise, except its most dedicated fans, IE is being phased out.  It will be replaced by a new product, presently called Project Spartan. There's a beta version out, but it is acknowledged by its developers to be not ready for prime time. In the meantime, IE users are in limbo.
IE has been the chosen internet browser platform of on-line search and filing systems used by recorders of deeds and court records keepers since the beginning. This might have made sense in the old days, but it is increasingly difficult to justify in today's fast-moving internet-based world.  Some of these dinosaurs only support IE access, while others, like the Allegheny County Department of Court Records and Department of Real Estate, have traditionally been accessible by other platforms, such as Firefox and even Macintosh's Safari.
But now, the Allegheny County Department of Court Records appears to be taking a retrograde path.  I have been experiencing problems in remote filing and have been required to file certain documents in person.  This includes transactions where credit card payments are involved.  Until recently, this was not a problem.  Now it is.
The explanation I have received is that that certain "software upgrades" have been installed. My attention was called to the warning on their Welcome Page that  electronic filing is "optimized for Internet Explorer ONLY" [sic].  Welcome, indeed.
A parallel situation has existed for a long time with the Department of Real Estate — Allegheny County newspeak for Recorder of Deeds.  Once I was able to look at and order copies of deeds and other instruments on line, but not for a long time.  Until a few years ago, I was able to look at the indices using my Mac browser, I now must use Firefox.  But even Firefox only works in a rudimentary way. I haven't even attempted to use their on-line filing system.
This circumstance is not universal in the Allegheny County on-line information system.  Real Estate Assessment works just fine using Safari.  However, no credit card transactions are involved.
I understand that there are budgetary restrictions on overhauling a system as large as the one used by Allegheny County.  But it has been installing "improvements" that are increasingly dependent on a defunct internet platform that has more holes than a large block of swiss cheese.  Since Microsoft itself has abandoned ship on IE, it is time for Allegheny County and others to do some emergency planning.  When they do (and they must) it is my sincere hope that they will design their system to support popular non-microsoft platforms, like Macintosh OS X and iOS.
CLT
Posted by Cliff Tuttle| April 15, 2015 | © 2015
No. 1,137
While I was on the telephone today, I noticed a robin in a garden plot. She had taken hold of a thick string about 3 feet long, fastened to a post. Nesting material, I presume.
I say "she" because, according to information acquired in elementary school, males have a  bright  orange breast while females are muted in color.
She pulled on it and jumped around, trying to get a better angle.  Then she flew away a short distance.  Nothing she tried availed — garden string is pretty strong, you know.
So she flew away, but not too far.  In a minute she was back pulling the same string.  But it was to no avail.
Then a blue jay came along. He (bright color) sat on the garden fence and watched the robin trying to break the string.
The robin flew a few feet away to get a better view of the situation.  So, the blue jay flew down to the ground and picked up the end of the string.  He jumped around and flew around.  He tried every angle.  No success.  Eventually, he flew away.
Immediately, the robin was back.  Again she jumped around with the end of the string in her beak. At that point, I seriously thought about going down to the garden with a pair of scissors.  But I had other things to do.
The next time I looked at the garden, the string was gone.
Take heart, nest builders everywhere!
CLT
keep looking »