Posted by Cliff Tuttle| January 16, 2018 | © 2018
No. 1,398
There are a multiplicity of reasons.  Steelers, Pirates, snow, arctic temperatures.  There are a multiplicity of reasons to work off all that aggression you feel.  So why not go down to Millvale and throw a few axes.  Here's where.  You may not wish to take your spouse or boss along, though.
CLT
Posted by Cliff Tuttle| January 16, 2018 | © 2018
No. 1,397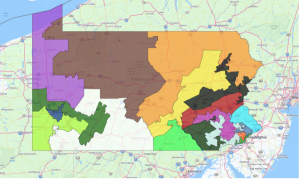 The  Pennsylvania Supreme Court has announced that it will promptly take up League of Women Voters v. Commonwealth,  which is the case involving the re-drawing of the map of Congressional  Districts.
See our December 30, 2017 post on the subject.
A decision is expected in February. Speed is of the essence here, since the United States Supreme Court is poised to decide similar Constitutional issues involving how far the legislature can go in district realignment to maximize the voting power of one party and minimize the power of the other.
The U.S. Supreme Court has already heard arguments in a case from Wisconsin and will soon hear one from Maryland. Two cases from Texas have been recently added. 
The argument attacking the district alignment can be stated in terms of votes wasted.  By concentrating a high proportion of opposition voters in certain districts, under that theory, the votes beyond those required to win a majority are wasted because they cannot be cast in a neighboring district where the outcome could be changed. The problem is how to define this practice in a way that can be addressed by judicial action.  Either party can be expected to attempt to gain such an advantage.  When does the reassignment of voters to change the outcome become so extreme that it violates the Constitution by denying equal protection to voters in the minority? And what does a court do to protect the rights of the aggrieved party? Proponents of judicial intervention have presented statistics prepared by expert witnesses, but judges are often skeptical.  Chief Justice Roberts expressed that view during oral argument in the Wisconsin case.
CLT
Posted by Cliff Tuttle| January 15, 2018 | © 2018
No. 1,396
Its great to live in a city with competitive sports teams.  It builds a sense of community.  It breeds optimism.  There is something exciting to look forward to in an otherwise nondescript week.
But don't lose sight of the fact that we are only spectators.  There is nothing we personally can do to change the outcome of this past weekend's game or any other sports event. Moreover, there is almost no benefit to fretting or arguing about what could have been done by somebody else. If you must, debate it for one day maximum and then give it up.
Don't go around in a funk, spending a lot of time brooding and otherwise distracting ourselves from important things that we are required to do and we can change. Stop listening to sports radio and TV call-in shows for a while. And walk away from those negative people in your life who refuse to let it go. Focus on today.
Thank you Steelers for an exciting season.  Thanks, Antonio, for acrobatic one-hand catches.  Thanks, Le Veon for all of those amazing runs.  Now its time to move on.
Yes, we'll see you all again (or so we hope) in a few months and start again. In the meantime, do you think that the Pens have finally turned the corner this season?
CLT
Posted by Cliff Tuttle| January 14, 2018 | © 2018
No. 1,395
Posted by Cliff Tuttle| January 13, 2018 | © 2018
No. 1,394
I noticed a lot of cutting-edge stuff on Twitter last night involving the shithole controversy.  Some are really funny.  However, before jumping in, bear in mind that tweets never go away.  Anybody can look up your account and see everything you ever tweeted.  That includes future employers, future girlfriends and boyfriends, the police, litigants, political opponents and other enemies.  By then, the context may be lost.  Or by then, you may have grown up a little.  As I noted in the last post, below, words have consequences.

Posted by Cliff Tuttle| January 13, 2018 | © 2018
No. 1,393
As explained by retired law professor Ann Althouse in her blog post, this word has a long and storied history.  I used to think it was an epithet not suitable for polite conversation.  But not anymore.  After all, it has been used in literature since the 17th Century, at least.  I must admit, no other word in the lexicon captures the meaning so vividly. Nevertheless, be careful.  There are limits. Reminds me of a story from my days as a young (and very proper) lawyer in a straight laced law firm.
Years ago, before the age when lawyers began to type their own correspondence on personal computers, I had an opposing counsel who was in-house at a government agency.  He dictated a lot of long florid letters that were typed by a secretary.  She told her co-workers that he never proofread anything.  To illustrate the point, she typed an extra word on the end of a particularly long letter to me.  The last sentence read something like this: "Pleased be advised that we will be taking appropriate action, asshole."
He signed the letter, of course, without reading it. The plan was to show it around his office so everybody could have big laugh. Unfortunately, the letter and several cc's went out in the mail.  The secretary, who called me to apologize, stated that she was a single mother and was being fired. Words can have consequences.
Here's the post from Althouse.
CLT
Posted by Cliff Tuttle| January 13, 2018 | © 2018
No. 1,392
Here's the companion tweet: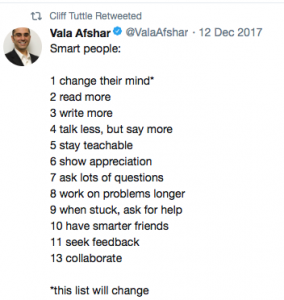 Posted by Cliff Tuttle| January 6, 2018 | © 2018
No. 1,391
Donald Trump probably should have just ignored the publication of "Fire and Fury: Inside the Trump White House", but that would have been out of character.  This President strikes back when criticized and this occasion would be no exception.
Michael Wolff portrayed him as a low-intellect, television watching, undisciplined and incompetent man-child without the ability or inclination to engage in the work of the presidency.  His response betrayed that he was deeply stung.
Who among us wouldn't be? How would you like to be characterized as a big dummy? After all, he pointed out he had been a good student (went to Wharton) and became a billionaire and a TV star.  And then he said the words that will be hung around his neck forever: "stable genius."
Bad move.  Dumb move, even.
But understandable.  Don't we all harbor some modicum of secret vanity in this realm?  We think we're smarter than most of the people around us, but we're sure as heck not going to tell them. We're not that stupid.
Smart or smarter is one thing.  But what is genius?
If you look it up, Google will lead you to sites which will tell you that a measured IQ of 145 or higher classifies as genius.  If you test that high, that score puts you in the top 1%.  At that level, I have heard it said, you can learn anything you want.
But, as we all know, everybody isn't equally capable in every discipline.  Some few of us can fix anything mechanical.  Some can learn foreign languages quickly and easily.  Some can play musical instruments or paint portraits. Some can rapidly do complicated math problems without paper or pencil. Very few, even the most capable, can do it all.
And then, there is the mystery of creativity.  We all remember a classmate in  school who was a learning machine, capable of rote learning in prodigious quantities, but who rarely had a truly original thought.
I suggest that one aspect of genius (but not the only one) is the ability to solve difficult problems that have stumped others.  We are not talking about mere riddles or brain-teasers here.  The solutions frequently are original and creative. Yes, outside the box.  These solutions can even be revolutionary.  And why not? If the answer could be obtained by a lot of hard work or even long hours, somebody would have come up with it.
Genius is without precedent.
Napoleon was capable of making brilliant and unexpected moves on the battlefield in a glance.   There was no science of military strategy then in existence that explained why he did what he did.  He did it naturally, intuitively.  And so with others: Leonardo, Newton, Einstein.  They jumped effortlessly (or so we think) from one mountaintop to the next, without the need to follow the same path down and up the mountain that the rest of us must walk.
And so, does Trump qualify as a genius by this test?  Maybe.
There is a certain resemblance to the Napoleonic style in Trump.  He managed to figure out how to build Trump Tower in Manhattan with an array of powerful opposition fighting him on every side.  If you read the Art of the Deal, you have to be impressed with his problem-solving ingenuity, paired with an unlimited supply of self-confidence and persistence.  Yes, he made mistakes, big ones. Yes, he failed in many endeavors, lots of them. However, geniuses fail, too. In the end he seems to have figured out ways to survive and then to prosper.
This supreme egotist has publicly calls himself a genius.  But that is only the latest in a series of audacious moves that he has dared to make.  Meanwhile, the rest of us have played it safe.  There's a word for that: mediocre.
After all, genius is without precedent.
CLT
Posted by Cliff Tuttle| January 3, 2018 | © 2018
No. 1,390
Posted by Cliff Tuttle| January 2, 2018 | © 2018
No. 1,389
Eric Segall, a law professor with clerking experience, says that this is the case. Although we always suspected the clerk decided at least some of our motions,  Segall  says that the situation is a lot worse than you probably think.  A must read from Dorf on Law Blog for civil litigators.
CLT
keep looking »