Posted by Cliff Tuttle| November 10, 2016 | © 2016
No. 1,290
In the past two days, I have read a ton of articles and watched an army of talking heads expound upon various theories to explain the Trump triumph at the polls.  Undoubtedly, many stars had to come into alignment to create this remarkable constellation. But one beacon outshines them all.
Trump had the extraordinary ability to make interesting speeches — so interesting that he filled large arenas wherever he went.  This phenomenon became evident early in the primaries. And during the frantic final weeks, it served him well as he raced from one battleground rally to the next, filled to the overflow.
As Hillary was luring voters to her rallies with entertainers, Beyonce, JZ and the like, Trump didn't need a concert to pack the house.  He was the celebrity in chief. And he didn't need a media consultant to teach him how to attract television coverage. The news channels couldn't get enough, because their viewers couldn't get enough. And all he did was stand up and talk.
Now, that doesn't mean that everybody loved him.  Those who swarmed to his campaign events obviously did, but according the polls, most TV viewers didn't. Yet, they still watched his campaign speeches, perhaps because they wanted to be the first to know what blasphemy he might utter next. Yes, he was and still is the master of the art of being unpredictable.
Its a great gift, for certain — but not entirely rare. Many of the best trial lawyers have it, each in his/her own way. Lincoln was one.  He could disarm an opponent by telling a well-timed funny story. I've seen the dark mood in a criminal trial evaporate when defense counsel tells a well-timed joke at the expense of his client.  And I've also heard a courtroom become deadly quiet when trial counsel drops an unexpected idea at an unexpected moment.
Is the best yet to come? Stay tuned.
CLT
Posted by Cliff Tuttle| November 7, 2016 | © 2016
No. 1,289
The TV advertising on both sides of the Pennsylvania Senatorial race has been an abomination of untruth, half truth and true but irrelevant statements.  So perhaps one more wrong allegation doesn't matter very much. In fact, some of the claims are so outrageous, that even a child could see through them. Nevertheless,  the allegations regarding use of confession of judgment clauses are not obvious to non-lawyers and therefore is worthy of discussion.
Katy McGinty's campaign criticizes Senator Toomey for authorizing the practice of confession of judgment in commercial lending by a bank in which he owns a stake and had once served as chairman of the board.  This ignores the fact that, in Pennsylvania, a  commercial (business) mortgage and the accompanying commercial promissory note almost always contain such a clause. They are also commonplace in commercial leases for offices, store rooms and other business property.
A "confession" means that the borrower agrees in advance to entry of judgment without a trial.  In Pennsylvania, as in many other states, this powerful legal tool cannot be used in a consumer transaction, one where the proceeds are used to fund the purchase of consumer goods or services, including a personal residence.  Most of the time, a confession of judgment is not entered on the public record until after there is a default.  But the agreement could provide for entry of judgment at any time the lender feels insecure about repayment of the debt. Sometimes the agreement provides for advanced notice and an opportunity to cure (usually pay)in order to avoid entry of judgment.  Sometimes not.
While most commercial borrowers cannot persuade the lender to waive a confession of judgment clause entirely, they may be able to negotiate the terms — perhaps to require advanced notice. An experienced business transaction lawyer may be able to get other concessions, depending upon circumstances.
A lender may also secure a commercial loan with a mortgage on the residence of the borrower. However, in this case, there is a certain amount of protection under Pennsylvania law.  The lender must go through the foreclose process, as it would under a residential mortgage.
Yes, a judgment does create lien the personal residence of the commercial borrower.  And yes, the commercial borrower could lose that residence through a sheriff sale. But the opportunity to present a defense is available.
Confession of judgment is not a practice that is unique to the bank where Senator Toomey owned a small interest.  Every bank that makes commercial loans in Pennsylvania could demand a confession of judgment in its loan documents.  Far from it being a predatory practice, as alleged in the commercials, it is a standard practice and is  authorized by federal and state bank regulators for commercial lending.  As a matter of fact, the failure to utilize this legal weapon in certain types of commercial lending might be viewed by regulators as an unsound practice — exposing the bank to an unnecessary risk of loan loss.
Perhaps there should be a policy discussion regarding this lending practice.  But the anti-Toomey advertising campaign is not the place to do it.
CLT
Posted by Cliff Tuttle| October 17, 2016 | © 2016
No. 1,288
Two newspapers on the other side of the State have editorialized against the ballot initiative to amend the Pennsylvania Constitution to raise the mandatory retirement age for judges from 70 to 75.  The principal reason why they are against this measure is that the ballot doesn't state that the current retirement age is 70. Then, a few fluffy reasons are added to oppose the merit of the proposition.
But the truth is, there are plenty of excellent reasons to increase the retirement age for judges. The most important is that the Supreme Court regularly appoints senior judges to serve past age 70.  These judges serve on a per diem basis as needed.  The truth is is that they are usually needed.  And it is equally true that it takes longer these days to develop the expertise needed in specialized areas of the law.
Moreover, any lawyer who regularly appears in court will tell you that senior judges perform very well, primarily because they are the most experienced and frequently most knowledgeable members of the bench.  Increasing the tenure of judges would simply acknowledge the success of the senior judge program.
But the broader truth is that people in their seventies are healthier and live longer today than prior generations.  Mandatory retirement ages that were established in the past are  harder to defend.  We only deprive ourselves of the service of many of the most experienced individuals in the work force. This, of course, does not prevent voluntary retirement at any age.  But the choice should be made by the individual, not by an across-the-board rule.
CLT
Posted by Cliff Tuttle| October 4, 2016 | © 2016
No. 1,287
Here's avery good  post in the California Education of the Bar Blog that is worth a read by trial lawyers demonstrating the indirect questioning of an expert witness. You never challenge the conclusion, but bring up undeniable truths.
The Art of Cross Examination, by Francis L. Wellman, an old classic, told about a famous cross examination where the witness and the opposing counsel were good friends. Here is my recollection of the story without bothering to look it up.
The cross-examining lawyer looked out the window in order to not betray his intentions in advance.
Q:  Dr. Jones, was Mr. Smith a patient of yours?
A: Yes.
Q:  How is he?
A: He's dead.
Q:  Oh, I am so sorry.  And Mr. Adams was he your patient too?
A:  Yes.
Q:  And how is he doing?
A:  He's fead too.
You get the picture.
CLT
Posted by Cliff Tuttle| October 2, 2016 | © 2016
No. 1,286
There has been a lot of discussion of the future of the legal profession.  A post in Lawyerist.com, a nuts and bolts blog for lawyers, summarizes conclusions in a book by a futurist named Suskind. He concluded that lawyers in private practice were being marginalized by, among other things,  non-lawyers and technology. Suskind also predicted that small firms and solo lawyers would eventually cease to exist in the business environment of the future.
In another post, Lawyerist gave advice to solos and small firms on how to compete in this brave new world. Among its suggestions were to utilize technology and introduce the use of flat fees.
In my view, lawyering has unique characteristics that make the outcome differ from other enterprises.  In most businesses, such as manufacturing, growth creates economies of scale. In a competitive marketplace, this leads to lower prices. However, that doesn't seemed to be happening in lawyering.  The larger a firm becomes, generally speaking, the larger its fees.  This is because there is no assembly line in a law firm.  No matter how large the firm becomes, each lawyer is still an individual craftsman at his own work bench.  Yes, there is a support staff.  But the outcome is not a cheaper product.  The support staff enables the lead lawyer to produce more and to do it quicker. The client pays extra for product improvement, including speed. The bill goes up, not down.
They say that fees bear a relationship to the difficulty of the work and the required skill.  While there is truth to that observation, it is also correct to say that the fee bears a direct relationship to the amount of money at stake. A client won't knowingly spend $2,000.00 to recover $1,000.00.  What you get, then, is a variant of Parkinson's Law.  The volume of work (and thus the fee) rises to meet the value of the money pot at the end of the rainbow.
Larger firms charge more, in part, because they can.  Their clients eschew cheaper alternatives because they think they need a better (pronounced "more expensive") lawyer.  Sometimes they are right, but just as often they are wrong. A lawyer who is mismatched with a case or task is usually too expensive, regardless of the fee.
There are many lawyers who are a good value precisely because they are a good match.  That's the trick. Spend more legal resources than necessary and there is waste.  Spend less and you risk losing a case that could have been won.  Nevertheless, clients are getting better at finding that match.
Much of the credit for this trend goes to institutions like AVVO.  This website presents the consumer of legal services with choices.  Every American lawyer has an AVVO page.  This gives them an opportunity to compete for the attention of the growing number of people (especially millennial) who are going on line to search for lawyers. This is the 21st Century lawyerly equivalent of speed dating.
Contrary to the popular wisdom, small firms and solo practitioners can thrive in this environment.  They can beat the larger firms on cost by cutting overhead.  They can deliver high quality service by specialization and by tailoring the amount of work to the requirements of the job.  And they can gain access to a wider range of clients today through the internet.
One advantage that sole practitioners often have is the ability to offer fixed fees and fee caps.  Under a fixed fee or fee cap arrangement, the lawyer assumes the risk that the amount of work will exceed the estimate, since there are no payroll and other direct costs that balloon the financial investment in the case.
Fixed or capped fees are briar patches and rabbit holes that Brer Fox and Brer Bear cannot enter. Sometimes it can pay to be quick and small.
CLT
Posted by Cliff Tuttle| October 1, 2016 | © 2016
No. 1,285
The New York Law Journal reports that New York City is likely to establish a program to provide free legal counsel to low income tenants.
This trend is also evident for some time in Allegheny County, where the Bar Association Pro Bono organization has sponsored its Landlord-Tenant Project for several years. In addition, the Neighborhood Legal Services Association has several lawyers who handle cases for indigent tenants who qualify.
The impact of this trend may not be evident to landlords until they get to court.  NLSA attorneys are experts in landlord-tenant law and know how to try a case.  Most of the time, they first appear at the arbitration level.  They may be able to surprise unrepresented landlords or even less experienced attorneys.  Volunteer attorneys may not be quite so experienced, but they can also be dangerous.
CLT
Posted by Cliff Tuttle| September 20, 2016 | © 2016
No. 1,284
I answered a question on AVVO yesterday asked by a landlord who was planning to engage in self-help, that is, locking out a tenant without filing suit under the Landlord and Tenant Act.
Of course, if you lock the tenant out, you lock his property in.  Since you have to do something with the current tenant's property in order to prepare for the next tenant, it is likely that the landlord will either move it to storage or discard it.
Before the 2012 amendment to the Landlord and Tenant Act, codified at 68 P.S. § 250.504, the tenant did not have a practical remedy to this practice.  However, under the amendment, the landlord must give a notice that the tenant has 10 days to remove the personal property in the unit and may request that the property be held (either on or off the premises) for 30 days.  Failure to comply entitles the tenant to sue for treble damages and attorneys fees.
Landlords who short circuited the judicial process in the past had a fair chance of getting away with it.  But not anymore.
To see a copy of the form of the required notice, scroll down to Post No. 1,279.
Posted by Cliff Tuttle| September 19, 2016 | © 2016
No. 1,283
Congratulations, Jim Edwards, who took the bar exam this summer at age 75.  The successful businessman had sold his companies and didn't need the money.
He wants to try cases in behalf of people with meritorious causes but not enough money to pay the tab.  Nothing wrong with that — its called giving back.
Mr Edwards has a lot of experience in life and business. He has also shown a fearless desire to follow his dreams in spite of the popular wisdom that 75 year-old men belong in rockers on the front porch.
And those qualities just might make this late-comer into one of the best lawyers in town.
Here's what the Wall Street Journal Law Blog had to say.
CLT
Posted by Cliff Tuttle| September 19, 2016 | © 2016
No. 1,282
This illustrated ad appeared in the Althouse blog today.
The Satyrs, by the way, were half-goat, half human creatures in ancient Greek mythology.  They are depicted on the Parthenon attending a wedding where everyone drank too much and fighting broke out. However, I think they didn't have wings.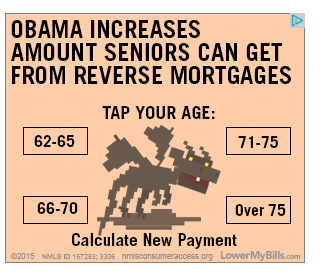 Posted by Cliff Tuttle| September 8, 2016 | © 2016
No. 1,281
During the past 5 years I have given seminars for lawyers several times per year at the Community College of Allegheny County, including the following topics:
• Landlord–Tenant Litigation
• Defending Mortgage Foreclosure Actions
•

Preliminary

Objections
• The Law of Contracts Applied to Real Estate
• The Pennsylvania Unfair Trade Practices and Consumer Protection Law
I am planning to give the three hour UTPCPL class again at the CCAC North Campus on Monday November 28 at 6:30 PM. CCAC classes a re good way to pick up CLE credits without taking time from your work day.  Contact Beverly Stellfox for information on registering for this and other seminars.  (412) 788-7385.  bstellfox@ccac.edu.
I am also planning to give a one-hour seminar on Consumer Real Estate Legislation  on December 9 in Philadelphia as part of a two-day 20th Annual Real Estate Institute.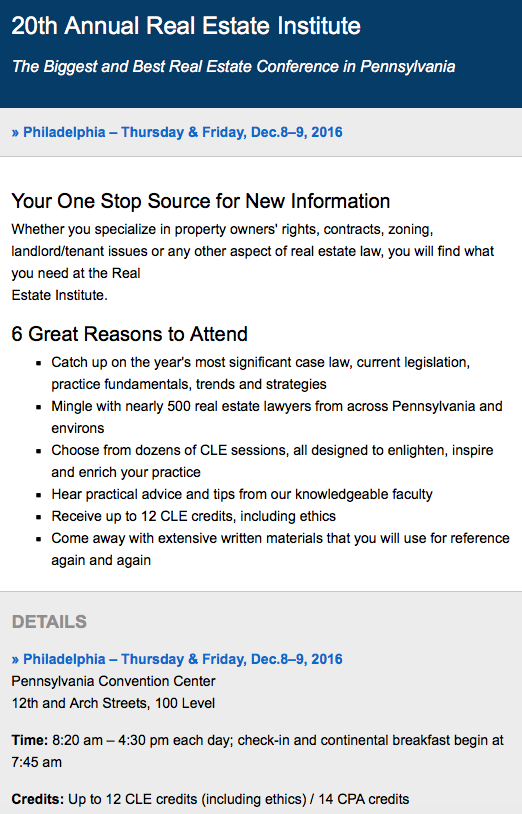 keep looking »