Posted by Cliff Tuttle| September 14, 2017 | © 2017
No. 1,352
How would you like to open your mail and receive an opinion on your appeal that begins like this?
"We note at the outset that at seventy-eight pages, Appellant's brief is more than two and a half times the 'safe harbor' maximum of thirty pages (2.6 times, to be precise). Counsel for Appellant certifies that the brief consists of 13,971 words, twenty-nine words less than the specified limit of 14,000 words prescribed in our rules of appellate procedure. (See Certification of Compliance with Word Count Limit, 3/24/17); see also Pa.R.A.P. 2135(a)(1).
However, on independent examination, we confirm a count of 18,519 words, making the brief about a third longer than the maximum permissible length, without permission. It appears that counsel, or his word processor, misstated the count by over 4500 words (4548, to be precise), failing to comply with the requirements of Pa.R.A.P. 2135.
We could issue a rule to show cause order, with the possible sanction of quashal unless counsel provides an adequate explanation for the discrepancy. See Commonwealth v. Spuck, 86 A.3d 870, 877 (Pa. Super. 2014), appeal denied, 99 A.3d 77 (Pa. 2014).
However, we decline to do so for reasons of judicial economy. While the brief is excessively rambling and could have benefited from more careful editing, nothing in the available record suggests that reworking the existing materials would furnish any proper basis to disturb the jury's verdict. To allow (or require) another round of briefs would place an additional burden on the Appellees, and their counsel, and merely delay the inevitable.
Accordingly, to the extent possible, we will review Appellant's non-compliant brief on the merits, despite the obvious procedural defects."
Florence James v. Albert Einstein Medical Center, Superior Court, No. 1723 EDA 2016 (Opinion dated September 12, 2017)
Judges, especially appellate judges, have to read a lot of stuff.  If you send in an "excessively rambling brief", how do you expect to hold your reader's attention? Here's a few points that we all know but often forget.
Don't preach.
Be interesting.
Tell a story.
Purge details that don't matter that much.
Say it only once in the main body of your argument.
Focus on your best case for each argument.
Remember that experienced judges have heard it all.
CLT
Posted by Cliff Tuttle| September 9, 2017 | © 2017
No. 1,351
Category:
Uncategorized
Comments Off

on EVERY SATURDAY DO ONE THING TO BE A KID AGAIN!
Posted by Cliff Tuttle| September 7, 2017 | © 2017
No. 1,350
Yes, its true.  A whole bunch of people signed a petition to replace a statue of Columbus in the Minnesota Capitol with one of Prince.  And in case you asked the reasonable question — "Prince who?" — it refers to the author of Purple Rain who died not too long ago of multiple drug overdoses.  I hope and pray that most of the signers thought it was a huge joke. If not, the state of liberal education is a lot lower than I thought.
Essay Question for the University of Minnesota Class of 2021:  "Discuss the relative contributions to civilization of Christopher Columbus and Prince."
Well, here in Pittsburgh we have our own Columbus statue in Schenley Park.  Thousands of school children contributed pennies to construct the massive tribute to the Discoverer.  It has been defaced by graffiti artists and other intellectuals from time to time.  There's been talk lately about taking it down because Columbus did not share the same values as the people who want Chris removed. But who should fill the void?  At last, we know.
Pittsburgh has its own hero for the times — Wiz Khalifa!
CLT
Posted by Cliff Tuttle| August 20, 2017 | © 2017
No. 1,349
NEXUS REAL ESTATE, LLC v. ERICKSON, 1217 Pa. Super 180 (2017)
Just before his lease was about to renew, a two-by-two portion of the ceiling fell into the bath tub of John Erickson's apartment.  He called his landlord and learned that the building had been sold. So the information was relayed to a new landlord, who relayed it to the new management company, Lexus.
A few weeks later, On December 12, 2014, Lexus contacted all of the tenants in the building with the news that they must sign new leases or vacate by December 31, 2014. To make matters worse, the heat was working poorly. Mr. Erickson testified that he wanted to see the roof and heating repaired before he signed a lease, but under the circumstances, he had to accept an oral promise that the repair would be made.
The heat went out completely in February and Mr. Erickson move out for a while, but returned at the end of the  month with a space heater and sleeping bag. Although he continued to request the heat and ceiling repairs, nothing was done.
Then, in June, the air conditioning failed.  Despite reassurances, no repairs occurred and the apartment was experiencing daytime temperatures in the nineties. Despite promises to address the problem, nothing was done.
On August 5, Erickson emailed Nexus to complain that it was raining in the bathroom through a gaping hole in the ceiling, there was visible mold and he was coughing.
Although promises continued to be made, the response was, putting it politely, cosmetic..  A drop ceiling had been installed, but the hole was still there.  He left the apartment for two months but returned to find the conditions much worse.
"When he returned on December 6, 2015, the ceiling tiles had fallen and what remained of the plaster ceiling was hanging. He captured the condition in photographs," the opinion stated.
"Finally, on December 11, Nexus arranged for someone to rip out the ceiling to the bare rafters and scrub it with bleach to ameliorate the mold. Shortly before this occurred, Mr. Erickson had gone to the Department of Permits, Licenses and Inspections, and the agency had inspected his apartment on December 9, 2015, and filed a report. Nexus employees also told Mr. Erickson that the Allegheny Health Department had contacted them about the possibility of mold in his bathroom. Mr. Erickson believed that his complaints to city agencies prompted Nexus to hire the mold remediation company and repair the ceiling.
Nonetheless, the water problem persisted. Plastic had been stapled into the rafters and was collecting water when it rained. Instead of fixing the roof, Nexus placed makeshift gutters of corrugated plastic in the rafters to collect the rainwater dripping through the roof and channel it to the outside. It was not until December 17, 2015, that Nexus dry walled Mr. Erickson's bathroom ceiling. By that time, he had already made plans to vacate the premises."
If the foregoing conditions had been the only deficiencies Mr. Erickson had been forced to suffer, he would have been entitled to a substantial  judgment.  According to the opinion:
"At the non-jury trial, Mr. Erickson also complained that when he signed the new lease, Ms. Beynon made no mention of major outdoor construction. He offered the testimony of Rick Beadling, another tenant, who confirmed that Ms. Beynon told him only that there would be landscaping work on the premises. Mr. Erickson introduced photographs that depicted scaffolding covering the front of the building starting in January 2015, plywood sheets over trenches in lieu of sidewalks, and no lighting or railings. He described the condition as treacherous. Although Nexus recommended that the tenants use alternate entrances, Mr. Erickson testified that those routes were impassable especially at night. The problems with safe ingress and egress remained throughout the summer of 2015, and it was not until October that proper lighting was installed.
In addition to these issues, Mr. Erickson complained that construction noise commenced at 6:30 a.m., and, as the project neared conclusion, persisted seven days per week. Water service to the apartments was shut off at least twenty-five times, a fact that was confirmed by Mr. Beadling. In October 2015, Mr. Erickson began paying his rent into an escrow account."
Two separate suits, Landlord's claim for $1,750.00 in unpaid rent, withheld during the last months of the lease term and Tenant's claim for return of $9,750.00 in rent actually paid, alleging breach of the warranty of habitability and violation of the Unfair Trade Practices Consumer Protection Law (UTPCPL). The cases were consolidated and heard by Allegheny County Common Pleas Judge Alan Hertzberg.
Judge Hertzberg entered an award in favor of the Tenant on the Landlord's claim for rent and awarded the full amount of the rent paid, tripling it under the UTPCPL.  Following post trial motions, the total award was adjusted to $23,150.00.
On appeal, the Landlord alleged that the Court committed an error of law in awarding triple damages under UTPCPL where the evidence does not support such a finding. Judge Mary Jane Bowes, of Pittsburgh delivered the decision of the panel. The decision of the Supreme Court in Schwartz v Rockey, 932 A.2d 885 (2007) holding that exemplary damages may be entered under UTPCPL without meeting the common law criteria for fraud or punitive damages.
"Landlord acknowledges that the UTPCPL applies to landlord-tenant cases, but maintains that treble damages awards are reserved only for the most egregious cases where the landlord's conduct was deceitful and illegal. In support of its position, Landlord directs us to our unpublished, non-precedential memorandum in Pierre v. MP Cloverly Partners, LP, 133 A.3d 64

(Pa.Super. 2015), in contravention of this Court's rules.[1] As additional examples of the type of egregious conduct that merited treble damages, Landlord cites Pikunse v. Kopchinski, 631 A.2d 1049 (Pa.Super. 1993), where the landlord discarded furniture and appliances in retaliation for the tenant's failure to pay rent, and Wallace v. Pastore, 742 A.2d 1092 (Pa.Super. 1999), where the landlord withheld the tenant's security deposit and misrepresented the existence and extent of property damage.

Furthermore, Landlord argues that the record reveals no deceptiveness on its part. It maintains that its representatives met with Mr. Erickson, inspected his apartment, explained the process for submitting maintenance requests, and provided the opportunity for him to note in the new lease that certain conditions required attention. He did not avail himself of that opportunity. According to Landlord, Mr. Erickson's periodic requests for maintenance were acted upon after he followed the proper procedures and repaired, and treble damages were not warranted.

Mr. Erickson counters that the trial court properly applied the standard enunciated in Schwartz, supra, and rejected Landlord's claim that egregious conduct was required to support an award of treble damages. He maintains that the trial court heeded the direction of the Supreme Court to "focus on the presence of intentional or reckless, wrongful conduct." Id. at 898. Furthermore, he points to a record replete with instances of Landlord's deception and false promises.

In Schwartz, our Supreme Court discussed the role of the court in assessing treble damages pursuant to the UTPCPL: [T]he statute, on its plain terms, does not provide any standard pursuant to which a trial court may award treble damages. In construing its terms, we find particularly relevant the principles of statutory construction authorizing consideration of the occasion and necessity for the statute, the mischief to be remedied, the object to be attained, and the consequences of a particular interpretation. See 1 Pa.C.S. § 1921(c).
Schwartz, supra at 898. The Court recognized that the UTPCPL is a consumer protection statute, in which the General Assembly has employed broad phrasing that our Supreme Court has instructed us to construe liberally. Recognizing that the UTPCPL's treble damages provision had "both punitive and remedial aspects," the Schwartz Court concluded that the trial court's discretion "should not be closely constrained by the common-law requirements associated with the award of punitive damages." Id. see also Meyer v. Cmty. College of Beaver County, 93 A.3d 806, 815 (Pa. 2014) (noting the hybrid nature of treble damages with both punitive and remedial aspects). Nonetheless, it cautioned that the trial court's discretion was not unfettered. The Supreme Court concluded that trial courts "should focus on the presence of intentional or reckless, wrongful conduct, as to which an award of treble damages would be consistent with, and in furtherance of, the remedial purposes of the UTPCPL." Schwartz, supra at 897-898. Appellate courts should review such decisions "for rationality, akin to appellate review of the discretionary aspect of equitable awards." Id. at 898; Dibish v. Ameriprise Fin., Inc., 134 A.3d 1079, 1091 (Pa.Super. 2016).

The trial court applied the correct legal standard in making its determination. It found "multiple instances of intentional or

reckless, wrongful conduct by Nexus."[2] Trial Court Opinion, 8/29/16, at 2. The court noted Nexus's December 2014 assurances that defects in Mr. Erickson's ceiling and heat would be remedied immediately. N.T., 5/5/16, at 14. Despite repeated complaints, the heat and air conditioning in Mr. Erickson's apartment were non-functioning until September 10, 2015. Thus, Mr. Erickson endured a winter without heat and a summer without air conditioning. The trial court pointed to the report authored by the City of Pittsburgh Department of Permits, Licenses and Inspections indicating that the large hole in the ceiling of the bathroom had not been properly repaired even after Mr. Erickson vacated the unit. Exhibit O.

The court credited Mr. Erickson's testimony that when he contacted Nexus about the ceiling and the heat and air conditioning, they promised to take care of it or send it to maintenance. N.T., 5/5/16, at 15-16. Copies of email correspondence with Nexus confirmed that the latter promised that the repairs would be made "today" or "as soon as possible," which did not occur. The court found credible Mr. Erickson's testimony recounting his conversations with Nexus Vice President Craig Falk in August 2015, and expressly found incredible Nexus's representation that Mr. Erickson did not report the problem with the heat until June 2015. The court concluded that Nexus could have devoted the necessary resources to repair Mr. Erickson's ceiling, heat, and air conditioning by January or February 2015, but "deliberately delayed both in responding . . . and in devoting the resources necessary for the repairs." Trial Court Opinion, 8/29/16, at 5. Nexus's false promises and inaction was "cruel and callous behavior," and the type of intentional or reckless, wrongful conduct that warranted treble damages under Schwartz.

There is no legal support for Landlord's contention that the trial court should have applied some amorphous egregiousness measure in determining whether to award treble damages. The trial court applied the proper legal standard. Furthermore, we have no basis to disturb the court's credibility determinations. In short, the record supplies a firm rational basis for the trial court's finding that the harm to Mr. Erickson was caused by Landlord's intentionally wrongful and deceptive conduct that supported an award of treble damages."
The lesson for landlords and their counsel is obvious.  Don't expect to neglect important repairs and avoid serious consequences.  The facts in this case are so compelling, it is impossible to understand how even the most insensitive dull-headed landlord could fail to anticipate the inevitable outcome.
Congratulations are in order to our Allegheny County colleague, Katheryn Wakefield for an important win in a just cause.
CLT
Posted by Cliff Tuttle| August 20, 2017 | © 2017
No. 1,348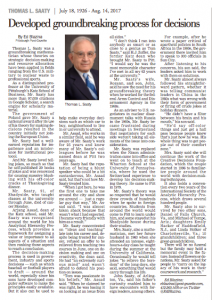 Posted by Cliff Tuttle| August 9, 2017 | © 2017
No. 1,347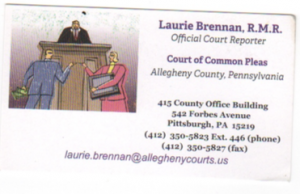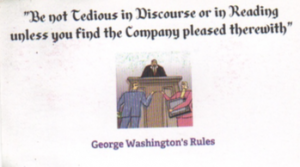 Posted by Cliff Tuttle| August 9, 2017 | © 2017
No. 1,346
Two State Attorneys General have filed suit claiming that the President is violating the Emoluments Clause of the Constitution by operating hotels and taking profits from businesses operating in foreign countries after taking office.
You probably haven't used this word in your entire life.  So, what in the world is an emolument?
Dictionary.com defines it as "profit, salary, or fees from office or employment; compensation for services." It is said to derive from the Latin word: "to grind".  The payment made to the miller for grinding wheat or corn was an emolument.  
Article I, Section 9, Clause 8 of the United States Constitution is frequently called "The Foreign Emoluments Clause"  or just the Emoluments Clause. It is also called the Title of Nobility Clause. Here's what it says:
"No Title of Nobility shall be granted by the United States: And no Person holding any Office of Profit or Trust under them, shall, without the Consent of the Congress, accept of any present, Emolument, Office, or Title, of any kind whatever, from any King, Prince or foreign State."
The Emoluments Clause has never been litigated, however it has been interpreted in Opinions of the Attorney General over the years to apply to gifts by foreign governments.  It was customary in 18th Century Europe for diplomats to receive expensive gifts.  The intent appears to be to prevent foreign governments from buying the loyalty of American diplomats and government officials.
CLT
Posted by Cliff Tuttle| July 11, 2017 | © 2017
No. 1,345
We take for granted first responders, including firemen, most of whom are volunteers.  When called upon, they are required to do important tasks that are frequently dangerous and physically demanding.
Last night, large tree branches in our front yard fell onto the electrical wires.  The fire department came quickly and assisted the electric company in removing the branches from the wires and in clearing a large amount of debris from my neighbor's driveway.
Kudos to Bill, Bob, two men named Chris, Mike and Carl.
CLT
Category:
Uncategorized
Comments Off

on Thank You, Fire Fighters for Your Timely Assistance.
Posted by Cliff Tuttle| July 11, 2017 | © 2017
No. 1,344
I get variations on this question, which I answered below in AVVO, all of the time.  Although under the law of contracts, the landlord did not provide what was bargained for, as a practical matter, the tenant has no remedy.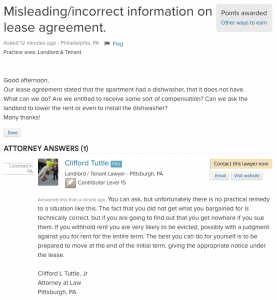 Posted by Cliff Tuttle| July 9, 2017 | © 2017
No. 1,343
In honor of this blog's ninth birthday, I republish a poem I picked up in Wikisource.  Its written by Algernon Charles Swinburne, Victorian poet.
Three times thrice hath winter's rough white wing
Crossed and curdled wells and streams with ice
Since his birth whose praises love would sing
Three times thrice.
Earth nor sea bears flower nor pearl of price
Fit to crown the forehead of my king,
Honey meet to please him, balm, nor spice.
Love can think of nought but love to bring
Fit to serve or do him sacrifice
Ere his eyes have looked upon the spring
Three times thrice.
Three times thrice the world has fallen on slumber,
Shone and waned and withered in a trice,
Frost has fettered Thames and Tyne and Humber
Three times thrice,
Fogs have swoln too thick for steel to slice,
Cloud and mud have soiled with grime and umber
Earth and heaven, defaced as souls with vice,
Winds have risen to wreck, snows fallen to cumber,
Ships and chariots, trapped like rats or mice,
Since my king first smiled, whose years now number
Three times thrice.
Three times thrice, in wine of song full-flowing,
Pledge, my heart, the child whose eyes suffice,
Once beheld, to set thy joy-bells going
Three times thrice.
Not the lands of palm and date and rice
Glow more bright when summer leaves them glowing,
Laugh more light when suns and winds entice.
Noon and eve and midnight and cock-crowing,
Child whose love makes life as paradise,
Love should sound your praise with clarions blowing
Three times thrice.
Category:
Uncategorized
Comments Off

on Here's a Ninth Birthday Poem
keep looking »