Posted by Cliff Tuttle| March 23, 2018 | © 2018
No. 1,450
We are constantly constrained by fear.
What do we fear?  Just about everything.  The unknown.  Known perils. Death. Injury. Embarrassment. Failure. Schoolyard bullies. I could keep going.
Fear is physical.  We feel it in our gut.  We feel it with a dry mouth and a beating heart. Sometimes our hands shake and our brain freezes.  It is not fun.
And yet, we all know that there are times when fear must be conquered.  There are tasks that must be accomplished and sometimes there is no one to do it but you.
But there is a flip side: regret. Yes, you could have been a contender.  We all could have been or done something that we really should have, could have. And would have . . . but for . . . fear.
Yes, the worst can happen.  But often it doesn't.  When the President announced that the United States would move its embassy to Jerusalem, the old hands at the TV networks went pale.  And then, nothing much happened.  Whatever you think of the wisdom (or lack thereof) of this President's policies, you have to give him this: he isn't afraid to act boldly and decisively.  Courage is a virtue available to any human being, important or seemingly insignificant.
I'm not suggesting reckless behavior.  The decision to overcome fear and step forward must be a carefully calculated one.  The price of failure must be weighed and accepted.  In other words, negative consequences must be part of the package, if they happen.  Why? Because doing it was worth the risk!
Be strong.  Stand alone. Stand for something. Do something worth doing.
I wanted to say something important in this blog post number 1,450.  I hope you, who have read this far, are encouraged to do something worthwhile and courageous.
But if nobody reads this post, I still wrote it and I feel a little stronger. Not fearless yet.  Just working on it.
CLT
Posted by Cliff Tuttle| March 22, 2018 | © 2018
No. 1,449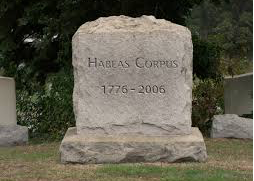 The Great Writ is far outside my practice area .  Based upon the excellent article in the ACS blog which is linked here, its outside everybody's practice area.  The author, who is referred to as Judge,  doesn't pull any punches, even when criticizing the United States Supreme Court, which she does throughout.
I presented such a petition once or twice in my distant youth to get a hearing scheduled for some poor sap who was locked up without a clue, usually on mental health grounds.  I doubt whether it would work today.
CLT
Posted by Cliff Tuttle| March 21, 2018 | © 2018
No/ 1,448
Posted by Cliff Tuttle| March 21, 2018 | © 2018
No. 1,447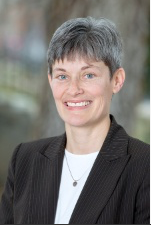 The University of Pittsburgh announced yesterday that it had selected Amy J Wildermuth of the University of Utah to be its new Dean, commencing July 1.
The new Dean is both a law professor and a high-ranking administrative officer at Utah, being that University's first chief sustainability officer.
Prior to joining the law faculty at the University of Utah, Wildermuth served as law clerk to U.S. Supreme Court Justice John Paul Stevens. She also clerked for Judge Guido Calabresi of the Second Circuit and Judge Harry T. Edwards of the D.C. Circuit. Her articles, which focus on administrative and procedural law, have appeared in outlets such as the Northwestern University Law Review, the Emory Law Journal, and the Minnesota Law Review. Wildermuth was the recipient of the S.J. Quinney College of Law Early Career Faculty Award in 2007, the Peter W. Billings Excellence in Teaching Award in 2009 and the Faculty Service Award in 2011.  Among other degrees, she has received an MS in Environmental Engineering from the University of Illinois.  Her academic career as a law professor has included a concentration in environmental law.
Pitt Law is ranked among the top 100 Law Schools in the nation. New rankings released this month by U.S. News & World Report show the school's overall ranking went up eight places this year from 82nd to 74th. It is ranked 20th nationally in health law and 27th nationally in international law.
CLT
Posted by Cliff Tuttle| March 20, 2018 | © 2018
Np. 1,446
Time reports that a woman struck and killed in Arizona by a self-driving Uber was the first pedestrian killed under the emerging technology.  There was a person sitting in the driver's seat, a standard practice in the experimental phase.  Presumably, the job of the human was to slam on the brakes when something like this happens. In a sense, he/she is the co-pilot when the plane is flying on autopilot.
So who is negligent here?  The engineers who designed the driverless system, the back-up driver, or the jay-walker? Or is it some combination of these?
Here's the Time article, but as you know, its in all the papers.
CLT
Posted by Cliff Tuttle| March 20, 2018 | © 2018
No. 1,445
Setting the thermostat at 72º is not a bad decision.  There are others to consider beside these two outliers, after all.  There is no win-win here.  But there is a lose-lose. Or is there?  One can wear two sweaters, while the other can set up a small fan.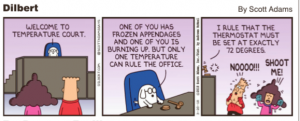 Posted by Cliff Tuttle| March 18, 2018 | © 2018
No. 1,444
According to this article in the Miami Herald, the fact that cracks started to appear in the Florida International University Foot Bridge (which collapsed when it had been used for only a few days) was not necessarily bad news. Maybe so, but that won't sound very convincing to the jury, will it?
I wish only to point out the obvious.  Don't ever leave just a voicemail about something that is potentially as dangerous as cracks appearing in a new bridge. By its nature, a voicemail is left when you don't reach the other party. Which means, you don't know when, if ever, the voicemail is heard or whether the right person heard it.  You also don't know whether the recipient took it seriously enough to act on it immediately. The bridge may collapse before anyone even listens to the message.
At the bare minimum, make sure you actually communicate with the person who is responsible for making the decision what to do.  Make sure your communication is clear and understood. And make a record of it. A follow up email is essential.
CLT
Posted by Cliff Tuttle| March 18, 2018 | © 2018
No. 1,443
Posted by Cliff Tuttle| March 18, 2018 | © 2018
No. 1,442
Nobody knows what the real odds were that the University of Maryland Baltimore City, a lowly 16th seed in the NCAA basketball tournament, would defeat the number one seed Virginia Cavaliers.  The last-place teams are deliberately selected to give small schools who can't compete for top recruits a piece of the tournament action. Once thrust into the arena, they usually go down quietly.  Usually.  But based upon the fact that a bottom-ranked team finally defeated a top-ranked team once after 138 tournaments, its a fair guess that the odds of the underdog emerging triumphant are about 100 to 1.
People think that events with long probabilities will never happen. Not so. Maybe not today. But never? If you stick around long enough, even the rarest outcome will eventually occur. And of course, the odds may have been miscalculated all along or may change.  That's why there have been at least three 500-year storms in Western Pennsylvania in the past few decades.
There's often a sleeper out there, too.  The presence of Napoleon on the battlefield, it was said, was worth 40,000 men.  Eventually, the opposing armies refused to engage when he was known to be in the field.  They would turn around and seek out a Napoleonic army to fight that was commanded by one of his less gifted subordinates.
Getting back to basketball, everybody knows that teams get hot and teams get cold.  Luck intervenes.  Miscalculations occur.  Time runs out.  That's what makes basketball exciting to watch.
The same factors apply to litigation. Just as in sports, David can and sometimes does bring down Goliath. Lawyers get hot.  Lawyers get cold. Witnesses perform better than expected on one occasion and disastrously on the next. You draw the wrong judge.  The jury doesn't get it.
But unlike in sports, litigation doesn't have to be a fight to the bitter end.  People with disputes can settle. It makes supreme sense to do so in many cases. You can dispose of all that risk and replace it with a relative certainty.  Even the overwhelming favorite in a fight to the finish may gain unforeseen benefits.  For example, a payment plan with teeth may be worth much more than than a large uncollectible judgment.
It takes work to settle a case. It often takes imagination, timing and persistence.  The lawyer must have the vision to see the benefits of compromise when his or her client does not.
Basketball tournaments are great entertainment, but litigation is reality. Don't get caught in a 500-year storm.
CLT
Posted by Cliff Tuttle| March 15, 2018 | © 2018
No. 1,441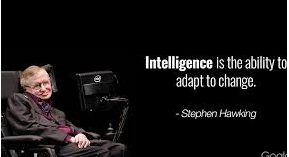 Today we commemorate the 2,067th anniversary of when Julius Caesar had a very bad day.
We all have them.  Lawyers, who engage in a very competitive environment, perhaps have more than their share.
Yesterday, one of the greatest minds of our time passed into eternity. In one sense, he had been having a world's record string of bad days for a very long time.  Lou Gehrig's Disease deprived him of everything, but not quite. In the end, he had control of one facial muscle and that was enough to enable him to operate a computer that empowered him to speak and write books. He expanded our mental universe forever with extraordinary ideas about time-space, black holes, the event horizon and so much more.
His spirit was unconquered.  Don't look down at your feet, he said, look up at the stars.
The next time you have a bad day, remember the great Stephen Hawking.  Then think to yourself:
"What's your excuse?"
CLT
keep looking »