Posted by Cliff Tuttle| January 13, 2015 | © 2015
No. 1,120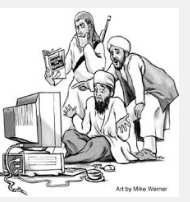 There has been a recurring theme in this, the young 21st Century.  The Mega-institutions have been under attack, frequently with success from loan wolves of various kinds.  Technology has made it possible.  And the victims, including the US Government, haven't figured out what to do about it.
The latest examples are the hacking of military websites by pro-ISIS enemies, launched from points unknown.  Even if these miscreants could be tracked down, they would most likely be outside the jurisdiction of any civilized country that is being hurt.
And so the law, any law anywhere, is helpless.  Territorial law is, of course, ineffective.  What is needed, if it is even possible, is an international convention adopted and imposed on the entire  world wide web. But don't say impossible.  I remember the time, not that long ago, when the internet would have been called impossible — if any of us could have conceived the idea.
CLT
Posted by Cliff Tuttle| December 11, 2014 | © 2015
No. 1,119
A couple in Tampa Florida received a Christmas present from the U.S. District Court – a million dollar award against Bank of America. It seems that BOA called them and called them and called them, day after day, week after week, month after month, year after year. BOA was trying to get mortgage payments by wearing them down.It didn't work.
But don't get too excited about filing a similar suit.  BOA, for some reason, failed to file an answer to the complaint and the Plaintiffs took a default judgment. The court denied the defendant's petition to open the default and awarded $1,500 per call for multiple calls per day over years.
Don't get too excited, I say, because if BOA had filed an answer, they probably would have won the case on motions to dismiss. But BOA never was able to present those arguments.
Nevertheless, if you are interested in pursuing such a cause of action, here is a link to Morgan & Morgan, the law firm that handled the Tampa case. Maybe you'll get lucky, too.
CLT
Posted by Cliff Tuttle| December 8, 2014 | © 2015
No. 1,118
No, I do not intend to watch Barbara Walters' Special.  Hardly any of the people she names as the world's most are that terribly fascinating to me.
Last year she and I were in agreement on a single candidate — Pope Francis.  But then she couldn't get an interview, and had to run second-hand stuff for the show. I don't blame the Pope for not wanting to participate.  Organized media celebrity worship represents much of what is wrong with our materialistic culture.  Plus, think about it — Pope Francis and Taylor Swift on the same platform?
Come to think of it, though, Michael Strahan has the most mesmerizing gap between his front teeth. He knows it and smiles a lot.  The networks, apparently, cannot get enough of it.
I guess that person on the list named Chelsea must be Chelsea Clinton, listed by her married name.  I don't care enough to look it up, though. Chelsea is only the third most fascinating person in her family. I must admit, nevertheless, that she's miles and miles ahead of anybody named Kardashian.
And then there are the Royals.  Goes to show what can be done when humans are bred for pretty.
Of course, the eye of each beholder is different. That goes for me, too. So, I decided to compile my own list of the ten most fascinating people in the world.
1.  My wife — the best conversationalist I have ever met;
2.  My daughter — brilliant, creative, imaginative problem solver;
3.  My son-in-law — smartest person I have ever met, as maddeningly logical as Mr. Spock;
4.  My long-time neighbor — renaissance man, compassionate, loved by almost everyone who knows him;
5.  Cyril Wecht —  a little obnoxious at times, but endlessly interesting;
6. Stephen Hawking –, bravest, most optimistic, a great teacher;
7.  Troy Polamalu — an original, unpredictable, a walking contradiction;
8.  Pope Francis — introduced the world to a fresh way of looking at very old ideas;
9.  Yo Yo Ma — the consummate artist, soother of the savage beast;
10. Rand Paul — one of the most candid people in America.
Katy Perry, eat your heart out.
Your turn!
CLT
Posted by Cliff Tuttle| November 29, 2014 | © 2015
No. 1,117
It is wonderful to wake up every morning since having quintuple bypass surgery. It is wonderful to hear that I am recovering and will soon be better than ever.
On the day Daylight Savings Time turned into Eastern Standard Time, I wrote about the importance of not wasting a single hour.  At that time I had no idea that I would be embarking on the most important journey of my life.  I was so lucky.  Now I have many more hours to use and not waste.  Every new day, yes, every new hour, is truly a gift.
CLT
Posted by Cliff Tuttle| November 2, 2014 | © 2015
No. 1,116
We've all heard others (not us) complain about how there are not enough hours in the day.  Well, once a year they get their wish.  Today, November 2, 2014 is a 25 hour day. Of course, we have been saving it since Sunday March 9, when we all had a 23 hour day.  But for what?What are you going to do with the 25th hour?
Common answers: 1. Sleep. 2. Loaf. 3. Watch TV (especially football).
Not acceptable.  You do those things every day.  You owe it to yourself to spend an hour on something unique and different — something you wouldn't do if you didn't have that 25th hour.
But what? Here's a few ideas.
• How about learning something?  Not just anything, mind you.  Perhaps, something important that has been kicking around in your brain. Or something useful that you ought to know.
•  How about planning something?  No, not your ordinary to-do list.  Instead, think of something that you won't plan and you should.
•  How about taking inventory?  Again, not an inventory you regularly do.  Find something important that you don't regularly inventory.
• Adopt a new habit.  Yes, that's right.  What should you be doing habitually, perhaps daily, that you don't do?
• Pray. Gratitude is a good start.
• Do a good deed.  Charity really does begin at home, by the way.
• Spend it with your family. (The default choice when you come up blank on the others.)
But whatever you do, don't waste it.
CLT
Posted by Cliff Tuttle| October 22, 2014 | © 2015
No. 1,115
Here are some things for lawyers and their clients to be aware of when filing appeals from the Magisterial District Judge in landlord tenant cases. Yes, this stuff can get complex.  Thats why God made some of us with the aptitude to be lawyers.
1. Appeal in an action for possession must be filed ten days after the decision.  This applies to appeals by landlords, too.  Landlords don't lose too often at the magistrate level, but when they are seeking possession, they too must file in ten days. Of course, if the tenant has moved out or if either party wants to appeal damages only, an appeal of the damage part of the award can be made within 30 days after the magistrate's decision.
2.  When the tenth day falls on a weekend or court holiday, the last day to appeal falls on the next day that the Prothonotary (Department of Court Records in Allegheny County) is open for business. Some days you might think are court holidays are not — and vice versa. A lot of them, like Columbus Day, are statutory Monday Holidays. Moreover, the courts may occasionally be closed on days when the Prothonotary or Department of Court Records is open.
3.  If a tenant wants to appeal in forma pauperis, it is necessary for him or her to obtain a court order from the motions judge. Ideally, you should arrive at the Prothonotary or DCR at or before 9 AM and have enough time to take care of everything.  They will give you the forms to take to court.  Be prepared to wait, possibly an hour or more. Allow yourself the full morning to get everything done. Also, be aware that motions court may be cancelled on certain days, including certain Fridays.
4.  It is hard to get information on the telephone. In Allegheny County, if you call the main number, you will get a an array of choices — all on tape. You may have to go in person to have your question answered. Don't wait until the last day to go in in person.
5.  It is not a bad idea to check the docket on the day after filing.  There may be mistakes in spelling, addresses or other important information.
6.  The affidavit regarding federally subsidized housing is often misunderstood by tenants filing appeals. This affidavit only applies when the federal government is paying part of the rent.  If you pay half and your girlfriend/boyfriend pays half, this affidavit does not apply to you.  While submitting the form may initially cause you to pay less into escrow, if the error is discovered later, you may not be able to catch up on the overdue escrow payments.  That could lead to termination of the lease.
7.  If the magistrate decided both a landlord tenant case and a cross-claim, it may be necessary to appeal both cases separately. If the cross-claim is not appealed, it stands. And it is possible to appeal the cross-claim and not the landlord-tenant case from which it arose.  Of course, there are two separate appeal forms and two separate appeal fees.
8.  If you do appeal both the LT case and the cross-claim, you will want to present a motion to have them consolidated before they go to trial.  Otherwise, the odds are excellent that they will be scheduled for trial on separate days.  This can also lead to inconsistent decisions and even double awards.
CLT
Posted by Cliff Tuttle| October 18, 2014 | © 2015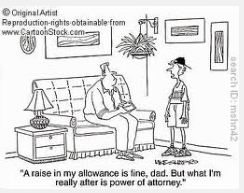 No. 1,114
Just a heads up.  Act 95 of 2014, effective in part on July 2, 2014 with more to come, must be consulted when preparing powers of attorney.
It all started with the case of Vine v. Commonwealth of Pennsylvania State Employee Retirement Board, 607 Pa. 648, 9 A.3d 1150 (2010). Plaintiff had executed a power of attorney naming her husband as agent at a time she was in very poor physical and mental condition. There was apparently some question whether she had the ability to enter into a power of attorney.  Her husband, employing the POA, made various elections in behalf of his wife under the retirement plan.Wife recovered and the parties were divorced.  She then attempted to reverse one of the choices her husband had elected for her under the power of attorney.
The Retirement Board refused to make the change.  Under the applicable statute as it literally stated and had always been interpreted, the Retirement Board was entitled to rely upon the Power of Attorney until revoked.
However, a divided Supreme Court held that, under the facts of this case, the Power of Attorney was not effective because Theresa Vine was not competent to execute a power of attorney and that the Board was liable to her for relying upon it..
This resulted in a reaction by banking and estates lawyers that ultimately resulted in legislation that went far beyond addressing the Vine case. The Advisory Committee on Decedents' Estates Laws had issued a report recommending changes in Chapter 56 of the Probate Estates & Fiduciaries Code, which dealt with powers of attorney and Chapter 54, "Health Care Powers of Attorney."  However, Act 95 went beyond the recommendations of the Committee.  According to one source in the general assembly, moreover, the legislature is not finished revising the law on powers of attorney.
After January 1, 2014, all powers of attorney are required to be executed before a notary (who cannot be the agent) and two separate witnesses.
A power of attorney may be signed by a third party on behalf of the principal if the principal is unable to sign and specifically directs the other person to sign.
In addition, the notices to be signed by the principal and agent have changed.
The powers of the agent have been, in some cases, expanded.  Significant among these is the power to make gifts.
Of course, the moving purpose of Act 95 is to address the holding of the Vine case, which it does. The increased formalities, including the presence of witnesses,  are intended to ameliorate concerns regarding the competency of the principal to execute the power of attorney.  Civil liability is imposed for a third party refusal to honor the power, a somewhat revised format.
The changes under Act 95 are too numerous and have too many new implications to be summarized here.  Any attorney undertaking to prepare a power of attorney after January 1 should become familiar with the provisions of Act 95 before drafting.
CLT
Posted by Cliff Tuttle| October 17, 2014 | © 2015
No. 1,113
I just received notice that I am once again a top contributor  to AVVO, as was the case last year. Those contributions were in the form of questions answered through AVVO about real estate and landlord tenant law.  I have been doing this almost since the beginning of AVVO.  I am currently no. 58 in the all-time rankings for landlord tenant submissions.
If you follow PittsburghLegal in Twitter, you will receive a tweet of all of my AVVO Answers, as well as all new posts in this blog.
CLT
Posted by Cliff Tuttle| October 17, 2014 | © 2015
No. 1,112
Fantasy football has been around for a while.  Rules vary.  In the classic format, the team owners meet at the beginning of the pro football season to draft teams of offensive players expected to do a lot of scoring. These teams usually continue to play for the entire season, with the winner taking the pool at the end. However, commercial variations have developed that enable individuals to play by the day or the week, without the need to assemble an entire  league. And even the cable sports networks, such as ESPN, have joined in.
The question is, does this constitute illegal gambling?  In Pennsylvania, probably not.
In Pennsylvania, as in most (but not all) States, the test whether such a game is illegal gambling is whether it is predominantly one of chance or skill. The last time a Pennsylvania appellate court addressed the issue of chance v. skill was in a 2010 Superior Court decision, Commonwealth v. Dent, 992 A.2d 190. Although Poker, in its various forms, involves substantial skill, the Superior Court held that chance predominates because the cards dealt to each player have the primary role in determining the outcome of the hand.
Whether Fantasy Football is predominately a skill game has never been directly addressed by Pennsylvania appellate courts. However, the prevailing view is that picking a Fantasy Football team is a game of skill. Organizations that permit you to play fantasy football over the internet, have determined that the game is legal in our Commonwealth. Mark Edelman, who is something of an expert, explains the reasoning in an article in Forbes. On its website, FanDuel, a popular internet fantasy site explains how it determines which states are safe to offer the game.
However, if the games are changed to incorporate more chance elements, such as payouts that are based on total scores of actual games in the NFL prosecutors may decide to take another look.
CLT
Posted by Cliff Tuttle| October 15, 2014 | © 2015
No. 1,111
William Towne v. Sensible Home Warranty, LLC, Pittsburgh Legal Journal, Vol. 162 No. 20 page 314. AR 12-6409. June 3, 2014.
This case involves a claim made under a home warranty which provided that a warranty dispute must be submitted to the American Arbitration Association in Washoe County, Nevada, the location of the defendant's office. After a bench trial, the court awarded damages to the plaintiff, together with exemplary damages and attorneys fees under the Unfair Trade Practices and Consumer Protection Law (UTPCPL)  The Defendant filed post trial motions, then withdrew them and appealed to the Superior Court on grounds that the trial court should have ordered AAA arbitration at some location other than Nevada.
Under the Rules, Judge Alan Hertzberg, the trial judge, prepared an opinion explaining his reasoning to the Superior Court.
In his opinion, Judge Herzberg stated:
"A term of a contract "is unconscionable, and therefore avoidable, when there was a lack of meaningful choice in the acceptance of the challenged provision and the provision unreasonably favors the party asserting it." Salley v. Option One Mortgage Corp., 592 Pa. 323, 925 A.2d 115 (2007). The warranty Sensible provided Mr. Towne is a standardized contract form offered to consumers of goods and services on a 'take it or leave it' basis. See Black's Law Dictionary (5h ed. 1979). Accordingly, it cannot be disputed that Mr. Towne lacked a meaningful choice. See Denlinger, Inc. v. Dendler, 415 Pa. Super 164 at 174-175, 608 A.2d 1061 at 1066-1067 (1992).
The arbitration clause in Sensible's warranty also unreasonably favors Sensible. Sensible offered no justification for a clause that discourages customers from initiating meritorious disputes with it (unless they are Nevada residents). The clause deters a customer in Pittsburgh, Pennsylvania by the expenses of travel and lodging and the time commitment for AAA arbitration in Nevada. It appears Sensible's goal in having this clause in the warranty is to avoid disputes with customers without regard to whether or not they have merit. This is an improper goal. Therefore Sensible must not be permitted to have its choice of a forum, AAA, forced upon a customer with a meritorious dispute who chooses resolution via the court system. Additionally, the Nevada venue and the AAA forum are too closely connected for severance of one from the other. Together they comprise an arbitration clause that unreasonably favors Sensible and therefore is unconscionable."
CLT
keep looking »