Posted by Cliff Tuttle| March 2, 2015 | © 2015
No. 1,126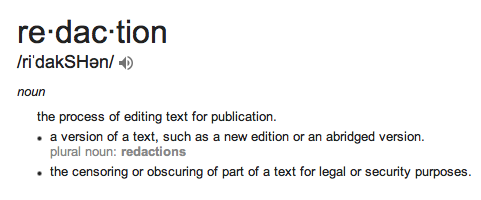 Once again, Howard Bashman of How Appealing has brought to our attention another crazy case.  This one is too rich.  Now who do you suppose these litigants might be?  And how long can the secret be kept?
Posted by Cliff Tuttle| March 2, 2015 | © 2015
No. 1,125
Sprint is responsible for one of the most idiotic commercials on TV today.
Kevin Durant is a professional basketball player, not a lawyer.
He jumps up in court and demands that cell phone bills be cut in half.  Then he does it — to the other lawyer's exhibit.  The gallery goes wild.  The tipstaff runs over to shake his hand.
But why does Sprint feel compelled to give a credit to the Law Offices Kevin Durant & Associates and disclaim it just below?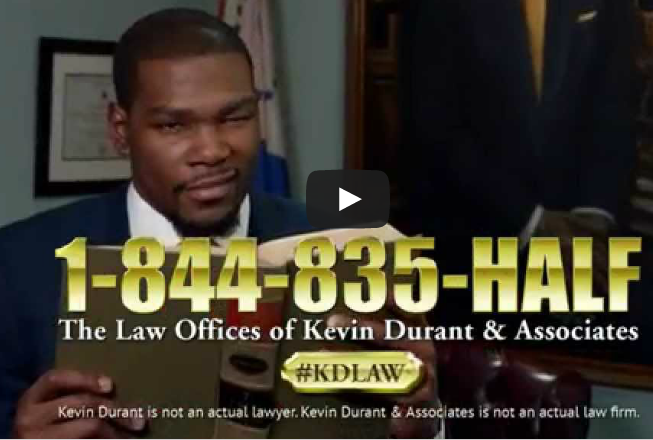 Posted by Cliff Tuttle| February 24, 2015 | © 2015
No. 1,124
Here's a news story from the Trib you may have missed about how there probably won't be any interim nominations this year to the Pennsylvania Supreme Court.
Centre County President Judge Thomas Kistler states that he can't afford to leave his present position, since the Centre County Common Pleas Court is also short-handed.
So, the deal is off. Nominating just one justice would potentially deadlock the court at 6-6.
However, the Trib article clearly implies that the real reason for the turn-down is that Judge Kistler doesn't want to be required to explain to the Senate Judiciary Committee why he forwarded a certain Christmas card to his friends in 2013. It shows a black couple hugging during a jail visit and says "Merry Christmas from the Johnsons."
The Judge acknowledges that he forwarded the card to about 22 people, stating that it illustrates the hardship upon families of incarceration during the holiday. Not surprisingly, there are people who don't believe that explanation.  And some of them would be very happy to testify at the confirmation hearings, inviting the national press to cover the story. The term "media circus" come to mind.
Of course, the Judge, together with his co-nominee, Dean Kenneth Gormley of Duquesne Law School, would almost certainly be confirmed. They have excellent qualifications. But would the game be worth the candle?
CLT
Posted by Cliff Tuttle| February 22, 2015 | © 2015
No. 1,123
In the Matter of Discipline of Howard Neil Shipley, No. 14D2827.
Live long enough and you can see everything.
Every lawyer has had clients who want to micromanage the case.  Its a serious handicap.  But most of the time, it just makes the task harder.
But not always.
In a rare move, the United States Supreme Court has issued an Order to show cause why sanctions should not be imposed against a lawyer who says that his client insisted upon dictating the content and style of arguments presented in a petition involving a patent matter.  The lawyer, Howard Neil Shipley, has had to hire a leading Supreme Court practitioner to plead his case.  Of course, being sanctioned by the the United States Supreme Court would be a severe blow to any lawyer's career.
According to the Response to the Order, recently filed, similar sanctions have not been imposed for 50 years.
Read more about it in the SCOTUS Blog.
CLT
Posted by Cliff Tuttle| February 15, 2015 | © 2015
No. 1,122
COLONIAL INTERMEDIATE UNIT #20
COLONIAL INTERMEDIATE UNIT #20
EDUCATION ASSOCIATION, PSEA/NEA
No. 983 C.D. 2014
The Commonwealth Court of Pennsylvania upheld the refusal of a Common Pleas Court decision that denied the employer's petition to vacate an arbitration award and reinstate a special education teacher who had been terminated due to an incident.  The Public Employee Relations Act PERA) provides that an arbitration award is governed by a highly deferential "essence test."
"Under the essence test, a reviewing court may vacate a PERA arbitration award only where the award is indisputably and genuinely without foundation in, or fails to logically flow from, the underlying collective bargaining agreement (CBA). If the essence test is satisfied, the court may further consider whether the award violates a well- defined and dominant public policy."
Here's the story: A group of special education students visited a petting zoo.  A 14 year old autistic student "repeatedly lured a goat with food and hit it on the nose.
Several days later the teacher learned about the incident.  So he hung a sign around the student's neck which read "I abuse Animals." The story goes on, with the teacher resisting the efforts of another teacher to ameliorate the humiliation of the sign by changing it to "I Love Animals." When the news of this reached the school administration, the teacher was dismissed.  This was followed by the filing of a grievance that was heard by an arbitrator.
At a hearing, other charges were added including extreme discipline, name calling and the use of trigger words.  The teacher was charged with immorality, cruelty, persistent negligence in performance of duties, willful neglect of duties and willful violation and failure to comply with school law and regulations.
The Arbitrator  sustained the grievance in part and denied it in part. She determined that the Grievant's conduct did not constitute immorality, cruelty, etc.  Therefore the Arbitrator ruled that Grievant was terminated without just cause. However, the Arbitrator found that the Grievant's conduct demonstrated a lack of professionalism and converted the termination to a 53 day suspension without pay, running from October 11, 2011 to the first day of school in January 2012. The reinstatement was conditioned upon successful completion of an improvement plan structured by the Employer.
The award was appealed by the Employer to common pleas court. The Court determined that the Arbitrator's award was rationally derived from the CBA, was not in violation of public policy and refused to vacate the award.
The Commonwealth Court upheld the trial court decision that the award was justified under the essence test.  It also observed that the public policy exception to the essence test is extremely narrow.
"In light of the conditions imposed by Arbitrator, which address Employer's concerns in this case, Arbitrator's award does not pose an unacceptable risk to any well-defined or dominant school law or policy. [citing cases] Accordingly, we reject Employer's contention that the trial court erred in failing to determine Arbitrator's award violates the public policy exception."
CLT
Posted by Cliff Tuttle| January 31, 2015 | © 2015
No. 1,121
Who would have thunk it?
So much about so little.  But sometimes things happen that way.
The most obvious scenario has hardly been discussed.  Ball boy forgets or is too lazy to inflate the game balls.  Official forgets or is too lazy to check them.
Mistakes happen all of the time and when they do, other people often assume the worst.
Of course, after all this, the ball boy and the official are not going to tell the truth. They should, but they won't.  They are afraid of being fired — and with good reason.  And so, it continues to be a big mystery.
As President Obama likes to say, we have here a "teachable moment."
The Patriots did exactly the wrong thing in response to the accusation of cheating.  They started denying wrongdoing before they had thoroughly investigated the facts.  Instead of holding press conferences, they should have immediately  announced that an investigation was being conducted and that they would have no comment until they had determined the facts.  And then, they should have put the locker room and offices of the team on lock down and brought in their outside counsel to interview everyone who could have information.
The outside counsel's report and conversations with management are, of course, subject to lawyer-client privilege.  The discussion between lawyer and client cannot be discovered in litigation, or even by the almighty NFL.  This gives management an opportunity to sift through the data and formulate conclusions in an orderly way. It also enables the lawyer and client to have candid conversations off the record.
Then, the following day, a spokesman for the team should have announced the factual findings. The focus should be on facts — not denial of accusations. No member of management, coach, team member or other insider should be permitted to discuss the matter with the press or the public. Of course they must cooperate with the NFL investigation — but not in a public forum.
What the Patriots did instead was to conduct a series of ill-prepared press conferences.  In so doing, they exposed their star quarterback, coach and owner to unnecessary risk that something said would have to be retracted or worse. And more importantly, all of these presentations were hastily prepared, inarticulate and, very frankly, not terribly credible. It didn't have to be that way.
None of the ideas expressed here are revolutionary.  Most organizations of similar size conduct internal investigations when the situation demands.  They usually have a damage control plans, too.
CLT
Posted by Cliff Tuttle| January 13, 2015 | © 2015
No. 1,120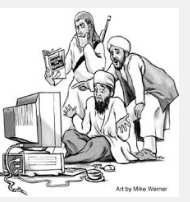 There has been a recurring theme in this, the young 21st Century.  The Mega-institutions have been under attack, frequently with success from loan wolves of various kinds.  Technology has made it possible.  And the victims, including the US Government, haven't figured out what to do about it.
The latest examples are the hacking of military websites by pro-ISIS enemies, launched from points unknown.  Even if these miscreants could be tracked down, they would most likely be outside the jurisdiction of any civilized country that is being hurt.
And so the law, any law anywhere, is helpless.  Territorial law is, of course, ineffective.  What is needed, if it is even possible, is an international convention adopted and imposed on the entire  world wide web. But don't say impossible.  I remember the time, not that long ago, when the internet would have been called impossible — if any of us could have conceived the idea.
CLT
Posted by Cliff Tuttle| December 11, 2014 | © 2015
No. 1,119
A couple in Tampa Florida received a Christmas present from the U.S. District Court – a million dollar award against Bank of America. It seems that BOA called them and called them and called them, day after day, week after week, month after month, year after year. BOA was trying to get mortgage payments by wearing them down.It didn't work.
But don't get too excited about filing a similar suit.  BOA, for some reason, failed to file an answer to the complaint and the Plaintiffs took a default judgment. The court denied the defendant's petition to open the default and awarded $1,500 per call for multiple calls per day over years.
Don't get too excited, I say, because if BOA had filed an answer, they probably would have won the case on motions to dismiss. But BOA never was able to present those arguments.
Nevertheless, if you are interested in pursuing such a cause of action, here is a link to Morgan & Morgan, the law firm that handled the Tampa case. Maybe you'll get lucky, too.
CLT
Posted by Cliff Tuttle| December 8, 2014 | © 2015
No. 1,118
No, I do not intend to watch Barbara Walters' Special.  Hardly any of the people she names as the world's most are that terribly fascinating to me.
Last year she and I were in agreement on a single candidate — Pope Francis.  But then she couldn't get an interview, and had to run second-hand stuff for the show. I don't blame the Pope for not wanting to participate.  Organized media celebrity worship represents much of what is wrong with our materialistic culture.  Plus, think about it — Pope Francis and Taylor Swift on the same platform?
Come to think of it, though, Michael Strahan has the most mesmerizing gap between his front teeth. He knows it and smiles a lot.  The networks, apparently, cannot get enough of it.
I guess that person on the list named Chelsea must be Chelsea Clinton, listed by her married name.  I don't care enough to look it up, though. Chelsea is only the third most fascinating person in her family. I must admit, nevertheless, that she's miles and miles ahead of anybody named Kardashian.
And then there are the Royals.  Goes to show what can be done when humans are bred for pretty.
Of course, the eye of each beholder is different. That goes for me, too. So, I decided to compile my own list of the ten most fascinating people in the world.
1.  My wife — the best conversationalist I have ever met;
2.  My daughter — brilliant, creative, imaginative problem solver;
3.  My son-in-law — smartest person I have ever met, as maddeningly logical as Mr. Spock;
4.  My long-time neighbor — renaissance man, compassionate, loved by almost everyone who knows him;
5.  Cyril Wecht —  a little obnoxious at times, but endlessly interesting;
6. Stephen Hawking –, bravest, most optimistic, a great teacher;
7.  Troy Polamalu — an original, unpredictable, a walking contradiction;
8.  Pope Francis — introduced the world to a fresh way of looking at very old ideas;
9.  Yo Yo Ma — the consummate artist, soother of the savage beast;
10. Rand Paul — one of the most candid people in America.
Katy Perry, eat your heart out.
Your turn!
CLT
Posted by Cliff Tuttle| November 29, 2014 | © 2015
No. 1,117
It is wonderful to wake up every morning since having quintuple bypass surgery. It is wonderful to hear that I am recovering and will soon be better than ever.
On the day Daylight Savings Time turned into Eastern Standard Time, I wrote about the importance of not wasting a single hour.  At that time I had no idea that I would be embarking on the most important journey of my life.  I was so lucky.  Now I have many more hours to use and not waste.  Every new day, yes, every new hour, is truly a gift.
CLT
keep looking »