Posted by Cliff Tuttle| May 19, 2015 | © 2015
No. 1,155
Mad Men was, after all, all about advertising.  And so it ended with a commercial.
Its a great commercial. It makes you want to sing along, feel good.  But look at the kids in it.  Lined up like soldiers on a parade ground, each holding a Coke like a rifle in a precision drill.  But they are smiling, happy, singing robots.
Yes, it all makes you want to sing along, feel good.  However, do you get that subliminal feeling that you've been manipulated?
And, of course, before you can watch it, there will be a word from our sponsor — somebody else's sponsor, actually.
Posted by Cliff Tuttle| May 17, 2015 | © 2015
No. 1,154
Thank you, Lowering the Bar, for an amusing post on the attempt by the U.S. Government to prosecute another embarrassment to its weapons security system.  Thank you, How Appealing, for bringing it to our attention.
Sister Megan Rice, an "85 year-old peace activist nun" and friends, used a bolt cutter to enter the Y-12 nuclear weapons complex at Oak Ridge, and according to Lowering the Bar, "put up some banners, sang songs and prayed."  They also "threw some blood on the building and chipped some pieces off the corner with a hammer." A report in the Wikipedia article (linked to her name above) says she and her two cohorts spray painted anti-war slogans on the building.
It might seem that the perpetrators have exhibited an element of caginess in choosing Sister Megan Rice to lead them. However, the nun-protest gambit has failed to work in the past.  According to her Wikipedia profile,  "Rice has been arrested more than three dozen times in acts of civil disobedience, including her anti-nuclear activism[1] as a staff member of Nevada Desert Experience[5] in Las Vegas at the Nevada Test Site and protests against the School of the Americas at Fort Benning, Georgia.[6] She has served two six-month prison sentences resulting from trespasses during protests against the School of the Americas in 1997-99."  She also testified at trial: "I regret  that I didn't do this 70 years ago." Thus, contrary to the impression left by Lowering the Bar, this 85 year-old nun appears to be a hardened criminal.
Of course, this is not the first or second time rather harmless people have demonstrated weaknesses in security protection.  People have been flying aircraft and drones in the vicinity of the White House, a no-fly zone, at regular intervals.  We should at least be glad that these incidents have educated   security personnel who, hopefully, will improve in the future. For this, and for demonstrating that the First Amendment is alive and well, we owe a debt of gratitude to Sister Megan Rice.  And we should also be glad that the response was peaceful.  There are places on this Earth where people violating a defense perimeter would be shot on the spot.  The United States, thank God, is not one of those places. Yet.
CLT
Posted by Cliff Tuttle| May 15, 2015 | © 2015
No. 1,153
Is it possible that the common usage of the word "guy" has its origins with Guy Fawkes? So says Eugene Volokh, of Volokh Conspiracy fame. It takes one conspirator to know another one.
What is "kinesophobia?"  Is it the same thing as "kinesiophobia?" What do these terms have to do with the word "haptic."  or "haptics?" Yes, there are some ancient Greek word roots here.
Do you know the difference among "black hat", "white hat" and "grey hat?"   No, a "red hat" is something different.
Have you been guilty of "slacktivism"?  Should you be ashamed?
Should you "kvell"  or "kvetch"over the quality of your "kvass"?
What is the world's most recognized word — according to the editors of the Merriam-Webster Dictionary? No, the answer is not "guy", but that's okay.
CLT
Posted by Cliff Tuttle| May 10, 2015 | © 2015
No. 1,152
Elizabeth Warren, Senator from Massachusetts, has been campaigning against the Trans-Pacific Partnership, a free trade agreement involving 12 countries, including the US, with borders on both sides of the Pacific Ocean.
Warren says that the proposed agreement includes an international trade dispute resolution mechanism, "Investor-State Dispute Settlement" (ISDS), that would enable multinational corporations to bypass American Courts an "undermine US Sovereignty."
In essence, Warren argues that this provision, which exists in other trade agreements, will enable the these multinationals to obtain rulings from arbitrators who, she argues, will be lawyers with loyalty to large corporate clients.
Recently, Warren stated that such international dispute resolution mechanisms will enable Wall Street to by-pass certain types of regulation under the Dodd-Frank Act. She noted that big bank lobbyists were supporting a similar measure in a Trans-Atlanic agreement under negotiation because of its potential impact on international derivative rules.She also asserted that they could be used by certain companies — particularly in the tobacco industry — to subvert health regulations.
"ISDS would allow foreign companies to challenge U.S. laws — and potentially to pick up huge payouts from taxpayers — without ever stepping foot in a U.S. court, " states Warren. " Here's how it would work. Imagine that the United States bans a toxic chemical that is often added to gasoline because of its health and environmental consequences. If a foreign company that makes the toxic chemical opposes the law, it would normally have to challenge it in a U.S. court. But with ISDS, the company could skip the U.S. courts and go before an international panel of arbitrators. If the company won, the ruling couldn't be challenged in U.S. courts, and the arbitration panel could require American taxpayers to cough up millions — and even billions — of dollars in damages.
"If that seems shocking, buckle your seat belt. ISDS could lead to gigantic fines, but it wouldn't employ independent judges. Instead, highly paid corporate lawyers would go back and forth between representing corporations one day and sitting in judgment the next. Maybe that makes sense in an arbitration between two corporations, but not in cases between corporations and governments. If you're a lawyer looking to maintain or attract high-paying corporate clients, how likely are you to rule against those corporations when it's your turn in the judge's seat?"
President Obama, in an interview published on May 9, disputed that ISDS would enable tobacco companies to avoid American health regulations. "Some companies," he said, "particularly tobacco companies, have tried to sue other countries — not us — but sue other countries, saying, for example, that if they had a rule that you couldn't have a brand name, or package cigarettes in a certain way, that that was discriminating against RJ Reynolds or some of the [other] big tobacco companies," Obama said. "I wouldn't sign something that undermines even other countries' efforts to protect public health and safety."
What about Senator Warren's fear that American banking institutions would employ ISDS to open the door to purchasing derivatives on the international market that regulators would otherwise prohibit?  Assuming that actually happened, would bank regulators be powerless to address the situation?  Probably not.  Such an action would likely trigger a special examination, followed by the requirement that the bank increase its reserve to cover the additional risk.
CLT
Posted by Cliff Tuttle| May 7, 2015 | © 2015
No. 1,151
BENEFICIAL CONSUMER DISCOUNT COMPANY d/b/a BENEFICIAL MORTGAGE COMPANY OF PENNSYLVANIA v. PAMELA A. VUKMAN, NO. 355 WDA 2014
Another chapter in the continuing saga of Pamela Vukman and Beneficial Consumer Discount Company appeared in the decisions of the Superior Court on April 6, 2015.
The prior Vukman decision in the Superior Court was announced in January 2012 at 2012 Pa. Super 18. The Court held that the Act 91 Notice originally given to Vukman was defective because it failed to give notice of the right to have a face-to-face meeting with the lender prior to foreclosure.
That decision was overturned by the Supreme Court.  Meanwhile, the Legislature addressed the problem of defective Act 91 notices by passing Act 70 of 2012.  Act 70 made it easy for plaintiffs to cure defective Act 91 Notices, providing, in essence, that a corrected notice could be given after commencement of the suit. The statute provided the trial court with a range of options:
"If there has been a failure to comply with the notice requirements of sections 402-C and 403-C of [Act 91], known as the Housing Finance Agency Law, and such failure has been properly raised in a legal action, including an action in foreclosure, for money due under the mortgage obligation or to take possession of the mortgagor's security, the court may dismiss the action without prejudice, order the service of a corrected notice during the action, impose a stay on any action or impose other appropriate remedies in the action to address the interests, if any, of the mortgagor who has been prejudiced thereby." 35 P.S. § 1681.5(1).
However, earlier in the proceedings, Ms. Vukman had entered into a consent judgment with Beneficial, setting forth a path whereby Ms. Vukman could gradually cure the delinquency and return the loan to good standing.
Unfortunately, Ms. Vukman defaulted on the agreement.  Pursuant to the agreement, the Plaintiff sold the property at sheriff sale.  Ms. Vukman filed a motion to set aside the sheriff sale, arguing that Beneficial had failed to afford her her rights under Act 70.
On appeal, the Superior Court stated the issues to be: (1) Did Vukman waive her Act 70 rights by the consent judgment? (2) Is waiver of Act 70 rights barred by statute or public policy?
The Court answered the first question as follows:
"We find that the consent judgment effectively provided Act 70 relief. At the time the consent judgment was entered, Vukman not only was aware that she had the right to a face-to-face meeting with Beneficial, she had actually had that meeting because it resulted in the consent judgment. Furthermore, as a result of the consent judgment, not only was foreclosure forestalled, it was prevented altogether so long as Vukman complied with the payment obligations provided in the consent judgment. Thus, although Act 70 had not been enacted at the time of the consent judgment, the consent judgment effectively provided the relief envisioned by Act 70.
Moreover, even if the consent judgment did not serve as Act 70 relief, Vukman is not entitled to such relief now. In her first issue, Vukman contends that in the consent judgment she waived only those claims set forth in her New Matter and Counterclaim, but not any of her defenses, such as Act 70. We disagree. The language of the consent decree clearly and unambiguously included a waiver of far more than just the claims Vukman set forth in her New Matter and Counterclaim: "Vukman agrees to Release and hold harmless any and all persons and business entities . . . from any and all claims set forth in Vukman's New Matter and Counterclaim and from any and all claims she may have had or may have in the future." If we interpreted this language as limiting the waiver to just the claims contained in the New Matter and Counterclaim, the highlighted language would be rendered mere surplus age."
Even though Act 70 had not been enacted at the time consent judgment was entered, Ms. Vukman nevertheless waived its benefits.  In the consent judgment, she expressly waived any claims she may have in the future.
The court also stated:
"Neither Act 70 nor Act 91 has a no-waiver provision. Act 91 did incorporate the notice information required under Act 6. See 35 P.S. § 1680.403c(b)(1). However, Act 91 did not incorporate the no-waiver provision. Moreover, both Act 70 and the notice requirements of Act 91 were enacted after the no-waiver provision of Act 6 was enacted. Obviously, the Legislature was aware that it had barred waiver under Act 6 and could also have done so under Act 70 and Act 91, but chose not to do so. Therefore, we find no statutory bar to waiver of Act 70."
CLT
Posted by Cliff Tuttle| May 5, 2015 | © 2015
No. 1,150
The ABA Journal reports a $2,000,000.00 + settlement in a suit by former tenants of a 26 unit apartment building in Los Angeles. The tenants claimed the premises were uninhabitable for a variety of reasons.  But one seems to be primary: cockroaches. The owner hardly helped his case when he stated that he had purchased hundreds of cans of spray.
As everybody has heard, cockroaches are carriers of disease and are very difficult to eradicate.  In apartment buildings with not enough dumpsters or when tenants leave food in easily accessible places, cockroach infestations have lasted decades.
Cockroaches were mentioned in the classic 1979 case, Pugh v. Holmes, as one condition that creates an uninhabitable condition.  But there are no other appellate civil cases in Pennsylvania that raise the issue of habitability due to the presence of cockroaches in a residence.
And then there are bedbugs.  These little vampires have the ability to go dormant for years, reappearing when the next humans move in. There are no modern civil cases in the Pennsylvania appellate courts that mention bedbugs. That will change, soon.
In both cases, as with other vermin, it can be exceptionally hard to prove when the critters arrived, how they arrived and who brought them.
Up to now, we also haven't heard about any litigation involving the sale of insect/rodent infested real estate. Look for that to change as well.  Properties that have cockroaches, bedbugs and other unwanted squatters are eventually bought and sold, just like  every other property. And it is only a matter of time before a buyer sues a seller for failing to disclose the situation.  Whether the seller actually knew of the condition, or should have known, is a matter of proof.
At the moment, the Pennsylvania Residential Real Estate Disclosure Statement does not directly address vermin-in-residence, except termites, except under the catch-all term "pests". If the seller has a report on such an infestation, or there is property damage, it has to be disclosed.  But the question whether the Seller knows of an infestation of cockroaches, bedbugs, rodents or some pest other than termites, is not specifically asked.  Not yet.
Here is what the applicable section looks like now:

Posted by Cliff Tuttle| May 3, 2015 | © 2015
No. 1,149
The Supreme Court is hearing arguments on same sex marriage, legal arguments that wouldn't have been given a long shot chance of acceptance not very long ago.
The Wall Street Journal carried an article about the first same sex marriage case to reach the Supreme Court in 1972. That case was dismissed without argument. The WSJ interviewed the law clerk of Justice Harry Blackmon, who wrote a short memorandum to the court in the case.  This lead to a one sentence order, which states that the petition did not present a federal question.  That case, Baker v. Nelson, was for many years cited as the controlling precedent on the subject.
The law clerk, Michael LaFond, who recently retired, expressed sympathy for the cause.  He stated that he knew gay men who worked in his family restaurant business when he was growing up and thought it sad that they had to disguise their secret.  However, regarding the 1972 decision, he stated: "I just don't think the court was ready at the time to take on the issue."
Of course, the time when gay marriage passes Supreme Court muster may not yet be at hand.  Commentators who  watch the arguments carefully, state that the Court is treating the matter with caution.  Time Magazine says that the court could duck a definitive decision in many, leaving the final outcome to another day.
One of the great tasks of  the Supreme Court throughout history has been to determine the boundaries of personal rights and freedoms guaranteed by the Constitution and by law.  The principles of natural law and personal morality inform this dialogue, but, as we have seen over the years, do not control it.  Increasingly, a broad spectrum of the American public has expressed a preference for tolerance of individual differences among people and groups.  But the American public does not decide what the Constitution and the law requires. The courts do.
CLT
Once again, a hat tip to How Appealing.
Posted by Cliff Tuttle| May 1, 2015 | © 2015
No. 1,148
If you are thinking about going to law school, you may want to also think about getting a job when you are finished.  If you peruse this report, you'll learn that Penn grads had the best hire rate among law schools in the Northeast.  But if your grades are not up to the Ivy League, you might want to know that both Pitt and Duquesne scored quite respectably.  Pitt was 19th of 41 schools with a 71.5% job rate for recent grads.  Duquesne was 14th with a 73.5% employment rate. So if these numbers are correct, Duquesne grads did slightly better.
CLT
Posted by Cliff Tuttle| April 26, 2015 | © 2015
No. 1,147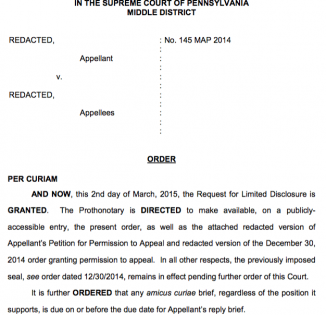 PLBT first reported on March 2, 2015 that a strange case, Redacted v. Redacted,  had been filed in the Pennsylvania Supreme Court.
The case name came about because the names of the parties were redacted from the record — literally, blacked out.  In fact, the record of the entire case was impounded.
In this very unusual case, an attorney for a non-profit alerted the Attorney General's Office of a potential diversion of funds by the non-profit client. This presents a unique ethical dilemma, because it is an apparent violation of the lawyer-client privilege.
We learned about the case from a blog post by Howard Bashman in How Appealing, who reports today that an article appears in the Trib with a meagre case update.
However, the Legal Intelligencer has the best coverage thus far, with an excellent report on April 13 and  a discussion in its ethics column on April 14.
Beyond what is reported in the Legal Intelligencer story, the public record is blank.  As a matter of fact, the index for the Supreme Court docket states that the case doesn't even exist.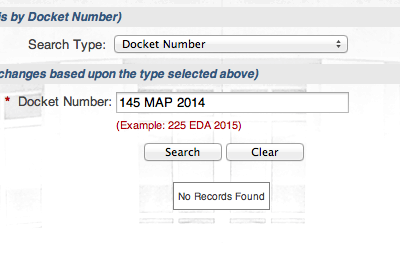 Posted by Cliff Tuttle| April 25, 2015 | © 2015
No. 1,146
If you guessed that this was the opening line of  George Orwell's 1984, you were right.
We tend to forget that we can have cold weather in April, but yes we can.  I'm not a gardener, but an expert one told me that you can have a frost as late as May 25.
Be thankful.  We could be living in Kathmandu.
CLT
UPDATE:  By 2 PM, Pittsburgh time, the death toll from the earthquake and an earthquake-like aftershock had risen to 1,500 and is expected to continue to grow.
keep looking »