Posted by Cliff Tuttle| July 22, 2014 | © 2014
No. 1,083
Yes, they raised the flat fee for recording from $150.00 to $163.00.  It begins August 8.
What else is there to say?
CLT
Posted by Cliff Tuttle| July 21, 2014 | © 2014
No. 1,072
 Servant's Oasis v. Zoning Hearing Board of South Annville Township, No. 1321 C.D. 2013.  Decided June 18,2014.
In a zoning hearing there is a heavy burden of proof imposed by Municipal Planning Code upon a party seeking a variance. However, the burden of proof for a special exception is much less.  Moreover, once the burden is met, the burden of proof is shifted to the municipality.
"A special exception use is a permitted use to which an applicant is entitled if it meets the objective standards in the zoning ordinance. Union Township v. Ethan Michael, Inc., 979 A.2d 431, 437 (Pa. Cmwlth. 2009). The applicant bears the burden of production and persuasion to prove that the proposed use meets the special exception requirements. Greaton Properties, Inc. v. Lower Merion Township, 796 A.2d 1038, 1045 (Pa. Cmwlth. 2002). Once the applicant's burden is satisfied, a presumption arises that the use is consistent with the health, safety and welfare of the community. Id. at 1045-46. The burden then shifts to the objectors to prove that the proposed use will have a generally detrimental effect on the public health, safety and welfare. Id. at 1046."
The applicant, Servant's Oasis, proposed to expand an existing retreat center, which required an upgrade of the on-site sewage treatment.  The Zoning Hearing Board denied the application and the Common Pleas Court affirmed, on grounds that the applicant's witnesses had not proven at the hearing that the proposed system was technically feasible. There were at least two options available to develop the treatment plant. Each would require the applicant to fulfill certain requirements, including acquiring "nutrient credits" from a third party. The Commonwealth Court Stated:
"We conclude that the Zoning Board held Servants Oasis to a standard of proof higher than that prescribed by law. This Court's decision in In re: Appeal of Drumore Crossings, L.P., 984 A.2d 589 (Pa. Cmwlth. 2009), is instructive. In Drumore Crossings, the applicant sought to construct a shopping center. The hearing officer appointed by the township's board of supervisors held that the applicant did not prove that it would build an approved method of sewage disposal. The evidence showed that DEP was not currently issuing permits for the applicant's proposed sewage disposal method. This Court reversed, holding that an applicant for a special exception is not required to prove that it will be able to obtain the requisite DEP permit during the early stages of the zoning process. Indeed, this is impossible because an applicant must secure zoning approval before DEP will even establish the effluent discharge limits and review the proposed system. We held that a zoningboard's authority is limited to ensuring that the proposed system is an accepted method for waste management by DEP. See also Stewart v. Zoning Hearing Board of Radnor Township, 531 A.2d 1180, 1182-83 (Pa. Cmwlth. 1987) (holding thatzoning board lacked jurisdiction pursuant to the Pennsylvania Sewage Facilities Act[9] to approve or disapprove a proposed sewage system as appropriate)."
"In summary, Servants Oasis has satisfied the objective requirement in the ZoningOrdinance by identifying a method of sewage disposal. It has proved that the existing system can serve 40 to 50 visitors. Likewise, it has sufficiently identified alternative methods of sewage disposal for the fully built-out retreat: multiple on-lot facilities or a single packaged wastewater treatment plant. The Zoning Board erred in withholding its approval based upon concerns that neither system would be permitted. This should have been addressed by the imposition of reasonable conditions."
The Commonwealth Court also held that it was error to deny the special use on grounds that an adequate evacuation plan had not been proposed.  However, because the provisions for emergency evacuation planning in the ordinance were not very detailed, the plan submitted addressed the requirements of the ordinance, as far as it went. Finally, the Commonwealth Court held that, Appellant having fulfilled its burden of proof that the special conditions were fulfilled, the burden of proof shifted to the Respondents to provide evidence that the health, safety and general welfare of the community would be harmed.  This evidence consisted primarily of projections of increased vehicle traffic. This, said the Commonwealth Court, was not enough.
"To satisfy this burden, the objectors "must show a high probability that the use will generate adverse impacts not normally generated by this type of use and that these impacts will pose a substantial threat to the health and safety of the community." Id. at 1046 (emphasis added). Testimony based on specific past experiences can satisfy this burden, but bald assertions, personal opinions and speculation will not. Visionquest National, Ltd. v. Board of Supervisors of Honey Brook Township, Chester County,569 A.2d 915, 917-18 (Pa. 1990)."
The Commonwealth Court concluded that the evidence offered by Respondent's witnesses did not meet the burden of proof.  While other concerns were raised, such as noise and increased fire risk, no evidence was offered to support these contentions. CLT
Posted by Cliff Tuttle| July 21, 2014 | © 2014
No. 1,071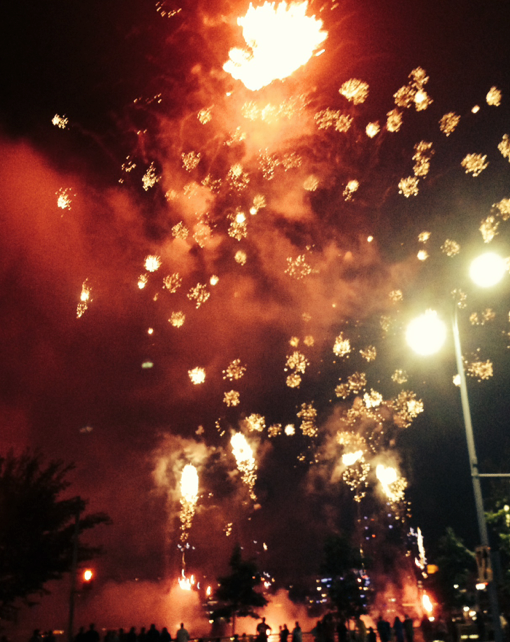 Posted by Cliff Tuttle| July 17, 2014 | © 2014
No. 1,080
Posted by Cliff Tuttle| July 17, 2014 | © 2014
No.1,079
A:  Of course, a sports team. Forbes, the magazine that has made it a mission to rank billionaires, recently published the 50 most valuable Sports Teams in 2014. According to Forbes, the most valuable is Real Madrid, a soccer club with a value of $3.44 billion.  The owners are the club members — like a law firm.  According to Forbes, Real Madrid generates more revenue than any sports team in the world.
You are probably thinking, Real Madrid is the largest because it has Spain all to itself, right?  Not exactly.  Barcelona is #2 at $3.2 billion.
No. 3 is Manchester United at $2.81 billion.
You have to get to No. 4 before you find something American and not soccer.  The New York Yankees weigh in at $2.5 billion.
The Pittsburgh Steelers are No. 27 at $1.18 billion. Or so says Forbes.
By now, you may be starting to wonder how reliable these numbers might be.  You don't have to be a skeptic to conclude "not very."  After all, the LA Clippers were valued at a little more than $500,000 in January after talking to knowledgeable bankers, Forbes admits.  Forced onto the market in a fire sale, the team drew a $2 billion price.  Four times the Forbes estimate. And there were at least two other offers above $1 billion.
Truth is, estimating the market value of a sports team is like estimating the market value of Mona Lisa. Some franchises are one of a kind. Others may be the only one for sale. If sports teams, especially big name franchises, were bought and sold more often, the price would fall.  If they were all on the market together, the price would plunge further.
The Forbes values are based upon earnings from TV contracts, deals with Nike and the like.  That's fine, but your garden variety billionaire is looking for something else.
And no, the Pittsburgh Penguins and the Pittsburgh Pirates are not on the list. Neither are the Cleveland Cavaliers.  But the Cleveland Browns are.  Go figure. CLT
Posted by Cliff Tuttle| July 15, 2014 | © 2014
No. 1,078
Neighborhood Legal Services Association has been representing indigent tenants in court for a long time. However, their budget is limited and so they have been required to limit representation to clients with income of 125% of the federal poverty guidelines established by the U.S. Department of Health and Human Services.
That means that an individual in a household of one cannot earn more than $1,216 per month to be eligible for their services.  A family of four has a limit of $2,484 per month.
A large number of low income tenants do not qualify for NLSA.  However, recently, NLSA has been supplemented by the Allegheny County Bar Association's Modest Means Program and the Pro Bono Center and Pittsburgh Pro Bono Partnership, both of which which are being advertised by posters and flyers at Magistrate's offices and other locations, such as the Department of Court Records.
The income limit for the Modest Means Program is 200% of poverty level ($1,945.00/mo. for one, $3,975/mo. for four). The Pro Bono Center and Partnership represents persons with up to 250% of the poverty level ($2,431.00/mo. for one and $4,969.00/mo. for four).
This means that many more tenants are being represented by lawyers than in the past.
Landlords who have represented themselves at the arbitration level and in a trial before a judge should take note.  Without warning, you may be about to be outclassed. The pro-bono lawyers may not appear on the radar until the last minute — literally. You could be unaware that your tenant has a lawyer until you meet him/her in the arbitration room or the courtroom.
Lawyers for tenants are not usually content to defend passively.  They often wish to attempt to prove that the premises are uninhabitable. They may even seek to bring a counterclaim under the Pennsylvania Unfair Trade Practice and Consumer Protection Law. Under UTPCPL, a judge could order a landlord to pay attorneys fees, regular damages and even "exemplary" damages — punitive damages.  A landlord should not try to defend him or herself from a UTPCPL counterclaim. Defending such a counterclaim requires knowledge and skill.
In addition to addressing substantive issues like habitability, cases can be won or lost on evidentiary grounds. Certain testimony and physical evidence, including documents, bills, estimates and  photographs  may, under proper circumstances, be excluded from evidence.  This may cause one party to be unable to prove his/her case or refute a key piece of evidence.
So, landlords, its time to lawyer-up!
CLT
Posted by Cliff Tuttle| July 14, 2014 | © 2014
No. 1,077
On July 1, I reported that some landlords had been known to perform a reverse lockout — removing locks or even the front door itself.  This at minimum creates a condition of uninhabitability.
Shutting off heat or electricity is undoubtedly a constructive eviction by creating an uninhabitable environment.  Such an action may result in damages being assessed by a court against the landlord.
But what about shutting off packaged cable services, like TV and internet access?  Does the deprivation of digital services create a condition of uninhabitability in the 21st Century?
I answered an AVVO question involving such a shut-off.  The Tenants had access to a Verizon TV-internet package under the lease. My answer centered around the issue of habitability.  However, the questioner later replied that his landlord had offered to turn the Verizon services back on if the tenant paid for them.  This, he suggested, was illegal because it involved reselling cable services that were being supplied in bulk to the building as a whole by Verizon.
Good idea. If I had such a case, I would complain to Verizon.
CLT
Posted by Cliff Tuttle| July 13, 2014 | © 2014
No. 1,076
Cordell and Cordell, a St. Louis-based law firm with 70 offices around the United States, has in my opinion, the best legal radio ads I have ever heard.
The firm specializes in divorce and domestic law for men.  Most of the ads are delivered by founder Joe Cordell, who has a twangy but cultivated midwestern accent.  You can hear them on 93.7 FM, the Fan, which clearly has the predominately male middle-aged married listenership that Cordell seeks to influence.
Cordell doesn't waste a syllable telling you about his firm.  He goes straight to practical advice, as though you were already a client.  Document your dealings with your wife by email, he says. It makes for a good record.  But never forget that the email may end up as an exhibit at trial.  Always appear to be fair and reasonable.  Make the judge see that you are not the one who caused the problem.  Joe Cordell is the voice of reason.
Cordell knows his target demographic well — professional or business men with significant  assets to lose (and the ability to pay the firm's fees).  In other words, he speaks to a well-heeled businessman or professional who is looking for practical solutions that will salvage a bad situation on acceptable terms.  If that describes you, Joe Cordell is speaking your language.
He also addresses another major fear of divorcing men, maintaining their relationship with  the children after divorce. While this aspect is not emphasized in the radio ads, if you go to any Cordell & Cordell website (there appears to be one for every market they serve) you will see pictures of smiling fathers and young sons.
Recently, the firm is offering free seminars to tell men with divorce on their minds what to expect. This is in keeping with the radio strategy of giving information that is interesting and useful to the firm's potential client.
CLT
Posted by Cliff Tuttle| July 13, 2014 | © 2014
No. 1,075
In 1790, in the midst of the French Revolution, the population of France was 30 million.  It was by far the most populous country in Europe — a condition that would soon be of great practical benefit to Napoleon.
By contrast, the recently-independent United States had a population of less than 3 million.
Today, the population of France is slightly more than 60 million  – double 1790.  The United States, by contrast, is over 300 million. 100 times its first census.
Says author of "Capital in the Twenty First Century", Thomas Piketty, "When a country goes from a population of three million to a population of 30 million (to say nothing of the radical increase in territory owing to the westward expansion during the nineteenth century), it is clearly no longer the same country."
One consequence of such growth, Piketty observes, is that inherited wealth is far less important in the United States than in France.
The two nations, so different, are both rather unique and peculiar.  His landmark study of social and economic inequality draws on the experience of both nations, but not exclusively.  This is the age of computers, which makes ast troves of  data available to social scientists, including economists, as never before.
Piketty, whose perspective is more historical than political, sees the twentieth century trend of  the narrowing of income equality reversing.  However, the rise of China, India, Brazil and Asia are introducing unknown factors into the equation. So also has the rule of law, which imposes outcomes that the participants might not have chosen themselves.
Piketty notes that economists have had a poor record of predicting the future because unforeseen radical changes keep messing up their theories.
CLT
Posted by Cliff Tuttle| July 11, 2014 | © 2014
No. 1,074
The ABA Journal's online news recently published a Facebook post by a law professor's widow.  Her husband, she says, was a prolific scholar and writer who amazed everyone with his work output.  But there was a price and it was too high.  He died shortly after promising to slow down.
No one who works long hours under pressure can read this without a twinge of regret.
This short piece is worth two or three minutes of your life, depending upon your reading speed.  Here's the link.
CLT
keep looking »