Posted by Cliff Tuttle| May 19, 2018 | © 2018
No. 1,493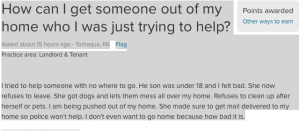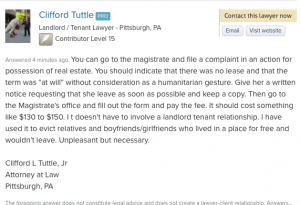 Posted by Cliff Tuttle| May 18, 2018 | © 2018
No. 1,492
A: You need a Pennsylvania Real Estate Broker's License.
No kidding.
It doesn't matter that you are managing Pennsylvania properties for clients who live out of the state,
Of course, you don't need a license to manage your own property.
No, a power of attorney will not work.  Don't try leasing it yourself and subleasing either.
CLT
Posted by Cliff Tuttle| May 13, 2018 | © 2018
No. 1,491
Last night the Pirates won in the bottom of the ninth with a walk-off hit batsman.  The bases were loaded.  Tony Watson, who now pitches for the Giants, hit the batter, Jordy Mercer, forcing in the winning run.
Was it luck?
Well, from the Giants' perspective, it was a lack of skill, not bad luck.  If Watson had better control, he might have been able to pitch inside without hitting Mercer.  But from the Pirates' perspective it was luck, good luck.  Yes, getting hit with a 90+ mph hard object can be good luck if it contributes to winning the game. Then again, loading the bases, setting up the situation, required multiple acts, nome perhaps skillful, some perhaps lucky.  Some might have involved both.
Of course, we rarely acknowledge that our team won because of a stroke of good luck.  But we are quick to recognize that we lost due to bad luck.  Yes, bad luck rarely goes unnoticed. Good luck, on the other hand, rarely gets the credit for a victory.
Expect luck of both kinds. Never let the bad variety destroy your optimistic outlook.  There  might be a lucky break right behind it. You'll miss it if your mind is occupied with misfortune.
Here's a prior post from this blog on the subject of good luck/bad luck that's worth repeating in full.  What would you have done in the situation depicted in this story?  Would you do something else after reading it?  I would.  I hope you agree.
*********************************************************************************
No. 1,323
While it is easy to complain about bad luck when our team loses, not too many of us attribute victory to luck. But the truth is, both bad and good luck have a role and probably a bigger one than we are willing to admit.
The key is not to let bad luck discourage you, even when that is the logical reaction.  The good luck may be coming right behind it.  Plus, what seems like bad luck when it hits, may turn out to be the opposite. Recognize it and seize it — with both hands.  Then hold on like crazy.
I have just started to listen to a fascinating book by Eric Barker called Barking Up the Wrong Tree.  It debunks many of the old saws about success, such as Nice Guys Finish Last.  In chapter 2, in a discussion of perseverance, he tells the gripping story of a mountain climber who fell while descending the highest mountain in the Southern Hemisphere with one other climber.  His name was Joe. He broke a leg and was experiencing extreme pain. To make matters worse, while trying to crawl to safety he fell again and landed on an ice bridge crossing a giant gorge.
As bad as the situation was, the second fall involved an element of good luck. If Joe had fallen a few feet to either side, he would have disappeared into a black abyss.  Who could know how deep it was? And he landed on a blanket of snow.
But he soon discovered that the rope he was tethered to was going slack.  His climbing partner had assumed that the Joe had fallen to his  death in the deep crevasse.  A logical conclusion; but now he had no way to pull himself up. He had only two choices — stay put or let himself down on the rope into the crevasse. Bad luck.
Staying where he was meant certain death.  So he secured the rope to something solid, tied the end around his waist, and began to lower himself into the darkness.
Suddenly, an element of good luck appeared.  He found a ramp along the side of the gorge that led upward to the opening. Crawling up it with a broken leg would be very hard.  But it would not be impossible.
Out of the gorge, he started to make slow progress traveling the long distance to base camp.  He didn't know whether it would even be there if he ever  arrived. He set himself a long series of small goals.  Day turned to night. After what must have seemed to be an eternity, he drifted into a deep sleep. When he started to awaken, smelled the strong odor of excrement.  Good luck again.  He had wandered into the latrine area of base camp.  Before long, Joe saw a light.  Against incredible odds, he was saved.
The lesson is this.  If your attitude is that everything is going wrong, you'll be so preoccupied with your bad luck that you will miss opportunities that pass right in front of you.
Instead, tell yourself you've been lucky all your life (probably true, whether you admit it or not ). Then pay careful attention.
CLT
Posted by Cliff Tuttle| May 12, 2018 | © 2018
No. 1,490
Answer: No, the 2016 Russian ads are mild compared to the worst of this year's home-grown ones.
Campaign ads are becoming increasingly mean and often lack fairness and truthfulness.  But this year's current crop in Pennsylvania exceeds the worst of the worst.  The Russian ads that appeared on social media in 2016, some of which were recently unmasked, were actually less malevolent in content. They were intended to stir up political division among Americans more than attack candidates.
But the 2018 ads contain personal attacks that would be actionable in court if they did not involve public figures.  They say more about their authors than the worst allegations in the worst ads.
Fortunately, not everyone has participated in this mayhem. A notable group have not permitted their political handlers to put out vicious, untruthful communications.  Vote for those candidates.
CLT
Posted by Cliff Tuttle| May 11, 2018 | © 2018
No. 1,489
Not to belabor a matter that has been discussed too much lately, but the lesser competitor sometimes wins. Perhaps it will happen rarely in a particular match-up. But happen it will.  In a single contest, the sports team with the worst overall record can defeat the team with the best record  — if only just once.  No one is invincible.
There shouldn't be any surprises here.  While this does not mean that we should shy away from head to head combat, we must be prepared to accept the possibility (even if very small) that, despite our best effort, we may lose.  If that happens, what is the next step?
It is necessary to understand this eternal fact of life in order to make effective decisions.  Unlike sports, where duel to the finish is always required, in life it is often possible to settle our differences. That alternative should be weighed in the balance of probabilities.  In reality, a settlement can become the better alternative for even the probable winner for reasons that may not be apparent at first.
Yes, be prepared to fight, furiously when you must.  But be smart.
CLT
Posted by Cliff Tuttle| May 10, 2018 | © 2018
No. 1,488
Here's a piece in the Boston Globe where an experienced civil trial lawyer laments the fact that young lawyers in firms like his don't get the opportunity to learn the ropes by trying cases anymore.
Everything he says is true.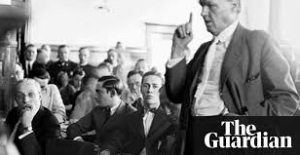 Being a young lawyer in the trial department of  large firm may mean a very long apprenticeship — too long.  But there are still places to get experience trying cases.  The District Attorney's Office and the Public Defender are two good ones. Small firms are another.  And there are other specialties like worker's comp or lemon law or landlord and tenant litigation where there is plenty of trial work available to learn your craft.  True, you won't be trying too many million dollar cases in your twenties or even thirties.  But you can get lots of experience standing on your own two feet while in the line of fire.
Of course, you must be self-critical and demand improvement.  And you must be willing to accept defeat and get back up and fight again. Nobody wins every case.  Not even Clarence Darrow.
Trying cases is not for every lawyer.  Emergency is the name of the game. You can plan and practice your opening, but can't eliminate every surprise or that pesky witness who tenaciously clings to a line of testimony which, if believed, will sink your boat.
Somehow, if you do a good job, the word gets around.  Trial litigation may be declining, but it is unlikely ever to die.
CLT
Posted by Cliff Tuttle| May 9, 2018 | © 2018
No. 1,487
The following message appeared in my email today.  Maybe you received it too.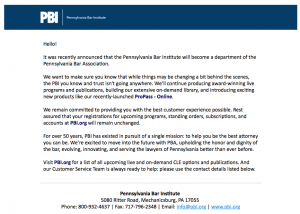 Posted by Cliff Tuttle| May 5, 2018 | © 2018
No. 1,486
Here's a few things that may not make your to d0 list in a busy law practice:
 Update software.
File papers.
Put away files.
Review dockets.
Clean up the computer desk top.
Clean up the real-life desk top.
Scan documents.
Make notes on important items that cross your mind.
Send thank you emails, notes.
Get some sleep.
CLT
Posted by Cliff Tuttle| May 5, 2018 | © 2018
No. 1,485

The Pennsylvania Bar Association announced that it is taking over the mission of the Pennsylvania Bar Institute, which is being disbanded. Here is the report that appeared in the Legal Intelligencer.
If the mission of the Pennsylvania Bar Institute is not carried on, the members of the Pennsylvania Bar and their clients will be the big losers.  The general opinion is that PBI could not break even because a large number of Continuing Legal Education providers are offering for-credit programs at lower cost or even free of charge.
Everyone who takes continuing legal education classes would have to acknowledge that the PBI has provided high quality programs that cover a broad range of practice topics.  The printed materials are excellent and many lawyers stock their libraries with them for reference.  While other providers put out programs of differing quality, it is fair to say that all of them together do not cover Pennsylvania practice as well as PBI.  The best and most experience lawyers in this Commonwealth have traditionally donated their time, knowledge and brain power to informing fellow members of the Bar.  This is a resource we cannot lose.
We lawyers need to fix this.  And we need to do it without delay. But how?  One way might be for county bar associations and educational institutions across the Commonwealth to jointly put together programs with the high standards of PBI.
Unless the Pennsylvania Bar Association acts decisively, whatever rushes in to fill the vacuum will probably not be as good and may ultimately become more expensive.
CLT
Posted by Cliff Tuttle| May 3, 2018 | © 2018
No. 1,484
In a surprise move the Pennsylvania Bar Association Board of Governors voted to disband the PBI.
Here is the full article, published in Law 360, this evening.
Pennsylvania Bar To Dissolve Its Legal Education Arm
A mid-April vote to dismiss PBI's governing body and wind up the organization came in response to a performance audit that Sharon Lopez, the bar association's current president, said had uncovered what she called severe financial problems that required immediate action to begin to address.
But Dennis Whitaker, a partner at Hawke McKeon & Sniscak LLP who was removed as the president of PBI's board of directors as a result of last month's vote, told Law360 on Thursday that the takeover plan had come as both a complete surprise and despite what he said were viable plans to right the institute's finances.
"The action was unexpected and we all felt it was unwarranted," he said. "We were on a path to turn the organization around."
Whitaker said that the bar association's move to dissolve and absorb the institute, which has provided continuing legal education programming as an independent entity for more than half a century, was unveiled at a meeting between the leadership teams of the two organizations on April 11.
"We had no notice this was coming," Whitaker said.
A week later, on April 18, the bar association's board of governors voted to approve the proposal.
Ousted as part of the dissolution of the board were a number of legal luminaries in Pennsylvania, including two judges on the state's Commonwealth Court.
"This isn't a fly-by-night bunch of people," Whitaker said. "It wasn't like this was a bunch of people who had no clue about what to do."
Also out following the shake-up was PBI's full-time Executive Director Richard McCoy, who had spent close to 40 years at the institute.
"I think it was very disappointing," McCoy said.
Other members of PBI's now-disbanded board said they were similarly taken by surprise at news of the organization's dissolution.
"I was shocked," said Daniel Siegel, the head of a three-attorney firm outside Philadelphia who said he served on the PBI board for about a year and a half before it was dissolved last month. "There were rumors that something might happen, but I don't think anyone expected it."
Whitaker said the ultimate decision to abolish PBI had been a surprise, but he said he was aware of ongoing concerns from the bar association's leadership about several years' worth of red ink for the organization.
After two consecutive years in which Lopez, the head of Lancaster-based Triquetra Law, said PBI had been forced to tap into reserve funding to the tune of some half a million dollars, she said that the bar association's board voted in January to begin a performance audit.
A final report returned at the beginning of April, she said, revealed significant problems.
"What we saw when we looked at the audit was the need for a nimble change, the need for an immediate change and the need for leadership that had more urgency to it than what we were witnessing," she said.
She admitted that the decision to dissolve PBI came quickly, but she said it underscored the severity of the institute's financial problems.
"The fact that it was done that expeditiously should be an indicator of how serious and impactful the findings were in the audit," Lopez said, adding that she personally reached out to members of the board after the vote and sent a letter aimed at explaining the move.
The shake-up was not formally announced, however, until PBA issued a press release on Thursday a day after being contacted by Law360 about the institute's dissolution.
At the heart of PBI's recent financial woes, both Lopez and Whitaker agreed, was the rapidly evolving marketplace for continuing legal education programming across the country.
With continuing legal education credits being offered for free or at extremely low cost by law firms and other organizations, and with the Pennsylvania Supreme Court's move in recent years to allow more credits to be notched through online programming, they said that there was less appetite for the sort of comprehensive, in-person training traditionally put on by PBI.
"That all started to eat into PBI's bottom line," Whitaker said.
But Lopez said that the bar association's concerns about PBI's financial performance had been clearly communicated to the organization for years and there had been quarterly meetings between leaders of the two groups to discuss the problem.
"We definitely had been meeting with the officers," she said. "We definitely had been giving them our concerns about it and had been asking very pointed questions about their business model and marketing strategies and plans for change."
Where PBI's former leadership team and Lopez disagree, however, is on whether the institute was in the right position to evolve with the marketplace.
McCoy said PBI had put significant resources in recent years to updating its software and revamping its website to offer on-demand continuing legal education programs that could be streamed online.
"We had put all of the infrastructure in place to compete in this new marketplace that we've come into, and we were poised to do that," he said. "I think the bar association sort of ran out of patience."
At the heart of the move, Lopez said, was a desire to preserve the high-quality programming that PBI has become known for over the years.
"It's important to us that it exists and that it continue to provide the gold standard education that lawyers and consumers have come to expect," she said.
What exactly continuing legal education offerings through the bar association will look like after PBI is formally dissolved later this year, however, remains unclear.
"The way I envision it is the big picture changes will likely include some reduction in the diversity of [continuing legal education]; it might include some reduction in live programming of [continuing legal education] in multiple locations; it might include greater access to simulcast or downloading of [continuing legal education]," she said. "We're not at a point where I can even tell you what that would look like, because we're still in the assessment period."
Whatever changes might be needed to right the operation's finances, Siegel said he hopes that the quality of PBI's brand will not be effected.
"The PBI name is an important name," he said. "It is and has always been considered one of the finest providers of [continuing legal education] in the country, and I don't want to see anything happen to that name."
–Editing by Stephen Berg.
keep looking »