Posted by Cliff Tuttle| May 27, 2018 | © 2018
No. 1,496
Gratitude is an empowering emotion. It overcomes selfishness and petty quarrels. It makes us better and stronger.
Whether or not we realize it, gratitude can be paired with other emotions like sadness or joy. So many of those emotions are reflexive, responses to the events of our lives. But we don't have wait for a feeling of gratitude to come in response to an outside stimulus. We can choose to be grateful anywhere, anytime and even when terrible things are happening. In  tragic times, people often step forward to help. They can be strangers or friends we never properly appreciated. Be grateful for that.
And when we focus on feeling grateful for the good things we have been given, we sweep away base feelings like anger, hatred and jealousy.
Memorial Day is about gratitude.  But those who died in battle are not the only ones who have earned our heartfelt thanks.  To all of you who have made our world a better place, thank you for your service.
CLT
Posted by Cliff Tuttle| May 26, 2018 | © 2018
No. 1,495
The 2010 Dodd Frank Act included a provision that required foreclosing lenders to give notice to tenants of the foreclosed owners.  Enacted in 2010, the sunset of this provision was December 31, 2014.
However, this law has been reenacted in SB 2155, the Economic Growth, Regulatory Relief and Consumer Protection Act, which was signed by the President earlier this week. The law requires a ninety-day notification to vacate by the new owner to the hold-over tenant under a bonfire lease. Loan servicing industry publication D S News , which has followed the progress of SB2155, seemed surprised to discover that this re-enactment had occurred.  From the lender's point of view, this lengthens the time required to obtain possession of the collateral.  From the tenant's point of view, until the sheriff's hammer falls, the lease term may not have ended and it may not be safe to simply leave.
These provisions are contained in Title III, Section 304 of the Act and are effective 30 days after enactment. The reenacted provision applies not only to the foreclosing lender, but also to the purchaser at the sheriff sale, stating:
"after the date of enactment of this title, any immediate successor in interest in such property pursuant to the foreclosure shall assume such interest subject to—
(1) the provision, by such successor in interest of a notice to vacate to any bona fide tenant at least 90 days before the effective date of such notice; and
(2) the rights of any bona fide tenant, as of the date of such notice of foreclosure—
(A) under any bona fide lease entered into before the notice of foreclosure to occupy the premises until the end of the remaining term of the lease, except that a successor in interest may terminate a lease effective on the date of sale of the unit to a purchaser who will occupy the unit as a primary residence, subject to the receipt by the tenant of the 90 day notice under paragraph (1); or
(B) without a lease or with a lease terminable at will under State law, subject to the receipt by the tenant of the 90 day notice under subsection (1),
except that nothing under this section shall affect the require- ments for termination of any Federal or State-subsidized tenancy or of any State or local law that provides longer time periods or other additional protections for tenants.
(b) BONA FIDE LEASE OR TENANCY.—For purposes of this section, a lease or tenancy shall be considered bona fide only if— (1) the mortgagor or the child, spouse, or parent of the mortgagor under the contract is not the tenant;
(2) the lease or tenancy was the result of an arms-length transaction; and
(3) the lease or tenancy requires the receipt of rent that is not substantially less than fair market rent for the property or the unit's rent is reduced or subsidized due to a Federal, State, or local subsidy.
(c) DEFINITION.—For purposes of this section, the term ''federally-related mortgage loan'' has the same meaning as in section 3 of the Real Estate Settlement Procedures Act of 1974 (12 U.S.C. 2602)."
The reenacted statute also contains special protection for Section 8 Tenants.  unless the successor in ownership intends to occupy the premises, the  property shall pass subject to the existing lease and reimbursement contract.  The prospective owner-occupier must give the same 90 days' notice.
CLT
Posted by Cliff Tuttle| May 25, 2018 | © 2018
No. 1,494
Back in the day, I remember being required to sign a statement from time to time that I was not a member and had never been a member of certain organizations that were deemed to be affiliated with the Communist Party.  I hadn't even heard of most of them and I doubt whether very many were even in existence at the time. I had no desire to join such an organization or give support in any way. But I assumed that anybody who would ever admit to such a membership would be in a lot of trouble. So did everyone else. That meant that the whole exercise was pointless. This waste of paper did not improve our national security in any way.  Loyalty oaths never do.
Standing during the National Anthem is a form of loyalty oath. So is the pledge of allegiance.  Some people may want to declare their allegiance to the USA but there are always a few who do not. When declarations of loyalty are forced, they become meaningless. People who don't want to take the pledge may do it to avoid social pressure.  But  the act of forcing the body does not change the mind.
I choose to stand during the playing  of the National Anthem because I want to declare my loyalty to my nation. Having a choice is what living in America is about. But if someone else wants to stay seated, in the spirit of freedom, I'll ignore that gesture. America also stands for tolerance.
By permitting players to stay off the field during the playing of the National Anthem, the NFL gave players the right to opt out of participating in a public declaration. That's a good thing.  But the NFL doesn't owe them the right to stage a public protest on the playing field.
To those who say that the players have that right under the First Amendment, may I remind you that the NFL is not the government.  At least, not yet.
CLT
Posted by Cliff Tuttle| May 19, 2018 | © 2018
No. 1,493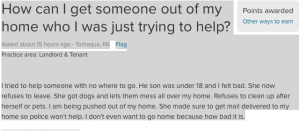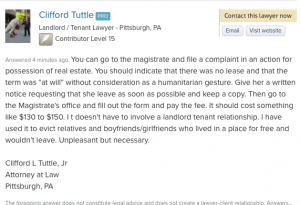 Posted by Cliff Tuttle| May 18, 2018 | © 2018
No. 1,492
A: You need a Pennsylvania Real Estate Broker's License.
No kidding.
It doesn't matter that you are managing Pennsylvania properties for clients who live out of the state,
Of course, you don't need a license to manage your own property.
No, a power of attorney will not work.  Don't try leasing it yourself and subleasing either.
CLT
Category:
Real Estate
Comments Off

on Q: What License Do You Need to Manage Rental Properties for Others?
Posted by Cliff Tuttle| May 13, 2018 | © 2018
No. 1,491
Last night the Pirates won in the bottom of the ninth with a walk-off hit batsman.  The bases were loaded.  Tony Watson, who now pitches for the Giants, hit the batter, Jordy Mercer, forcing in the winning run.
Was it luck?
Well, from the Giants' perspective, it was a lack of skill, not bad luck.  If Watson had better control, he might have been able to pitch inside without hitting Mercer.  But from the Pirates' perspective it was luck, good luck.  Yes, getting hit with a 90+ mph hard object can be good luck if it contributes to winning the game. Then again, loading the bases, setting up the situation, required multiple acts, nome perhaps skillful, some perhaps lucky.  Some might have involved both.
Of course, we rarely acknowledge that our team won because of a stroke of good luck.  But we are quick to recognize that we lost due to bad luck.  Yes, bad luck rarely goes unnoticed. Good luck, on the other hand, rarely gets the credit for a victory.
Expect luck of both kinds. Never let the bad variety destroy your optimistic outlook.  There  might be a lucky break right behind it. You'll miss it if your mind is occupied with misfortune.
Here's a prior post from this blog on the subject of good luck/bad luck that's worth repeating in full.  What would you have done in the situation depicted in this story?  Would you do something else after reading it?  I would.  I hope you agree.
*********************************************************************************
No. 1,323
While it is easy to complain about bad luck when our team loses, not too many of us attribute victory to luck. But the truth is, both bad and good luck have a role and probably a bigger one than we are willing to admit.
The key is not to let bad luck discourage you, even when that is the logical reaction.  The good luck may be coming right behind it.  Plus, what seems like bad luck when it hits, may turn out to be the opposite. Recognize it and seize it — with both hands.  Then hold on like crazy.
I have just started to listen to a fascinating book by Eric Barker called Barking Up the Wrong Tree.  It debunks many of the old saws about success, such as Nice Guys Finish Last.  In chapter 2, in a discussion of perseverance, he tells the gripping story of a mountain climber who fell while descending the highest mountain in the Southern Hemisphere with one other climber.  His name was Joe. He broke a leg and was experiencing extreme pain. To make matters worse, while trying to crawl to safety he fell again and landed on an ice bridge crossing a giant gorge.
As bad as the situation was, the second fall involved an element of good luck. If Joe had fallen a few feet to either side, he would have disappeared into a black abyss.  Who could know how deep it was? And he landed on a blanket of snow.
But he soon discovered that the rope he was tethered to was going slack.  His climbing partner had assumed that the Joe had fallen to his  death in the deep crevasse.  A logical conclusion; but now he had no way to pull himself up. He had only two choices — stay put or let himself down on the rope into the crevasse. Bad luck.
Staying where he was meant certain death.  So he secured the rope to something solid, tied the end around his waist, and began to lower himself into the darkness.
Suddenly, an element of good luck appeared.  He found a ramp along the side of the gorge that led upward to the opening. Crawling up it with a broken leg would be very hard.  But it would not be impossible.
Out of the gorge, he started to make slow progress traveling the long distance to base camp.  He didn't know whether it would even be there if he ever  arrived. He set himself a long series of small goals.  Day turned to night. After what must have seemed to be an eternity, he drifted into a deep sleep. When he started to awaken, smelled the strong odor of excrement.  Good luck again.  He had wandered into the latrine area of base camp.  Before long, Joe saw a light.  Against incredible odds, he was saved.
The lesson is this.  If your attitude is that everything is going wrong, you'll be so preoccupied with your bad luck that you will miss opportunities that pass right in front of you.
Instead, tell yourself you've been lucky all your life (probably true, whether you admit it or not ). Then pay careful attention.
CLT
Posted by Cliff Tuttle| May 12, 2018 | © 2018
No. 1,490
Answer: No, the 2016 Russian ads are mild compared to the worst of this year's home-grown ones.
Campaign ads are becoming increasingly mean and often lack fairness and truthfulness.  But this year's current crop in Pennsylvania exceeds the worst of the worst.  The Russian ads that appeared on social media in 2016, some of which were recently unmasked, were actually less malevolent in content. They were intended to stir up political division among Americans more than attack candidates.
But the 2018 ads contain personal attacks that would be actionable in court if they did not involve public figures.  They say more about their authors than the worst allegations in the worst ads.
Fortunately, not everyone has participated in this mayhem. A notable group have not permitted their political handlers to put out vicious, untruthful communications.  Vote for those candidates.
CLT
Category:
Uncategorized
Comments Off

on Question:Are the Russians Writing in Ads for the Pennsylvania Primary Campaign?
Posted by Cliff Tuttle| May 11, 2018 | © 2018
No. 1,489
Not to belabor a matter that has been discussed too much lately, but the lesser competitor sometimes wins. Perhaps it will happen rarely in a particular match-up. But happen it will.  In a single contest, the sports team with the worst overall record can defeat the team with the best record  — if only just once.  No one is invincible.
There shouldn't be any surprises here.  While this does not mean that we should shy away from head to head combat, we must be prepared to accept the possibility (even if very small) that, despite our best effort, we may lose.  If that happens, what is the next step?
It is necessary to understand this eternal fact of life in order to make effective decisions.  Unlike sports, where duel to the finish is always required, in life it is often possible to settle our differences. That alternative should be weighed in the balance of probabilities.  In reality, a settlement can become the better alternative for even the probable winner for reasons that may not be apparent at first.
Yes, be prepared to fight, furiously when you must.  But be smart.
CLT
Category:
Decision making
Comments Off

on The Better Competitor Does Not Always Win.
Posted by Cliff Tuttle| May 10, 2018 | © 2018
No. 1,488
Here's a piece in the Boston Globe where an experienced civil trial lawyer laments the fact that young lawyers in firms like his don't get the opportunity to learn the ropes by trying cases anymore.
Everything he says is true.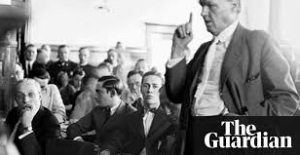 Being a young lawyer in the trial department of  large firm may mean a very long apprenticeship — too long.  But there are still places to get experience trying cases.  The District Attorney's Office and the Public Defender are two good ones. Small firms are another.  And there are other specialties like worker's comp or lemon law or landlord and tenant litigation where there is plenty of trial work available to learn your craft.  True, you won't be trying too many million dollar cases in your twenties or even thirties.  But you can get lots of experience standing on your own two feet while in the line of fire.
Of course, you must be self-critical and demand improvement.  And you must be willing to accept defeat and get back up and fight again. Nobody wins every case.  Not even Clarence Darrow.
Trying cases is not for every lawyer.  Emergency is the name of the game. You can plan and practice your opening, but can't eliminate every surprise or that pesky witness who tenaciously clings to a line of testimony which, if believed, will sink your boat.
Somehow, if you do a good job, the word gets around.  Trial litigation may be declining, but it is unlikely ever to die.
CLT
Category:
Lawyering
Comments Off

on The Inexperience Trial Lawyer
Posted by Cliff Tuttle| May 9, 2018 | © 2018
No. 1,487
The following message appeared in my email today.  Maybe you received it too.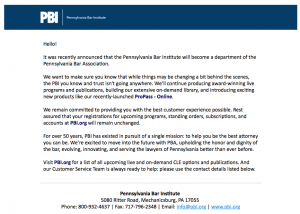 Category:
Uncategorized
Comments Off

on PBI says it will Continue to Operate as a Department of Pa. Bar Association
keep looking »