Posted by Cliff Tuttle| June 16, 2018 | © 2018
No. 1,506
A friend of mine, who is my age, has been tested several times recently for symptoms of dementia. He asked his wife why the tester always asked questions about the date, day of the week and the like.  "Is it important?" he asked. It was a good question for him, since he had been retired for some time and didn't have any daily responsibilities.
After being assured that it was, he stated that, in that case, he would make sure he always knew it.
Generally speaking, we remember what we think is important. However our brains are not perfect.  From the very first day of life they are molded by stimuli received from the world. By the time we are administerd an IQ test, perhaps in first grade, we are already pretty far down the road of experience and learning.
Intelligence has been defined in many different ways to include the capacity for logic, understanding, self-awareness, learning, emotional knowledge, reasoning, planning, creativity, and problem solving. It can be more generally described as the ability to perceive or infer information and to retain it as knowledge to be applied towards adaptive behaviors within an environment or context. [Wikipedia]
Intelligence tests are supposed to be neutral.  The effect of acquired knowledge, culture and everything else is supposed to be filtered out.  But, as we have reluctantly been forced to admit, despite the intriguing culture-free intelligence tests for infants developed by Piaget and others, it never can be.
We've been congratulating ourselves for the last 60 years or so that intelligence test scores have been increasing at a steady pace. The so-called Flynn Effect is supposed to reflect environmental factors, such as nutrition, that improved in the post war (WWII) western world.  But what is given can be taken away.  Some of the same studies that reported steady increase in IQ over the second half of the 20th Century are now reporting a decrease. Many factors have been suggested, but of course, there is no hard data that explains the supposed phenomenon.  In fact, it may not even be real, since the changes are very modest and may even be within the statistical range of error.
A more complete discussion is contained in a couple of interesting blog posts here and here.
The post by Economics prof  Tyler Cohen in Marginal Revolution on the subject drew a raft of comments, some witty, indicating that explanations range into dozens of sinister causes, including television. One of them is that when the world population level broke free from the Malthusian ceiling determined  by a limited food supply, Darwinian survival-of-the-fittest principles no longer operated to cull the human herd. Yes, some of the ideas suggested by Marginal Revolution readers are not exactly politically correct.
So where does all this leave us?  Is there nothing to be done?
Obviously not.  Other studies suggest that everybody, including older people, can do many things to improve the functioning of their neural network.  Exercise is one.  Diet is another.  Try reading — something challenging, of course.  Learn a language.  Do some math, preferably by hand.  Don't watch mindless television shows; watch mindful ones and not too many. Engage in conversation with intelligent and interesting people.  Take a class.  Meditate.  Keep a daily journal. And, if you are really serious about keeping your mind in working order, write a blog.
I can't prove it, but I have come to believe that everybody is smart in at least one unique way and dumb in others. There are so many ways to be smart that the range is infinite.  Find something you do best and when you do, do it a lot.  In other words, choose to be smart.
CLT
Posted by Cliff Tuttle| June 15, 2018 | © 2018
No. 1,505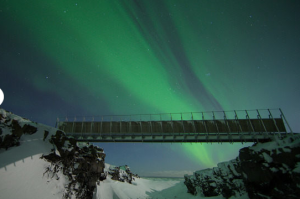 Here's something cooling to look at.  But you will never guess what it is.
This is the Lief the Lucky Bridge in Iceland.  On the right is the Eurasian Plate.  On Your left is the North American Plate. In the sky is the Northern Lights.
Courtesy of atlasobscura.com, one of our favorite blog sites.
Posted by Cliff Tuttle| June 14, 2018 | © 2018
No. 1,504
According to Wikipedia:
"A smart contract is a computer protocol intended to digitally facilitate, verify, or enforce the negotiation or performance of a contract. Smart contracts allow the performance of credible transactions without third parties. These transactions are trackable and irreversible.[1] Smart contracts were first proposed by Nick Szabo, who coined the term, in 1994.[2]
Proponents of smart contracts claim that many kinds of contractual clauses may be made partially or fully self-executing, self-enforcing, or both. The aim of smart contracts is to provide security that is superior to traditional contract law and to reduce other transaction costs associated with contracting. Various cryptocurrencies have implemented types of smart contracts."
Economist Alex Taberrok wrote today in his blog, Marginal Revolution about the idea that a computer could become the mediator of disputes involving smart contracts.  Presumably, instead of consulting case law, the cyber court would apply appropriate algorithms to the facts of a dispute. Its not too far in the future, actually. The disputed subject matter would involve a limited number of variables.  The algorithms would be generated from the rules of the smart contract together with other agreed answers.  You would put it together like the Uniform Commercial Code. And, of course, if there is a consensus that a verdict is wrong, you can reprogram it for the next time.
CLT
Posted by Cliff Tuttle| June 14, 2018 | © 2018
No. 1,503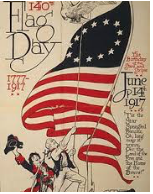 Today is flag day and the Pennsylvania State Courts are closed.  This holiday commemorates the day when the Continental Congress adopted the stars and stripes in 1777.  Half-way between Memorial Day and Independence Day, its a national holiday that has never caught on.
Although state courts are closed, relatively few other government offices are. Federal Courts are open. The Post Office is delivering the mail.  My municipality is open for business today.  The clerk I asked about it seemed puzzled by the idea that June 14 was a holiday. Our School District doesn't mention Flag Day on its calendar. Neither does the the City of Pittsburgh school calendar, which lists today as a snow make-up day.
If you asked ten ten people when Flag Day occurs, it is my guess that you may not find anyone who knows.  And why should they?
Yes, there are parades, a few of them. The National Constitutional Center seems to have the biggest Flag Day celebration in the Country this year.  Otherwise, there is very sparse mention in the media. Nothing appears on page 1 of the Pittsburgh Post-Gazette, not even a list of the few government offices that are closed. On page two, at the bottom, there is a short mention in the Almanac, which lists historical events that occurred on the date of publication.
Happy Flag Day!
CLT
Posted by Cliff Tuttle| June 13, 2018 | © 2018
No. 1,502
Just in case you never noticed, the courtyard of the Family Division Courthouse is a pleasant oasis in the middle of downtown Pittsburgh. An inviting place to eat your lunch and watch the squirrels and decompress.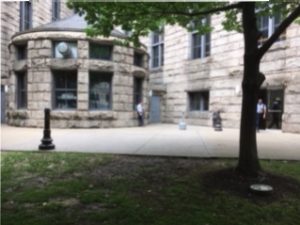 Posted by Cliff Tuttle| June 12, 2018 | © 2018
No. 1,501
An automated external defibrillator (AED) is a portable device that checks the heart rhythm and can send an electric shock to the heart to try to restore a normal rhythm. AEDs are used to treat sudden cardiac arrest (SCA). SCA is a condition in which the heart suddenly and unexpectedly stops beating.
There used to be one on the second floor of the City County Building on the Ross Street side. Its gone now, moved to the far side of the building on the second floor.  If you go there, perhaps because you remember the device being there, this sign on the wall tells you where it has been moved.
Unfortunately, you can't get from one end of the second floor to the other directly.  You must take the elevator to the lobby, walk the length of the building (a city block) ride up the elevator to the second floor and find the Finance Office.  This walk, even at a slow pace, would probably kill somebody suffering an SCA.
Why isn't this AED located in the lobby?  Has anybody ever needed to use it at either location?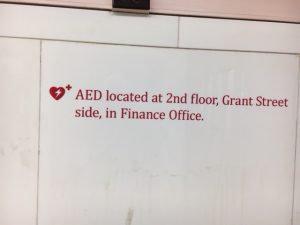 CLT
Posted by Cliff Tuttle| June 9, 2018 | © 2018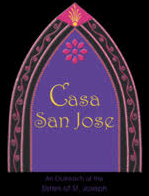 No. 1,500
In celebration of reaching Post No. 1,500, Pittsburgh Legal Back Talk has published an interview with Jarrod West of Casa San Jose about the lawyers' volunteer program organized by Casa San Jose to assist persons arrested by the U.S. Immigration and Customs Enforcement — ICE  — in gaining due process.
Casa San Jose is a community resource center that advocates for and empowers Latinos by promoting integration and self-sufficiency. The Sisters of St. Joseph of Baden opened Casa San José (House of St. Joseph) in 2013. It serves as a base of support for English language learners, helping them to access services-–especially services for children, youth, and families-–in order to better acclimate to their new home in the Pittsburgh area and to know the experience of welcome here. Casa has a staff of six, with over 65 active volunteers (I am one of those volunteers).
The Casa San Jose Community Center is located at 2116 Broadway Avenue in Beechview.  Telephone: 412-343-3111.
This Center was opened to support the ongoing and important work of Sister Janice Vanderneck, who has worked with the Latino community in the Pittsburgh region for many years. She has devoted herself to helping Latinos navigate the health system, social services, and the legal system to survive and to thrive in this community. More than 1,000 Latinos have benefited from her support over the years. Her vision has been to create a real community center for Latinos and to deliver the services that are needed as the growing Pittsburgh economy attracts more and more Latinos to southwestern Pennsylvania. Her countless hours of support and commitment over many years has culminated with the founding of Casa San José as the trustworthy, go-to source of support to help underserved Latino immigrants access the assistance and services they need.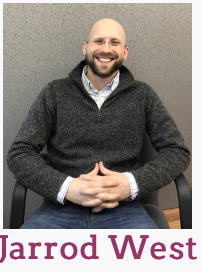 Among its many activities, Casa San Jose has organized a group of volunteer attorneys called the Rapid Response team.  I asked Jarrod West, a San Jose activity organizer who schedules the Rapid Resource team to explain what it is all about.
Q: You have a volunteer program for lawyers to assist individuals who are arrested by ICE agents.  What do they do and why is this needed?
In about March 2017, Casa started a Rapid Response team to respond to increased ICE raids in the Pittsburgh Latino community. ICE detentions have increased in frequency, seem to be based on racial profiling, and frequently violate ICE's own policies and procedures. Often, when someone is detained by ICE, family members have extreme difficulty finding out their status or whereabouts. To that end, the Rapid Response team tries to obtain information on behalf of families. Further, although not thoroughly studied, anecdotal evidence suggests that showing ICE that the community is watching their actions may provide a check on reckless, terror-inducing actions in the community.
Q:  Why do you need volunteer attorneys to do this?
The attorneys are crucial because ICE will only release this information to an attorney representing the prisoner.
Q: What is the Procedure that the volunteer attorneys follow?
When a person is taken by ICE, Casa is notified by friends, love ones, etc. A Casa staff member/volunteer and a volunteer attorney go to the ICE office in the South Side. Among other steps, the volunteer attorney:
–fills out a G-28 (notice of appearance);
–informs ICE staff that the attorney represents the detainee;
–requests the reason for detention; the "A" (alien) Number; the place where the detainee is to be transferred; whether bond will be set and the bond amount.
— After this information is obtained, the volunteer lawyer submits a letter withdrawing legal representation to ICE so an immigration attorney can enter an appearance if desired.
Q: How often are the attorneys able to arrange bond?
In the past, a Rapid Response team would have been able to get folks out on bond from the South Side office of ICE. Since the new administration, they don't…although ICE on the South Side still has the authority to do it. I have not however had a very compelling case to argue down there. Not that they aren't qualified for bond: almost all are wrongfully arrested; almost if not all were arrests made without a valid warrant.
Q:  If you cannot usually get bond, what is the benefit of the Rapid Response?
1. It confirms that the person that is "missing" is in custody.
2. We still ask for a bond, even though they won't let them bond out from the South Side location. They don't stay in the South Side. They will be transferred to intermediate jails before getting to their destination at the York County Prison where then pay an immigration attorney anywhere from $1,000 to $2,000 to represent them and file a petition for a a bond hearing. If they get a bond, it is usually between a $5,000 to $20,000 cash bond.
3. We get the person's "A" number which is what is needed to track the prisoner during the several months they are detained and transported from jail to jail.
Q:  What else is Casa San Jose doing to protect members of the Hispanic community from being deprived of due process by ICE and the loss of other civil rights?
We recently launched our Community Resistance Zones, a campaign aimed at protecting our loved ones by creating safe zones in our city where every person, block by block, is both trained on their rights and on how to support any neighbor who is subject to racial profiling, police or ICE raids, hate crimes and any other forms of criminalization in this nation. We conducted training sessions earlier this month.
Q: What drew you to Casa San Jose?
A lot of reasons. I've always tried to volunteer in some capacity, whether teaching ESL or planting trees. But the thing that really drew me to CSJ was anger: anger at our ongoing (and seemingly worsening) treatment of people who only want to provide for themselves and their families. I needed to find a more useful way to push back than just being angry every time I read the news or heard about this happening in my community.
Q: What might be some meaningful experiences you have had while working with Casa San Jose?
Translating documents of all sorts has given me an incredible sense for how many ways the Pittsburgh community affects, and is affected by, the Latino community. Coordinating our rapid response attorneys has felt like a substantive way to fight back against ICE injustice. But the most meaningful experience has been interpreting for our immigration legal clinics and working with our Pittsburgh Dreamers…it's only when you hear people's personal stories and struggles that you gain a sense (however limited from my vantage point) for what they're going through.
***********************************************************************************************
Pittsburgh Legal Back Talk is in the process of installing a permanent advertisement for Casa San Jose in the right hand margin of this blog. Every Pittsburgher should be proud that Casa San Jose flourishes in our city. A portion of the above interview was originally printed by Casa San Jose when it named Jarrod as its first Volunteer of the Month this March. 
Posted by Cliff Tuttle| May 29, 2018 | © 2018
No. 1,499
Thought for the day. We all  live in a fragile physical envelope that is custom made for our survival.  But just outside, the conditions are hostile to our continued existence.  We would all die in an instant.
Just saying.
CLT
Posted by Cliff Tuttle| May 28, 2018 | © 2018
No. 1,498
Here's a story that I hear fairly often. It takes place in Syracuse New York, but it could be happening anywhere.  A relative or significant other who is living free without cost refuses to leave.  This one is a thirty-something son who doesn't have a job.  The judge is prepared to sign an eviction order and he's threatening to appeal.
There are two ways to do it.  One is to begin an action for possession with a Magistrate.  The other is to commence an action in ejectment, which goes before a judge.
CLT
Posted by Cliff Tuttle| May 28, 2018 | © 2018
No. 1,497
keep looking »