Posted by Cliff Tuttle| August 25, 2018 | © 2018
No. 1,551
Lawyers usually aren't very creative about marketing their law practices.  But there are plenty exceptions.
My friend Sam Zets sends me a wallet size tri-fold card every year around now, the beginning of football season.  On one side, he places his vital info., surrounded by the Steeler schedule and other National  TV pro football broadcasts.  On the other side he has local college and one high school schedule.
Of course, lots of us will tuck it in our wallet for future reference.  Then, when we take it out, we are reminded that Sam Zets provided this useful information, together with his address, phone number and areas of practice.
And of course, once your the wallet, it will probably stay there until next August, when we will replace it with the 2019 schedule.
Its a great form of low budget advertising for a lawyer.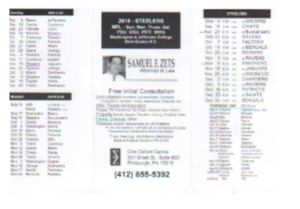 Posted by Cliff Tuttle| August 21, 2018 | © 2018
No. 1,550
Today was Landlord-Tenant Day in Arbitration.  They only have two of them in July and two in August.  The assembly room for litigants was packed to capacity.  Suddenly, a cockroach ran out into the middle of the floor.  To say that it caused an uproar is an understatement. All rise! Everyone snatched their briefcases and other baggage from the floor.
Cries of "step on it! Step on it!" were heard everywhere.  Someone actually gave it a heavy stomp, but there was no apparent effect. Perhaps it was because we were on carpet.  But no one was surprised. After all, cockroaches are indestructible.
It ran under the coat rack.  The coat rack was moved.  A woman tried to crush it with the rubber foot of her cane.  No luck. By then, I was rooting for the little fellow. And then the speedy insect just vanished into nowhere.
What an exciting story it had to tell back in the nest! Hundreds of giant monsters screaming and trying to kill me!
So how does a cockroach turn up on the seventh floor of the City-County Building with no obvious food supply? The building is 102 years old. Did some distant ancestor begin the upward trek a century ago?  One of those Great Mysteries of Life.
CLT
NOTE:  No, I am not attaching a photo to this post.  I've seen enough.
Posted by Cliff Tuttle| August 19, 2018 | © 2018
No. 1,549
HERDER SPRING HUNTING CLUB v. KELLER et al., 143 A.3d 358 (2016).
WOODHOUSE HUNTING CLUB, INC. v. HOYT et al., 2018 Pa. Super 78 (2018).
CORNWELL MOUNTAIN INVESTMENTS, LP et al.  v. PROCTOR HEIRS TRUST et al., 2017 Pa. Super 74 (2017)
There is an exception to the black letter law principle in Pennsylvania that an exception and reservation in a deed of the "mineral estate" or parts of it cannot be divested or abandoned by operation of law.
It seems that there was a statute enacted in 1806 that required that such a severance of title be reported to the County Commissioners, so that it could be taken into account in the land tax assessments. When the owner of the reserved parcel failed to do so, a subsequent tax sale would convey the full interest, including the reservation, which would thereby be divested.  This phenomenon is called a "title wash."
As the Supreme Court noted in Herder Spring, this issue became worthy of dispute with the development of Marcellus Shale.
If you have a potential title wash back in your chain of title, you may want to study Herder Spring and the two Superior Court cases that follow it, linked above.
CLT
Posted by Cliff Tuttle| August 12, 2018 | © 2018
No. 1,548
A bear can run 40 miles per hour, you know.  And where was the photographer standing?
Posted by Cliff Tuttle| August 10, 2018 | © 2018
No. 1,547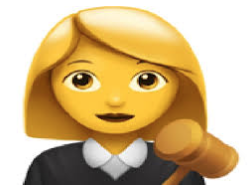 I was over at the Family Division building (formerly the jail) today.  I don't go there much, so I never noticed the feedback machine on the way out.  It may have been there for years or installed today. This one uses four emoji to ask you one question.  Its brilliant.  People get a chance to be heard and the court finds out whether the message is getting through. I gave it a top rating.  The person I saw there was friendly, helpful and I think I understood everything she told me. No, she wasn't an emoji judge as pictured here.
Posted by Cliff Tuttle| August 10, 2018 | © 2018
No. 1,546
Applepay is very cool.  Several years in, cashiers and people behind me in line are still acting astounded when I pay for groceries with my watch.  But do I really, really want to get groceries with the new facial recognition capabilities in the newest iPhone?
Unlocking the phone with facial recognition wouldn't be bad at all, though. It would be an extra level of security.  If you are a lawyer, you can't have too much security. Then again, people mistake me all the time for Judge Lutty.  Could Judge Lutty unlock my phone?  Or buy groceries with it? I doubt whether holding up my picture would do it. Apple would have thought of that long ago.
According to the post in 9 to 5 Mac, link below, a publication that is for true enthusiasts, Apple doesn't care what Boomers and other oldsters think about the new technology. The folks who are running a series of youth-oriented TV commercials don't care  whether our brains are befuddled by their outrageous but riveting ads.  You can look at them in the post below.  I'll bet you have already seen one or two of them and if you are a grown up, you just let it all blow by.
According to 9 to 5 Mac, Apple discounts what our old brains think because our brand preference are cast in concrete.  If you are an older Android user, you're not too likely to switch to Apple no matter what they broadcast on TV.  The war is for the minds and brand loyalties of the young.  Once they have you, its for life.  Or so they think.
On one level its true.
At the moment, I wouldn't switch to any non-Apple product if it were free.  But we have seen the world turn upside down over and over in the past 50 or 60 years.  I have books that are not too old that declared with certainty that Microsoft had won the final victory over Apple. Not so fast.  We live in a world that may completely change and we won't even know it for years.
Check with in a couple of months.  Maybe I'll be using facial recognition.  Or maybe I'll be using some technology that doesn't exist today.
And by the way, don't count on the law to save us from the future.  As I've said before, we don't know much about the future, except that it starts today.
Here's the link to 9 to 5 Mac.
CLT
Posted by Cliff Tuttle| August 6, 2018 | © 2018
No. 1,545
As of 9 AM this morning, there are 45 Landlord-Tenant cases scheduled to be heard tomorrow, August 7.
Arbitration takes a vacation in July and August, but 2 days are set aside in each month for Landlord-Tenant cases.  Cases have been backing up and now we are going to have one very long day.  I'll be packing a lunch, no kidding.
The trial list takes a couple of months off, too.  In an effort to keep the cases being appealed from Arbitration from filling up the September list, cases were assigned to judges to be scheduled and heard during the summer.  That makes sense.
Perhaps the time has come to recognize that LT arbitration panels should meet a little more often in the summer.
CLT
Posted by Cliff Tuttle| August 6, 2018 | © 2018
No. 1,544
HERE IS WHAT I WROTE THIS MORNING.  THE COMMUNICATION FROM MOVIE PASS, BELOW, ARRIVED THIS AFTERNOON.  THEY PAINT A SOMEWHAT DIFFERENT PICTURE OF THEIR FUTURE.
We should have realized that it was too good to be true. MoviePass is almost passe', due to a flawed business model.
The latest MoviePass arrangement is back to the $9.95 monthly rate and a limit of three movies per month. Nothing about premium rates for big movies.  But who would trust them?
We now know that MoviePass will change the deal on a dime and we have nothing to say about it. Moreover, many theaters have stopped accepting your MoviePass without notice. What kind of a contract is that?
Plus, the system doesn't always work, forcing you to leave or pay anyway. You can't complain about it to customer service, by phone or by email.  Surprise — customer service crashed long ago.  And when you decide to terminate the service, if you can, they continue to bill you.
Goodbye MoviePass.  We didn't want to watch that many movies anyway.
CLT
AFTERNOON UPDATE:
Dear MoviePass Member,
 
On August 15, 2018, we will hit the one-year anniversary of MoviePass' revolutionary price point of $9.95 a month. We've experienced tremendous growth, and we know that at times, the frequent changes to our service have been frustrating to you. But through it all, one thing is clear: we've gotten people excited about going to the movies again.
 
Over the last year, we have tried different things and we've discovered what our members love about our service — the low price point and the ability to go to more than 91 percent of theaters nationwide. We've also learned what people don't like about the service — features including Peak Pricing and Ticket Verification.
 
So now, with almost a full year of learnings under our belt, we're introducing a new pricing plan that retains the features you love the most and removes the ones you don't. Most importantly, this new plan will ensure that we can run a sustainable business and continue providing you with an amazing deal to go see movies in theaters.
 
Here are the details:
Under our new plan, MoviePass members will be able to see up to threestandard movies a month for $9.95, and be given up to a $5.00 discount to any additional movie tickets purchased. Today, 85 percent of MoviePass members go to three movies or less per month, so these changes cater to the majority of our movie-going community.
 
The new plan will include many major studio first-run films, however there will be some exceptions (note that theaters with e-ticketing will include all movies and showtimes with no restrictions).
 
We will be suspending Peak Pricing and Ticket Verification requirements for all members in the new plan described above.
 
Over the coming days, MoviePass members with a monthly subscription renewing on or after August 15th will be given the option in the MoviePass app to transition to the new plan. Quarterly and annual subscribers will not be impacted until their renewal date.
The truth is, disruption and innovation require staying flexible and having an open mind. We genuinely strive to offer you a service that is a great deal, and we believe that the new plan we're introducing will be attractive to the majority of our members.
 
It's been an exciting journey so far, and MoviePass is here to stay. Your endless support, understanding and enthusiasm are greatly appreciated.
 
Thank you,
Mitch Lowe
Posted by Cliff Tuttle| August 6, 2018 | © 2018
No. 1,543
This is too good to take the chance you won't click the link.  Plus, after reading this, you may not be in the mood to click any links for a while.  This masterpiece appeared in a blog called the Babylon Bee.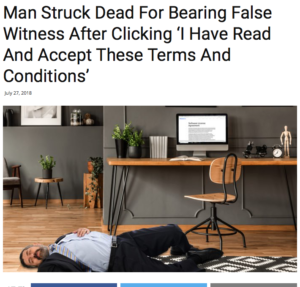 http://BOSTON, MA—Local man Justin Fuller immediately fell dead after clicking "I have read and accept these terms and conditions" when installing a new piece of software Friday morning. The Lord and Sovereign Judge, from which nothing is hidden, could tell Fuller had not even glanced at the twelve pages of legalese, and thus his checking of the box was a lie against which God took immediate vengeance. "This is very scary," said software analysis Terrell Bennett. "It makes me wonder if other people have not been reading the end-user license agreement. It's an important contract between the licensor and the purchaser, and it could be chaos if people didn't understand all the ramifications of what they were agreeing to. If you click you accept those terms and conditions without having read them, you're lying to the software vendor, to your Macbook Pro, and to the Creator of us all who is always watching." CompuGlobal, the maker of the software Fuller was installing, has informed Fuller's wife she will get a full refund for the computer program since the EULA was not properly agreed to. "Hopefully everyone in the future will take the time to read the terms and conditions," said David Zimmerman, the lawyer who wrote the EULA, shortly before falling over dead.       
Posted by Cliff Tuttle| August 6, 2018 | © 2018
No. 1,542
On August 6, 1918 in the Second Battle of the Marne, the German offensive failed and the French counteroffensive began.  Reinforced by eight fresh American Divisions, Marshall Foch commanded the first in a series of Allied offenses that would bring the Great War to an end.
« go back
—
keep looking »