Posted by Cliff Tuttle| December 13, 2018 | © 2019
No. 1,583
JACK SEZ:  LAME DUCKS HAVEN'T FORGOTTEN HOW TO FLY.
Posted by Cliff Tuttle| December 9, 2018 | © 2019
No. 1,592
The Fortieth Investigative Grand Jury stirred a tsunami of public outrage, but has not resulted in a single prosecution.  Among the many consequences flowing from this momentous historic event, one unforeseen by almost everyone and not yet fully appreciated, has begun to unfold on December 3, 2018.  The Pennsylvania Supreme Court made permanent its temporary redaction of the names of eleven priests accused of child molestation in the report.  The Supreme Court stated that the statute that created the investigative grand jury, and authorized the publication of their findings, did not contain adequate due process procedures to protect the constitutionally guaranteed right to reputation.
This "right to reputation" is not specifically mentioned in the United States Constitution, but is set forth in our State Constitution.
Article I, Section 1 states:
"All men are born equally free and independent, and have certain inherent and indefeasible rights, among which are those of enjoying and defending life and liberty, of acquiring, possessing and protecting property and reputation, and of pursuing their own happiness."
Article I, Section 11 address the remedy for violation of the right to reputation:
"All courts shall be open; and every man for an injury done him in his lands, goods, person or reputation shall have remedy by due course of law, and right and justice administered without sale, denial or delay. Suits may be brought against the Commonwealth in such manner, in such courts." [Emphasis supplied]
The opinion in this case, written by Justice Todd, recognizes that the Grand Jury Report addresses the rights of victims and the need of the public to know. But, in the context of an investigative grand jury, the accused person's constitutional right to reputation trumps them all.
The Supreme Court held that the procedure established by the Investigative Grand Jury statute cannot be modified by judicial fiat to include due process procedures. The changes would be so significant as to completely overhaul the framework set for in the state.  This requires that the Supreme Court must order permanent redaction of names of the accused who, under the procedures employed in the investigation,  were not given due process.
This constitutional right should be of particular importance to lawyers.  Reputation is about trustworthiness.  If you destroy a lawyer's reputation, you destroy a career.Once lost, it is lost forever.
But lawyers are not alone in the need to protect their professional reputations.  It is not terribly hard to imagine future Investigative Grand Juries being convened to look into accusations of child molestation by teachers, hospital employees and members of other organizations dedicated to helping children. If that time comes, others will be able to protect their name by petitioning for redaction.
CLT
Posted by Cliff Tuttle| December 6, 2018 | © 2019
No. 1,592
Posted by Cliff Tuttle| December 5, 2018 | © 2019
No. 1,591
IN RE: FORTIETH STATEWIDE INVESTIGATING GRAND JURY, NO. 75, 77-82, 84, 86-87, 89 WM 2018 (December 3, 2018) 
On July 27, 2018, the Supreme Court temporarily redacted the names of eleven current and former Catholic priests who had been named in the Report of the Fortieth Investigating Grand Jury (Report 1).  The prior opinion is reported at 190 A.3d 560 (Pa. 2018). These priests, who had been specifically named as sexual predators in Report 1, sought to secure their constitutionally guaranteed right to reputation under Pa. Const. Article 1 § 1.
The Supreme Court temporarily redacted the names from Report 1 in order to receive briefs and arguments supporting and opposing the petitions filed by the eleven priests.  The majority concluded that under the limited statutory authority granted under the Investigating Grand Jury Act, 42 Pa. C. S. § 4541 et seq., there was no procedural remedy available to provide due process to the accused priests and therefore, in order to preserve the constitutional protection of reputation, the temporary redactions in the report are required to remain permanent.
The Court examined and rejected  several proposals for further proceedings intended to provide due process rights to the accused.  In each case, the Court observed that the statutory authority was too limited to encompass due process hearings and in any event the authorized twenty four month duration of the Grand Jury had expired.
"Our careful review of the Act reveals that it contains no allowance for this grand jury to be reassembled, to hear additional testimony, to receive supplementary evidence, or to issue a supplemental report. Moreover, as discussed, the investigating grand jury is a distinctly statutory creation. We are unaware of any authority, nor has the Commonwealth identified any, which would allow this Court to craft a judicial remedy that re-impanels the grand jury, requires it to take additional evidence, and to author a second supplemental report, contrary to the express legislative design of the Act."
CLT
Posted by Cliff Tuttle| December 4, 2018 | © 2019
No. 1,590
MR Reports, an on-line newsletter for the mortgage origination and servicing industry, reports that Pittsburgh is the most affordable city in the United States for first time home buyers. Cleveland is second, with other rust belt cities prominent on the list.  California has a strong hold on the bottom of the list, with San Jose earning the distinction of being the worst.
CLT
Posted by Cliff Tuttle| November 30, 2018 | © 2019
No. 1,589
Can there be a second chance for sexual predators?  And if so, what is necessary for the wrongdoer to do to earn it?
At the present time, consensus seems to be that a convicted child molester can never be trusted again. This is reflected in registration laws for convicted offenders and required notification of neighbors. Offenders frequently fail to register and, when that happens, they are imprisoned again.
Judge Donna Jo McDaniel of the Allegheny County Court of Common Pleas was recently barred by the Superior Court from sentencing sexual offenders because she has continually exceeded sentencing guidelines. Nevertheless, I suspect that the public thinks more like Judge McDaniel than the Superior Court. If current sentencing guidelines for sexual predators were put to a referendum, would the maximum sentences win in a landslide?  Probably.
In the aftermath of the Penn State scandals, there have been numerous enactments by the Pennsylvania General Assembly which close loopholes and increase punishments. Unfortunately, these statutes sometimes infringe on civil liberties, create traps for the innocent and ultimately do not overcome the problem.
In light of the recent Grand Jury report, bishops have been strongly criticized and even threatened with criminal prosecution for allegedly covering up crimes and permitting priests to return to ministries that give access to children. This approach has been abandoned today as a blind refusal to accept facts or at best a failed experiment in rehabilitation. Priests today are suspended from duties immediately upon credible accusation.  So are school teachers and other public employees.  This reflects the growing viewpoint that the risk to the public of future crime exceeds the rights of the accused to be considered innocent until proven otherwise in a court of law.  In practice, this has created a de facto presumption of guilt that is unlikely to be erased, even after acquittal.
At the present time, there does not appear to be a viable legal solution that actually works. Shunning doesn't work in modern society,  And disturbing science fiction solutions, like the one proposed in the novel made movie Clockwork Orange, are unlikely to have much appeal in a society that values civil liberties.
So, where do we go now?  Longer jail terms only postpone the eventual reintroduction of the uncured predator into society.  Is it to be life in prison, or perhaps in a more humane mental facility?
CLT
Posted by Cliff Tuttle| November 29, 2018 | © 2019
No. 1,588
JOHNSON v. PHELAN HALLINAN & SCHMEIG, 2018 Pa. Super. 141 (2018).
Om May 23, 2002, EdElla and Eric Johnson executed a mortgage secured by their residence in the amount of $74,000.00. After a 2008 default, a complaint in mortgage foreclosure was filed against the Johnsons in behalf of the mortgage lender by the law firm of Phelan Hallinan & Schmeig, LLP.
The foreclosure complaint included attorneys fees in the amount of $1,300.00, which Johnsons assert, in a subsequent class action suit, were assessed in violation of Section 406 of the Pennsylvania Loan Interest and Protection Law 41 P.S. §§ 101 et seq., popularly known as Act 6.
While the foreclosure was pending, on March 23, 2012 the Johnsons initiated a class action against Phelan alleging that the firm was claiming fees in connection with foreclosure actions in excess of the amount they were entitled to under Act 6 from the Johnsons and members the class. The Johnsons claimed treble damages and attorney's fees under the statute for themselves and members of the putative class.
Phelan filed preliminary objections, asserting that under the language in the statute, Section 406 could be applied only to "residential mortgage lenders, " which it was not.  Preliminary objections were sustained and the case was consolidated on appeal with Glover v. Udren Law Offices, PC,92 A.2d 24 (Pa.Super. 2014). The Superior Court affirmed, but the Supreme Court reversed at  139 A.3d 195 (2016), holding that the legislature did not intend to limit application to mortgage lenders only, but to other persons, including the attorneys who bring the foreclosure actions.
However, the case was remanded for further determination regarding whether Phelan"collected" the allegedly excessive fees.
On remand, Phelan raised a wholly new issue: whether the Johnson Mortgage was a "residential mortgage" under Act 6.  Phelan observed that Act 6, enacted in 1974, had originally defined the term "residential mortgage" as one securing a loan of $50,000 or less.  Over the years, this limitation had made Act 6 increasingly irrelevant. Then, in 2008, the Pennsylvania legislature increased the defined term to the inflation-adjusted amount of $217,873, with provisions for further administrative escalation over time.
Phelan argued that the mortgage was executed before the amendment and therefore the $74,000 principal amount made it not a residential mortgage under Act 6.  Johnsons argued that the foreclosure was commenced after the effective date of the amendment and that the larger amount applied.
The trial court agreed with Phelan, placing the issue before the Superior Court.
Under the Statutory Constructive Act, writes Judge Bowes for the Court, there is a presumption against retroactive application of statutes.  However, there is an exception. While substantive law may not ordinarily be applied retroactively, procedural law can.
She stated that "our review of the 2008 amendment to Act 6 reveals no indication by the General Assembly that the increased monetary limit for 'residential mortgages' was 'clearly and manifestly' intended to apply retroactively to mortgages executed prior to its effective date. See 1 Pa.C.S. § 1926. Accordingly, section 1953 requires that we construe the amendment as taking effect on the date selected by the General Assembly, i.e., September 8, 2008. See 1 Pa.C.S. § 1953."
CLT
Posted by Cliff Tuttle| November 25, 2018 | © 2019
No. 1587
SHIN v. BRENAN 764 A,2d 609 (Pa. Super. 2000)
WILLIAMS  v. SCHOOL DISTRICT OF PHILADELPHIA, 870 A.2d 414 (Pa. Cmwlth. 2005).
THOMPSON v. HOUSTON, 839 A.2d 389 (Pa. Super. 2003)
FAISON v. TURNER, 2004 Pa. Super. 350 (2004).
BANKS v. COOPER, 171 A.3d 798, 2017 Pa.Super. 304 (2017)
In the recent Allegheny County landlord-tenant case of Planirrs Capital v. LaChara Gaines, LT 18-000938, the Defendant/Tenant did not appear for the scheduled arbitration hearing.  All hearings are scheduled for 9:00 AM, with a second and final call at 10.
Under Allegheny County Local Rules of Civil Procedure, a second call of the list will take place at 10:00 a.m., and if neither party answers "ready," the suit will be dismissed. If only one party answers "ready," then the case may be sent to the first available arbitration board for an ex parte hearing, at which time the party that is present will present his or her case in chief, and the board makes its award. Alternatively, if a Duty to Appear at Arbitration Hearing notice was given (see forms 10-3 and 10-4, Alleg.Co.L.R. 1303(4) and 1320(9)(a)), then the case may be heard by a judge immediately. A nonjury verdict will be rendered, from which there is no right to appeal de novo. Post-trial motions may be filed with the arbitration office within 10 days of the verdict being sent. A post-trial motion should explain why the party was not present and will be decided by the special motions judge.
A hearing was scheduled in this case on October 25, 2018.  When the Defendant did not appear, the Plaintiff elected to proceed to a hearing before the judge, which was promptly conducted ex-parte by Judge Alan Herzberg.
However, the Defendant filed a post-trial motion for reconsideration, stating that she had been confused concerning the hearing date.  She ran into the Plaintiff, her landlord and said she would see him in court on a certain date, the wrong date.  The landlord did not reply, permitting the tenant to continue in the belief that the hearing date was the wrong date.
On October 31, Judge Herzberg vacated his October 25 non-jury verdict and scheduled a new arbitration hearing date.  He cited two cases in his opinion, Shin v. Brenan and Williams v. School District of Philadelphia, both linked above.
In Shin, the Defendant had appealed an arbitration decision to Common Pleas Court and the case was assigned to a settlement conference on a specified date in the presence of the defense counsel. When counsel failed to appear at the settlement conference, the appeal was dismissed. Defendant petitioned to reinstate the appeal, averring that counsel had inadvertently failed to note the matter on on his calendar.  On appeal, the Superior Court ruled that the court had the authority to dismiss the case under Rule 218, but had abused its discretion by doing so.
The Superior Court opinion noted that the record did not indicate that the court below had made any attempt to contact counsel before dismissing the appeal.  It stated: "There was no suggestion by the trial court that counsel's behavior was part of a pattern of misconduct or abuse.  There is no allegation that the opposing party would be prejudiced by a delay. The trial court did not conduct a hearing, either before dismissing the appeal or on [defendant's] petition to reinstate the appeal, in which it could have appropriately reviewed the appropriateness of the dismissal.  Most importantly, there is no indication that the trial court gave any consideration to lesser sanctions."
In Williams, decided by the Commonwealth Court, the Court of Common Pleas of Philadelphia County conducted an ex-parte trial and found the District liable for injuries sustained by Williams. Williams, a minor, was riding in a school bus when it began to rain.  The bus driver told the student-passengers to close the windows.  She knelt on the seat to close a window and her knee went into the seat, causing a cut.  When she saw blood, she hopped to the front of the bus to tell the driver, who pulled over and called an ambulance.
During discovery, the School District had obtained two orders precluding the admission of certain medical evidence at trial.  The attorney for Williams stated that the plaintiff would not appear at the arbitration, but would appeal to the common pleas court for a trial de novo. Williams did not appear, but her counsel did.  On appeal, the judge entered sanctions against Williams for not appearing at arbitration and a new arbitration case was scheduled. A notice of the new date never reached counsel for the School District, who happened to be pregnant with triplets at the time when the case was to be heard.  The School District also never received the "20 day packet" of evidence Williams intended to introduce.  Counsel for the School District returned from her absence on the day of trial, but attended another matter, being unaware of the scheduled hearing.
An ex-parte hearing was conducted before a judge under Philadelphia Local Rule 1303, the equivalent of the Allegheny County local Rule. The Court entered a verdict for the Plaintiff.
After post trial motions were dismissed, the School District appealed.
Citing and quoting Shin, the Commonwealth Court stated:
"While Shin involved a failure to appear at a settlement conference, the Superior Court extended that holding to failure to appeal for an arbitration hearing. Thompson v. Houston, 839 A.2d 389 (Pa.Super.2003); Faison v. Turner, 858 A.2d 1244 (Pa.Super.2004). While those cases are not binding on this Court, they cogently set forth the factors that a trial court should use to dismiss an action for failure to appear, and we adopt them as our own."
Out of this line of cases has emerged the following five pronged test, as set forth in the Faison case and quoted in the most recent case, Banks v. Cooper, in 2017:
"When evaluating the explanation or excuse proffered by a party who failed to appear for trial and is seeking to open a judgment of non pros, the court should consider:
1) whether the failure to appear was inadvertent; 2) whether counsel's failure to appear was part of a pattern of improper behavior, misconduct or abuse; 3) whether the court attempted to contact counsel prior to dismissing the [case]; 4) whether the opposing party would be prejudiced by the delay; and 5) whether the court gave any consideration to lesser sanctions."
What practical advice should we take away from these cases? None  of these questions can be answered with any degree of certainty without some sort of a hearing. Must a telephone call be made to the missing litigant before trying the case ex-parte or dismissing the action? If no one answers, can the case then be tried ex-parte or dismissed.
When the forgetful or confused pro-se litigant discovers that the case has been ended without his participation, someone tells him or her to file post trial motions. At that point, the judge can apply the five pronged test, as Judge Hertzberg did.  If a bus ran over your foot on the way to court, you are covered.  However, if your alarm clock didn't go off, probably not.  And if the opponent knew that you thought the hearing was on the wrong day and didn't disabuse you of the error, hope you were assigned to Judge Hertzberg.
CLT
Posted by Cliff Tuttle| November 8, 2018 | © 2019
No. 1,586
The newspaper says that Pittsburgh is not likely to be selected by Amazon for the fabled HQ2.  Things looked promising when we were selected as one of 20 semi-finalists.  But the initial visit by the selection committee was a long time ago and there have been no follow-ups.  Meanwhile, chatter in the New York Times and other publications points to one or two places in the vicinity of Washington DC and New York.
Amazon will make that decision and we cannot do much more than say thanks for the opportunity. But that should not be the end of the story. There are other things that Pittsburgh can decide to do. After having studied numerous site locations to prepare the proposal for Amazon, we may be able to develop ideas for something just as good  (or better) that another enterprise could build.  After all, we went to a considerable amount of trouble to pitch potential properties to Amazon, developing subsidies and other incentives, including additional infrastructure.
You and I are constantly facing these kinds of opportunities and don't even realize it.  Maybe you applied for a job, but were not selected. Then you don't bother to ask yourself what to do next. You did a lot of research to prepare for an interview and you know about the industry. Should you employ this information by continuing to look for similar jobs? Or maybe something else you hadn't considered before looks interesting.
Too often, you wanted something and didn't get it.  And so, you just quit.
Too bad.  You may have almost reached your objective.  Or you may have been on the verge of discovering something better.
On the other hand, lets say you are completing a project that caused you to be unhappy most of the time.  What was it that made you miserable?  Should you turn down the next project of that type?
CLT
Posted by Cliff Tuttle| November 5, 2018 | © 2019
No. 1,585
WARNING: SOME PEOPLE MIGHT CONSIDER THE FOLLOWING MUSINGS TO BE A SERMON.  YOU ARE FREE TO DISREGARD THE MESSAGE AT ANY TIME AND SWITCH OVER TO TWITTER.
Autodidactism: self-education, self-teaching.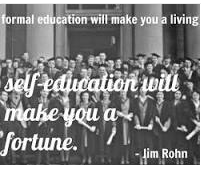 I just read another post on how to stop wasting your life browsing on the internet. It contained a lot of good ideas, like exercise, getting to know your family. Your mother probably suggested all of them by the time you were ten. Nothing new there.
Of course, wasting time didn't start with the internet.  Before then we did (and still do) waste time watching television, listening to music and engaging to excess in other forms of entertainment. Even talking on the telephone can be a drug, making the smart phone a triple threat.
The problem is that these media are all addictive and we are weak. Willpower goes only so far. But there is an alternative to just giving in to Facebook.
You aren't going to be able to completely renounce grazing on the internet. Nor should you. There's a lot worth reading, but you have to look for it.  So, make your weakness a strength.  What do you call a positive addiction? You call it motivation.
The internet has become the world's library. It contains everything you always wanted to know. And what have you always wanted to know?  It may take a while to come up with an answer.
Back in the old days, when formal education was scare and books were relatively rare and expensive, it was still possible, with great self-discipline, to give yourself a first-class education.  Alexander Hamilton taught himself to be an expert in the banking system by reading borrowed books. Lincoln made himself an expert on the legal issues surrounding slavery in the library.  Ray Bradbury developed his own higher education during the Depression by spending four years in the public library, studying literature and training to become a writer.
They did it the hard way.  We, on the other hand, have the world's library in our pocket.  But the similarity is that, like these great autodidacts, we can train ourselves to be experts.  How long does that take?  Well, how many hours do you spend with social media?  Could it be three, four even five hours?  How much could you learn in that time period.  A lot.  Could you become an expert?  That depends on what you are studying and how diligent you are.
If you are prepared to get serious about such a project, keep a nightly journal of what you learn. I'll bet you will be amazed.
CLT
« go back
—
keep looking »