Posted by Cliff Tuttle| September 14, 2018 | © 2018
No. 1,558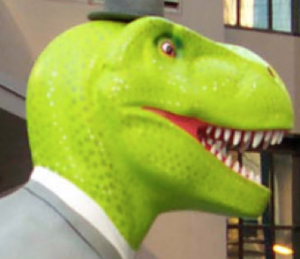 JACK SEZ: Writing a blog post is like sending a message out to sea in a bottle.  You never know if anybody will ever read it or who the reader might be.
Posted by Cliff Tuttle| September 14, 2018 | © 2018
No. 1,557
The former TV actor who played the son on the Cosby Show, Geoffrey Owen, was photographed bagging groceries at Trader Joe's and publicly humiliated in the world media. But he courageously turned the situation around when he was interviewed on the national news.  Any job is a good job, he stated. He turned the shame onto the shamers — exposed them for the mean, petty people that they are.  In his case,  this unsought publicity resulted in an acting job on NCIS New Orleans. An apparent calamity can sometimes turn into an opportunity. When called for a TV interview, he was ready and grabbed that brass ring.
Once in a while, I encounter a credentialed lawyer who is struggling after a year or more to enter the profession.  It is always an embarrassment for both of us.  I feel their fear and frustration and humiliation by proxy, but only for a short while. They feel it all of the time, especially during sleepless nights and during social events that cannot be avoided.
Graduation from law school is a daunting task.  It is a strenuous intellectual exercise spanning at least three years and it costs a lot of money.  After that, there is admission to the bar.
Just accomplishing all of that is something to be proud of, no matter what the future holds. But, for a long time our law schools have been producing a surplus of new lawyers compared to the ability of the marketplace to absorb them.
To you, my brother and sister lawyers who are still looking for a real job, be aware that you have more friends than you think.  Stop believing that its your own fault.  You were good enough to get this far and with a bit of luck and persistence you can make the next step.  I know you've heard this before.  Maybe you've even told it to yourself. But do you truly believe it?
Don't hide.  Do what other lawyers have to do to get clients. Do it all day, every day. Join church and community organizations.  Volunteer. Go to every bar association event you can.  After a short while, the fear will go away.
Practice your elevator speech. Be interesting.  Be proud of who you are.  When the opportunity comes, and it will, shine.
CLT
Posted by Cliff Tuttle| September 12, 2018 | © 2018
No. 1,556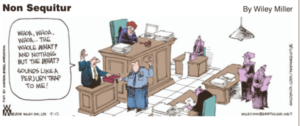 Posted by Cliff Tuttle| September 10, 2018 | © 2018
No. 1,555
THEODORE HAYES; AQUEELA FOGLE V. PHILIP E. HARVEY, NO. 16-2692, THIRD CIRCUIT COURT OF APPEALS (2018).
"The Hayes family receives enhanced voucher rental assistance from the federal government, and a federal statute provides that enhanced voucher holders "may elect to remain" in their housing developments, even after their landlord has opted out of the federal housing assistance program. 42 U.S.C. § 1437f(t)(1)(B). But the Hayes family's landlord, Appellee Philip Harvey, contends that this statutory right to "elect to remain" does not apply at the end of a lease term. Thus, according to Harvey, he is permitted to evict the Hayes family without cause once their lease has expired. The District Court agreed and granted Harvey's motion for summary judgment. We will reverse, however, because the statute's plain language and history make evident that enhanced voucher holders may not be evicted absent good cause, even at the end of a lease term."
Click the link on the case name above to read why a landlord with a tenant in the enhanced voucher rental assistance program cannot be evicted, except for good cause.  You might want to look at Judge Michael Fisher's dissent in which he claims that the "clear language" of the statute isn't so clear.  This case was decided after reargument before the court en banc. If you are a Pennsylvania landlord or tenant in the enhanced voucher program, its the law — unless the US Supreme Court says otherwise.
CLT
Posted by Cliff Tuttle| September 6, 2018 | © 2018
No. 1,554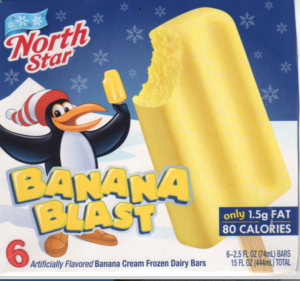 Posted by Cliff Tuttle| September 5, 2018 | © 2018
No. 1,553
I found the following classic in the junk mail.
Attn:Beneficiary,
I am Mrs. Anna Joy, I am a US citizen, 48 years Old. I reside here in New Braunfels Texas. My residential address is as follows.108 Crockett Court.Apt 303, New Braunfels Texas, United States, am thinking of relocating since I am now rich. I am one of those that took part in the Compensation in Nigeria many years ago and they refused to pay me,I had paid over $20,000 while in the US, trying to get my payment all to no avail.
So I decided to travel down to Nigeria with all my compensation documents, And I was directed to meet Reverend.Anderson ,who is the member of COMPENSATION AWARD COMMITTEE, and I contacted him and he explained everything to me. He said whoever is contacting us through emails are fake.
He took me to the paying bank for the claim of my Compensation payment.Right now I am the most happiest woman on earth because I have received my compensation funds of $800,000.00 Moreover, Reverend.Anderson, showed me the full information of those that are yet to receive their payments and I saw your name as one of the beneficiaries, and your email address, that is why I decided to email you to stop dealing with those people, they are not with your fund, they are only making money out of you.I will advise you to contact Reverend. Anderson. You have to contact him directly on this information below.
Name : Reverend.Anderson
Email:  [email link has been deleted to protect the innocent or absent-minded]
Telephone: [ditto]
You really have to stop dealing with those people that are contacting you and telling you that your fund is with them, it is not in anyway with them, they are only taking advantage of you and they will dry you up until you have nothing.
The only money I paid after I meet Reverend. Anderson was just $355 Usd for the paper works, take note of that. Once again stop contacting those people, I will advise you to contact Reverend. Anderson so that he can help you to Transfer your Fund into your account, instead of dealing with those liars that will be turning you around asking for different kind of money to complete your transaction.
Thank You and Be Blessed.
Mrs. Anna Joy
Posted by Cliff Tuttle| August 25, 2018 | © 2018
No. 1,552
One of the greatest American composers.  He not only wrote classical music, but Broadway and Movie Music.  West Side Story changed the Broadway stage forever and the movie became a great American classic.
Of course, he was a great conductor, performer and one of the most famous personalities of the 20th Century.  Time Magazine published a story today about how he conducted performances by an orchestra comprised of holocaust survivors.  There are a million Bernstein stories. Here's one by Tom Wolfe about Bernstein's 48th birthday.
CLT
Posted by Cliff Tuttle| August 25, 2018 | © 2018
No. 1,551
Lawyers usually aren't very creative about marketing their law practices.  But there are plenty exceptions.
My friend Sam Zets sends me a wallet size tri-fold card every year around now, the beginning of football season.  On one side, he places his vital info., surrounded by the Steeler schedule and other National  TV pro football broadcasts.  On the other side he has local college and one high school schedule.
Of course, lots of us will tuck it in our wallet for future reference.  Then, when we take it out, we are reminded that Sam Zets provided this useful information, together with his address, phone number and areas of practice.
And of course, once your the wallet, it will probably stay there until next August, when we will replace it with the 2019 schedule.
Its a great form of low budget advertising for a lawyer.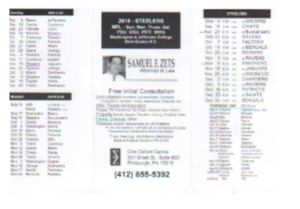 Posted by Cliff Tuttle| August 21, 2018 | © 2018
No. 1,550
Today was Landlord-Tenant Day in Arbitration.  They only have two of them in July and two in August.  The assembly room for litigants was packed to capacity.  Suddenly, a cockroach ran out into the middle of the floor.  To say that it caused an uproar is an understatement. All rise! Everyone snatched their briefcases and other baggage from the floor.
Cries of "step on it! Step on it!" were heard everywhere.  Someone actually gave it a heavy stomp, but there was no apparent effect. Perhaps it was because we were on carpet.  But no one was surprised. After all, cockroaches are indestructible.
It ran under the coat rack.  The coat rack was moved.  A woman tried to crush it with the rubber foot of her cane.  No luck. By then, I was rooting for the little fellow. And then the speedy insect just vanished into nowhere.
What an exciting story it had to tell back in the nest! Hundreds of giant monsters screaming and trying to kill me!
So how does a cockroach turn up on the seventh floor of the City-County Building with no obvious food supply? The building is 102 years old. Did some distant ancestor begin the upward trek a century ago?  One of those Great Mysteries of Life.
CLT
NOTE:  No, I am not attaching a photo to this post.  I've seen enough.
Posted by Cliff Tuttle| August 19, 2018 | © 2018
No. 1,549
HERDER SPRING HUNTING CLUB v. KELLER et al., 143 A.3d 358 (2016).
WOODHOUSE HUNTING CLUB, INC. v. HOYT et al., 2018 Pa. Super 78 (2018).
CORNWELL MOUNTAIN INVESTMENTS, LP et al.  v. PROCTOR HEIRS TRUST et al., 2017 Pa. Super 74 (2017)
There is an exception to the black letter law principle in Pennsylvania that an exception and reservation in a deed of the "mineral estate" or parts of it cannot be divested or abandoned by operation of law.
It seems that there was a statute enacted in 1806 that required that such a severance of title be reported to the County Commissioners, so that it could be taken into account in the land tax assessments. When the owner of the reserved parcel failed to do so, a subsequent tax sale would convey the full interest, including the reservation, which would thereby be divested.  This phenomenon is called a "title wash."
As the Supreme Court noted in Herder Spring, this issue became worthy of dispute with the development of Marcellus Shale.
If you have a potential title wash back in your chain of title, you may want to study Herder Spring and the two Superior Court cases that follow it, linked above.
CLT
keep looking »