Posted by Cliff Tuttle| October 17, 2018 | © 2018
No. 1,574
Here's an article from Reuters which is of value to anyone who has friends or family involved in a deportation case. If you think this may apply to your upcoming case (or that of a friend/family), run, don't walk to an immigration practitioner.  Casa San Jose (see left sidebar) can help you find one if necessary.
For lawyers like me who don't practice in this area but want to be aware of trends in Immigration law, this article is of particular interest.
CLT
Posted by Cliff Tuttle| October 14, 2018 | © 2018
No. 1,573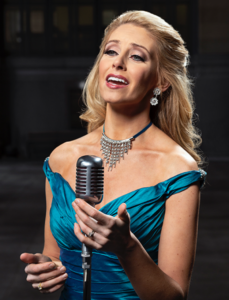 Mrs. Kush, an attorney at Buchanan Ingersol and Rooney has a truly impressive list of activities and accomplishments. She is one of 16 Pittsburghers featured in NextPittsburgh as worth knowing about.
What may have attracted the attention of NextPittsburgh, in addition to her public service, was her training and performances as a classical soprano.  But that is only the beginning of the story.  Here is her page on the law firm's website.
Posted by Cliff Tuttle| October 11, 2018 | © 2018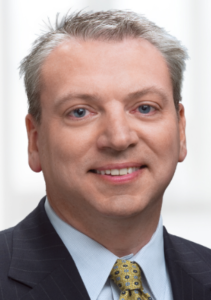 No. 1,572
David Porter, a Shareholder at Buchanan Ingersoll & Rooney, Pittsburgh, nominee to the Third Circuit, has been confirmed by the Senate.
Posted by Cliff Tuttle| October 11, 2018 | © 2018
No. 1,571
Sister Valerie Zottola has sent a bulletin to the Amigos of Casa San Jose with information to learn about and comment on proposed regulations issued by the Department of Homeland Security that would expand  the so-called "Public Charge Test" that restricts immigration rights of persons who utilize certain government programs.  Here is the full text of her message, including links to more information and for those who wish to submit comments.  Such comments will be compiled and summarized in the Federal Register and because they are part of the official record, they do make a difference. 
"The new Public Charge Rule, with the devastating changes proposed by the Department of Homeland Security, has been posted, and is open for public comment starting yesterday, and available for only 60 days.  This rule change will penalize immigrants for using the few benefits that are available to them or their (often American citizen) children, denying them any future eligibility for US citizenship.  It is urgent that everyone who supports immigrants send in a comment, which is easy to do online.  You can do it through the link provided by "Protecting Immigrant Families"  OR directly through the official US Government site at regulations.gov , where you  paste this: USCIS-2010-0012 – into the search box, click on Search, and then click on "Comment Now."
Much more info from the Center for Law and Social Policy & National Immigration Law Center.  Also:   "Immigrants refuse aid for fear it will doom green card hopes".
ALSO, Casa would like to host an information session on the Public Charge issue and how it affects our community in late October, but we need to gauge interest – if you would like to come, please email srvalerie@casasanjose.org by Oct. 16th."
CLT
Posted by Cliff Tuttle| October 10, 2018 | © 2018
No. 1,570
If you are representing yourself in court, here are a few tips about preparation.
 Make copies of any documents you wish to present.  Make a copy for the opponent. one for the judge and one for yourself. Keep originals separate in your file. If you are before an arbitration panel, make one for all of the members of the panel.
Do NOT expect to display pictures or text messages on your phone at trial.    Make copies.
Do NOT attempt to present lengthy text messages as evidence.  If you must offer a text message, make sure that it is as short as possible. Be aware that a text message from you that contains profanity (many do) may not portray you in the best light.
If there is a written lease or contract involved in the case, it should be presented first, even if the dispute involves something else.
Put your evidence in order.  It is usually a good idea to staple the items together so that you can deliver one package to everyone at the beginning of the case. This can save a ton of time and helps you present an organized case.
Mark each exhibit with a letter or number.  Refer to each exhibit by its letter or designation in your presentation.
Practice your presentation by speaking out loud. Remember that you are telling a story.  A good story has a beginning, middle and an end. As you practice, try to shorten the time you need to present the facts.
Write down, in advance, questions you may wish to ask your opponent after he/she testifies.  Put them in order, if possible.  Remember that you are required to ask a question at that point — you are not permitted to start testifying or make a speech. Since there is always more than one way to ask a question, you may wish to rewrite some of them.
Write out a short summary of your case.  You may wish to present it at the beginning or at the end.
Remember, you are required to make a formal presentation that follows a pre-established format. It is not a conversation.  If you don't observe the rules, you hurt your chances of winning.  And winning is what it is all about.
CLT
Posted by Cliff Tuttle| October 8, 2018 | © 2018
No. 1,569
Reprinted below is a response to my Columbus Day post, No. 1,568, which was sent to me via the contact box on this blog.  It succinctly states the gist of the contemporary argument against honoring Columbus, which many view as a complicity in genocide.
This argument holds Columbus as a symbol of what was to happen during several centuries to follow. There is a political agenda behind this which has little to do with Columbus himself.  C0lumbus'  conquest of a few indigenous people and the violent killing it entailed cannot be equated to the premeditated genocidal programs of Hitler or Stalin.  To follow this chain of logic would ultimately lead us to the absurdity of wholesale condemnation of almost everyone who led an army in conquest. We need to recognize that our ancestors lived in a vastly different world and frequently believed that their perceived enemy would quickly kill them, if given the opportunity.
I have omitted the name of the writer because I don't know if he wants to be identified.  If he does, I'll be glad to identify him.
"Hello Mr. Tuttle,
I read your post about Columbus Day and I think there's been a fundamental misunderstanding. No one is saying that what Columbus did was not historically significant; we are saying it was an atrocity. The beginning of the "golden age" that you speak of was the genocide of the Native American people. You talk about being lucky to live in this age, but ignore the millions of indigenous people who were murdered and continue to suffer the consequences of colonization. The argument is not "we should stop celebrating Columbus day because it doesn't matter", but rather, "it is wrong to celebrate and glorify a genocidal warlord". In the same way that it would be unthinkable to honor Hitler or Stalin with a day of celebration, it is inappropriate to honor Columbus, who perpetrated crimes just as violent as the former two, only against non-european victims. I truly hope you will consider the deeper nuances surrounding this issue, and the direct effects of Columbus's actions which can still be felt in the forms of residential schools, indigenous child theft, forced sterilization, and so much more which I am sure you have the resources to familiarize yourself with. This is more than just the simple name of a childhood holiday; this is about celebrating and condoning the decimation of an entire race of people.
Thank you for your time."
Posted by Cliff Tuttle| October 7, 2018 | © 2018
No. 1,568
Here's a list of Holidays in the Court of Common Pleas of Allegheny County, beginning with Columbus Day, celebrated tomorrow.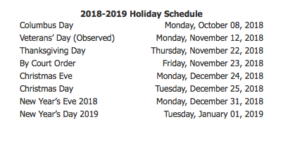 Yes, it is still Columbus Day in good old antediluvian Pennsylvania.  Unlike the Wise Solons who run Columbus Ohio, we haven't renamed it to Indigenous Peoples Day yet.  And the Federal Government hasn't gotten around to changing the name of the holiday either.
Columbus was a man of his time.  Those who condemn him for not living up to the standards of the 21st Century "don't know much about history book."  The same group is busy removing the name of founders like Padre Junipero Serra from streets and buildings at Stanford University or  distinguished alumni like  John C. Calhoun from the place where he studied at Yale. (They were both slave owners in an age when the practice was legal.)
Frankly, I think it is very likely that it us, the sanctimonious icon-smashers who will look foolish in the long perspective of history.
Do you really believe that if you do not destroy monuments that you thereby implicitly agree with and honor the late medieval political views of a great discoverer or want to repeal the Thirteenth Amendment?
Christopher Columbus was a great historical figure. He opened the New World to European civilization which, like it or not, was a singular historical event. We, who are privileged to inherit the Golden Age that was begun in 1492, are sophisticated enough to recognize the difference between great accomplishments and outmoded ideas. Or at least some of us are.
Keep it Columbus Day.
CLT
Posted by Cliff Tuttle| October 7, 2018 | © 2018
No. 1,567
Posted by Cliff Tuttle| October 6, 2018 | © 2018
No. 1,566
This story is almost unbelievable, unless  the artist is the famous street artist Banksey. Hat tip to Marginal Revolution.   Click here.
Posted by Cliff Tuttle| October 6, 2018 | © 2018
No. 1,565
You can order it at the Decal and Patch Shop on Etsy.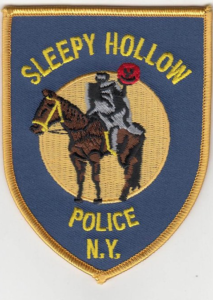 keep looking »