Posted by Cliff Tuttle| April 17, 2017 | © 2017
No. 1,315
Since I discovered Judge Kopf's post yesterday, (see post below) I added Mimesis to my regular reading list. I found this thoughtful analysis of a one year prison sentence for the killer of a puppy.  I suppose we should feel conflicted about prison sentences for even the most extreme cases of animal cruelty.  But, at least on a visceral level, I don't.  Deliberately killing someone's beloved pet is an act of violence against the owner.  Anyone who has grieved over a dear companion knows what I am talking about.  And I can think of other felonies that are not as evil or cruel.
CLT
Posted by Cliff Tuttle| April 16, 2017 | © 2017
No. 1,314
I knew it couldn't last.
Judge Richard Kopf, a Senior United States District Judge in Nebraska, is blogging again.
He shut down his long-time site,Hercules and the Umpire, a couple of years ago because court employees stated in a poll that they thought that the blog reflected poorly on the reputation of the court. He also created a few mild earthquakes when he ventured into the swampy ground of politics.
Yes, there's a world of literary, artistic and creative endeavors that wouldn't exist if we insist that people like judges refrain from coloring outside the lines.  Or, as Craig Jarrow of Time Management Ninja occasionally observes, average is a polite synonym for mediocre.
So now, thanks to the restless imagination of Judge Richard Kopf, we have him contributing his thoughts on life and law in Mimesis Law, subtitled "New Fault Lines Website."
According to the credits, Mimesis Law is a blog with various contributors.  However, the link above contains only Judge Kopf's contributions.
Here's a sample of the wisdom and entertainment we might lose by muzzling the likes of Judge Kopf:
THE PROPER RESPONSE WHEN AN OFFENDER LAUGHS AT A JUDGE DURING SENTENCING
Oct. 28, 2015 (Mimesis Law) — "Ruling upholds extra prison time for felon who laughed during sentencing."
So wrote the estimable Howard Bashman yesterday, linking to the opinion and the breathless news coverage.  That got me thinking.
Not often, but within the last week for example, a defendant has laughed at me during sentencing. While I have a flash of anger, I have never sentenced someone to a longer prison term because of such behavior.  Why? 'Cause I always think of the following incident.
I remember an obese judge in these parts whose docket consisted of a fairly large number of professional prostitutes. He tired of seeing one in particular. Thus, he sentenced the prostitute to jail rather than the customary fine.
The lady of the evening then responded, "You're a fat fuck!" She added, "I suppose your're gonna give me more time."
The overweight judge paused. Then said, "No, madam, truth is an absolute defense!"
As judges, maybe, just maybe, we ought not to take ourselves so seriously. But, what do I know?
Richard G. Kopf
Senior United States District Judge
FOOTNOTE: as defined in Wikipedia
Mimesis (/maɪˈmiːsəs/; Ancient Greek: μίμησις (mīmēsis), from μιμεῖσθαι (mīmeisthai), "to imitate," from μῖμος (mimos), "imitator, actor") is a critical and philosophical term that carries a wide range of meanings, which include imitation, representation, mimicry, imitatio, receptivity, nonsensuous similarity, the act of resembling, the act of expression, and the presentation of the self.
CLT
Category:
Blawging
,
Criminal Law
Comments Off

on Judge Richard Kopf: Still Crazy After All These Years
Posted by Cliff Tuttle| April 15, 2017 | © 2017
No. 1,313
The following is a seminar presentation I gave for the Continuing Legal Education program sponsored by the Community College of Allegheny County on April 10, 2017.
IMPLIED COVENANT OF QUIET ENJOYMENT IN PENNSYLVANIA
Rise of the Implied Warranty of Habitability
Everybody knows about the Warranty of Habitability.  The landmark case in the Supreme Court, Pugh v Holmes, 486 Pa. 272, 405 A.2d 897 (1979), changed the law of landlord-tenant in Pennsylvania by abolishing the doctrine of caveat emptor.  This rule, which was characterized in that case as "feudal" was formally adopted by the Pennsylvania Supreme Court in an opinion authored by Justice Larson, as the law in Pennsylvania in Moore v Weber, 71 Pa. 429 (1872). Moore held: "The lessee's eyes are his bargain. He is bound to examine the premises he rents and secure himself by covenants to repair."  Unfortunately, the bargaining power was so highly weighted in favor of the landlord that covenants to repair are often completely absent from residential leases.
Implied warranty of habitability, however, was a trend that was well on its way before Pugh v Holmes. In 1972, the Supreme Court abolished caveat emptor in home builder-vendor contracts in Elderton v. Gaster, 447 Pa. 118, 288 A.2d 771 (1972). Shortly thereafter, the Supreme Court applied the Unfair Trade Practices Consumer Protection Law to residential leases in Commonwealth v. Monumental Properties, Inc. 459 Pa. 450, 329 A2d 812 (1974).
By the time Pennsylvania was ready to adopt the Habitability rule, it had become the law in a growing number of states.  Despite the fact that the Supreme Court had not overruled the line of cases that followed Moore v Weber, the Superior Court declared in its Pugh v Holmes opinion (thereafter affirmed by the Supreme Court): "we hold that caveat emptor is no longer applicable to residential leases and that an implied warranty of habitability will apply to all such leases."  253 Pa. Super. 76, 384 A.2d 1234 (1978).
History of Implied Covenant of Quiet Enjoyment
The parallel doctrine of Implied Covenant of Quiet Enjoyment, by contrast, had been the law in Pennsylvania for a long time by the time Habitability was taking root. A 1912 case, Weighley v Muller, 51 Pa Super. 125 (1912), the court observed: "If a tenant is entitled to the beneficial enjoyment of the premises under the terms of his lease, and if he is deprived of this buy the act of the landlord, it amounts to an eviction, and will suspend the rent."
In Minnich v. Kauffman, 265 Pa. 321, 108 A. 597 (1919) stated that in every lease of real property there will be an implied covenant of quiet enjoyment.  Even earlier, the Superior Court held in Einfeld v. Shermer, 56 Pa. Super 4 (1914), that the covenant was breached when a tenant's possession is impaired by acts of the lessor or acts of those acting under them, or the holder of a better title.
Less than two years before Pugh v Holmes, the Superior Court applied the Quiet Enjoyment doctrine in the very interesting case of Pollock v. Morelli, 245 Pa. Super 388, 369 A.2d 458 (1976).
Eugene Pollock purchased a dry-cleaning business in the Great Valley Shopping Center in 1971.  As part of the transaction, Pollock acquired a 7 ½ year lease. At that time the shopping center was configured in an L shape.  The Plaintiff's cleaning business was located where the two legs of the shopping center came together.  This was a very convenient location for the cleaner's shop, since patrons could park in two nearby lots and as close as 20 feet from the door. In addition, the store's overhead sign and show windows were quite visible.
However, later that same year, without notice to Pollock, the landlord began construction of a 'mini-mall" in which new stores were built in the parking area immediately in front of the cleaners. Thus, the cleaners ended up in the inside of the mall with no direct access to and from the parking lot.
As a practical matter, the customers of the cleaners could no longer carry their laundry a short distance between automobile and the counter.  A convenient laundry drop-off or pick up was no longer possible. The nearest parking spaces were 100 feet away. Moreover, it was no longer visible from the parking lot.  The landlord released Pollock from the remainder of the lease and the cleaners shop moved out.  However, the issues of liability and damages remained.
The Superior Court held, citing Kelly v. Miller, 249 Pa.  314, 94 A. 1055 (1915): "There is an implied covenant of quiet enjoyment of the demised premises, and it is settled in this State that any wrongful act of the landlord which results in an interference of the Tenant's possession, in whole or in part, is an eviction for which the landlord is liable in damages to the tenant." This includes locking up the premises or altering essential features so as to render them unsuitable for the purpose for which it was leased. These openings "were part of the demised premises at the date of the lease and any change in them to the detriment of the tenant was a violation of the lease's implied covenant for the quiet enjoyment of the property." Kelly v. Miller at 317, 94 A. at 1056.
"Appellants point to the construction of the mini mall as a substantial alteration of the leased premises, detrimental to the business which the parties understood would be conducted thereon, and contend that this action by the landlord breached the covenant of quiet enjoyment. It is pointed out that when the store was leased for a dry-cleaning establishment it was an outside store with a prominent display window and easily accessible parking for customers. All these features made the property desirable for the location of a dry cleaning enterprise. The store was visible to potential customers using the supermarket and the rest of the shopping center, the working cleaning plant could be observed through the window, and advertisements could be displayed. Customers carrying clothes to and from the establishment would find the adjacent parking lot convenient. Each of these valuable features were lost upon construction of the mini mall. The once open, visible and accessible store is now surrounded, enclosed and cut off, without prior knowledge or consent on the part of the tenant, as effectively as if appellants were suddenly moved to an entirely different location. Furthermore, the construction itself with its attendant obstruction and confusion is indicated by appellants as a disruption of their business."
What Kind of Acts Constitute a Breach of the Covenant?
Partially Blocking Access
In Checker Oil Co. v. Hogg, 380 A.2d 815 (1977), the Superior Court held that  construction of a guard rail that blocked one of two existing access points to a gas station constituted a violation of an express covenant of quiet enjoyment and caused the rent to abate.  Moreover, the transferee of the lessor's rights and duties was bound by the covenant, which runs with the land. The fact that there was another access point did not change the outcome.  The impairment of the lessee's possession need not be total, but the utility of the premises must be substantially decreased by the landlord's interference with a right or privilege which is necessary to the enjoyment of the premises. Kelly v. Miller, Pollock v. Morelli.
"Appellee's argument that the law does not require a landowner to maintain access between his property and an adjoining public highway conveniently ignores the fact that, during the term of the lease, the property is not legally his to do with as he pleases. 'When land is leased to a tenant, the law of property regards the lease as equivalent to a sale of the premises for the term.'" Commonwealth v. Monumental Properties.
Legal Action
In Kohl v PNC, 912 A.2d 237 (2006) the Supreme Court endorsed the test applied by the Superior Court stating that "a suit by a landlord which substantially impairs a tenant's possessory interest in a leasehold, brought in bad faith, maliciously, or otherwise without probable cause and primarily for a purpose unrelated to seeking legal redress, constitutes a breach of the landlord's covenant of quiet enjoyment." Kohl v. PNC Bank Nat'l Ass'n., 863 A.2d 23, 31 (Pa.Super.2004). The Superior Court had found that did not support the trial court's determination that the litigation is a breach of the covenant of quiet enjoyment.  The lower court had noted that the litigation, which continued for ten years, involved an equity count, which meant that the property could not be sold.
In 1352 Lofts Property Corp. v. Bobby Chez of PA, LLC, 855 F. Supp. 2d 367 (2012) When a foreclosure action was brought against the landlord, Tenant alleged that it had breached the covenant of quiet enjoyment.  The Court stated:
"Defendants also argue that Plaintiff terminated the Lease by breaching the covenant of quiet enjoyment. In Pennsylvania, every lease contains an implied covenant of quiet enjoyment. Kohl v. PNC Bank Nat'l Ass'n, 590 Pa. 151, 912 A.2d 237, 248 (2006). Here, there is an express covenant of quiet enjoyment contained in paragraph 31.8 of the Lease. This paragraph provides: "Upon Tenant paying the Rent reserved hereunder and observing and performing all of the covenants, conditions and provisions on Tenant's part to be observed and performed hereunder, Tenant shall peaceably and quietly hold and enjoy the Premise for the entire Term hereof, without hindrance or interruption by Landlord or any other person claiming by, through, or under Landlord, subject to all the provisions of this Lease and any mortgage to which this Lease is subordinate." (Doc. No. 22-4, Ex. F ¶ 31.8.)
Pennsylvania law has long recognized that a wrongful act by the lessor that interferes with the lessee's possession, in whole or in part, breaches the covenant of quiet enjoyment and results in a termination of the lease agreement. Kohl, 912 A.2d at 248-49 (citing Kelly v. Miller, 249 Pa. 314, 94 A. 1055, 1056 (1915)). According to Defendants, Plaintiff breached this covenant when notices of the sheriff's sale were posted in the windows of the Property because the notices "had a substantial detrimental effect" on Bobby Chez's business. However, the Court is unpersuaded that the covenant of quiet enjoyment, whether express or implied, was breached, even when reviewing the facts alleged in the light most favorable to Bobby Chez.
As part of the mortgage foreclosure proceedings, Rimas was required to post notice of the sheriff's sale. Under the express terms of the quiet enjoyment covenant in paragraph 31.8 of the Lease, this posting was permissible because the covenant terms acknowledge that the Lease is subordinate to the mortgage. Further, Defendants have not alleged any facts to support the claim that the notices had a "substantial detrimental effect" on their possession of the Property, as they allege in their brief in opposition to Plaintiff's Motion. Even if notices were posted on the premises, customers of Defendant Bobby Chez could enter and leave the premises at their pleasure, employees of Bobby Chez could continue to do their job, and the business could continue to operate without interruption.
The following cases from other states were noted in Pollock:
In Lott, the court held that defendant had only the right to use whatever spaces were available in the parking lot, together with others and loss two spaces was not a substantial deprivation of quiet enjoyment.
Does Quiet Enjoyment mean that the Landlord must evict or restrain troublesome co-tenants?
No Pennsylvania cases have addressed this issue — yet, but the matter is thoroughly discussed by the Court of Special Appeals of Maryland in Bocchini v Gorn Management Co. 99 Md. App. 1, 515 A.2d 1179 (1986).
The Pennsylvania case of Sears Roebuck & Company v. 69th Street Retail Mall, LP, 126 A.3d 959, 2015 PA Super. 206 (2015) contains facts that are similar to a typical residential habitability case. In an opinion written by Judge David Wecht (since elected to the Supreme Court) it also addressed the question whether and when constructive eviction could occur when the tenant delayed moving out, while continuing to demand that the landlord make repairs.
In Bocchini, the lease contained a prohibition against noise, which made it an express covenant of quiet enjoyment.  Leases often contain a large number of such prohibitions, many or most of which are matters that can be expected to annoy the neighbors. Does the LL have a duty to enforce these prohibitions, especially when they have complaining tenants.
The Pennsylvania case of Sears Roebuck & Company v. 69th Street Retail Mall, LP, 126 A.3d 959, 2015 PA Super. 206 (2015) contains facts that are similar to a typical residential habitability case. In an opinion written by Judge David Wecht (since elected to the Supreme Court) it also addressed the question whether and when constructive eviction could occur when the tenant delayed moving out, while continuing to demand that the landlord make repairs.
Sears sued 69th Street Retail Mall, LP and a group of other entities who were connected with the ownership, marketing and maintenance of the Mall (the Group).  Sears alleged that it had been constructively evicted by the Group due to failure over years to maintain the building and the parking garage where its store was located. As a result, Sears contended, it was required to abandon the building. The deficiencies included, inter alia, deficient lighting and electrical systems in the parking deck, deteriorated structural aspects on the parking deck, water and sewer leaks, sewage back up inside the store, deterioration of the façade and failure to maintain, clean and landscape the premises.
Sears issued a series of default notices.  The Group warned Sears against self-help remedies, which would in the opinion of the landlord, constitute acts of default.
The jury found in Sears' favor, awarding them the right to withhold rent from the time of constructive eviction.  It also awarded damages for intentional interference with contractual relations.
The Superior Court noted that the scope of appeal of denial of a judgment nov is quite narrow. "We may reverse only in the event the trial court abused its discretion or committed an error of law that controlled the outcome of the case."  The appellate court will only interfere if the judgment shocks the conscience.  The Superior Court indicated that its review of the facts and law did not support such a determination. It stated that there were no Pennsylvania cases involving the level of landlord misconduct involved here. These cases are either based on more egregious actions or actions of a much less serious nature.  While Pollock was not a constructive eviction, because the tenant surrendered possession with the landlord's consent, the Court felt that it illustrated the violation of constructive enjoyment particularly well.
"We find guidance in our decision in Pollock. However, to contextualize our review of that case, we first must note that constructive eviction is one species of a violation of the lessee's right to quiet enjoyment. While one might gain relief for such a violation without being constructively evicted, one cannot be constructively evicted absent such a violation. In effect, constructive eviction occurs when a lessor's violation of a lessee's entitlement to quiet enjoyment is so extreme as to interfere seriously with the lessee's ability to use the leasehold as it was intended to be used, and the violation prompts the tenant to abandon the property within a reasonable amount of time. This explanation is necessary because Pollock involved a violation of the right to quiet enjoyment, not a constructive eviction. Nonetheless, Pollock provides guidance as to how a landlord's actions may constitute a crippling violation of a business tenant's right of quiet enjoyment, as reflected in its reliance upon numerous constructive eviction cases. . ."
The Court also concluded that the jury reasonably could have found that Sears vacated within a sufficient period of time to justify the conclusion that a constructive eviction had occurred.
"Furthermore, we find that a jury could have concluded that Sears vacated in a reasonable amount of time relative to the above-stated events. As did the tenant in Reste Realty, Sears exercised patience in seeking to remain in Appellants' increasingly dilapidated building rather than vacate at the first sign of trouble. It demonstrated faith in Appellants' willingness and ability to cure the maintenance issues when it renewed the Lease and rejected Appellants' buyout offers. It repeatedly remediated damage caused by Appellants' maintenance failures at its own expense. Under these circumstances, the jury reasonably could have concluded that Sears sought to adhere to the Lease until the thousandth cut finally prompted Sears to decide in December 2011 to begin the process of abandoning the Premises. That Sears did not physically vacate the Premises until May 2012 does not change our view. Packing up a department store is not a weekend's affair. As occurred in this case, an arduous process of winding down and liquidation must be undertaken to facilitate vacatur of the premises. As the court cautioned in Reste Realty, it is incumbent upon courts to be sympathetic to the facts and circumstances of a given case. In this case, the scale of the Premises and Sears' operations therein provided a sufficient basis for a jury to have determined that Sears vacated reasonably promptly under the circumstances."
The Appellants also claimed that the express language of the lease prevented Sears from refusing to pay rent and claiming constructive eviction.  The Court rejected this argument as unpersuasive.
"While they are correct that the Lease provided for tenant self-help and entitled Sears to seek reimbursement of the costs thereof, see Lease at 22-23 § 13, that does not, by itself, insulate Appellants from a constructive eviction claim and the associated rent-abatement. Our review of the cited provisions, which, given the deficiencies in Appellants' argument we shall not review at length, shows only that the Lease immunized Appellants from liability for "consequential damages or damages for loss of business" derived from its own nonperformance. Lease at 36 § 27(g); see id. at 23 § 13 (same). Moreover, the Lease expressly provided that the Landlord's breach of various covenants, including those at issue in this case, "shall be deemed a default of Landlord entitling Tenant to exercise its rights and remedies hereunder, or otherwise available at law or equity, including, without limitation, Tenant's right of self[-]help as set forth in Section 27(c)." Id. at 20 § 11(c) (emphasis added). Thus, the Lease appears to reflect the parties' intention that Sears would be entitled to pursue redress beyond self-help with reimbursement. Accordingly, this argument is unavailing."
The Court vacated the judgment and remanded for the lower court to consider whether punitive damages were authorized.
CLT
Posted by Cliff Tuttle| April 15, 2017 | © 2017
No. 1,312
I just learned about the Museum of the American Revolution, opening April 19 in Philadelphia and I want to go there as soon as possible.  I still haven't made it to the National Constitution Center and the Franklin — I need to go there too.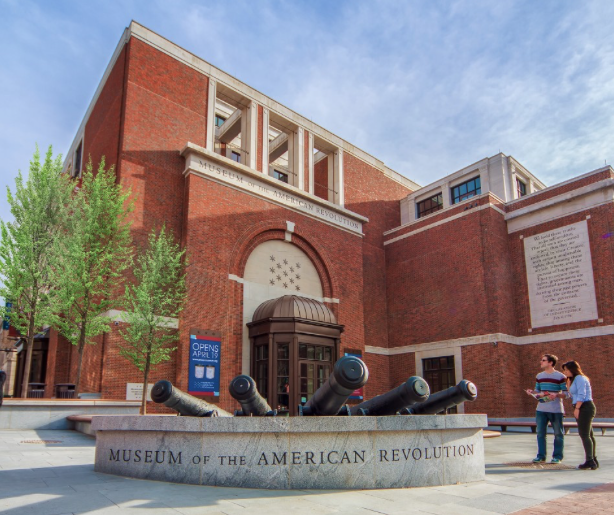 Posted by Cliff Tuttle| March 29, 2017 | © 2017
No. 1,311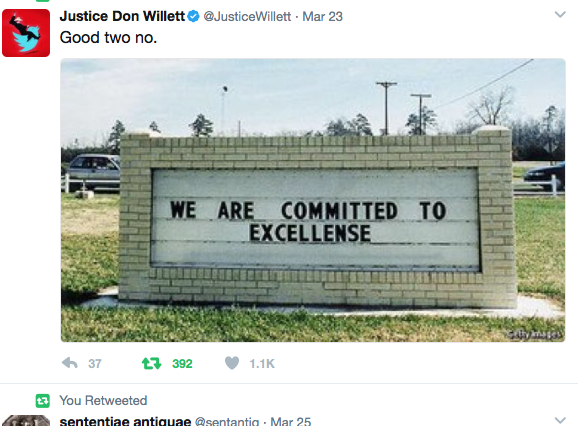 Posted by Cliff Tuttle| March 29, 2017 | © 2017
No. 1,310
HURRY! HURRY! Maybe this edition will be a collectors' treasure as a one of a kind rarity.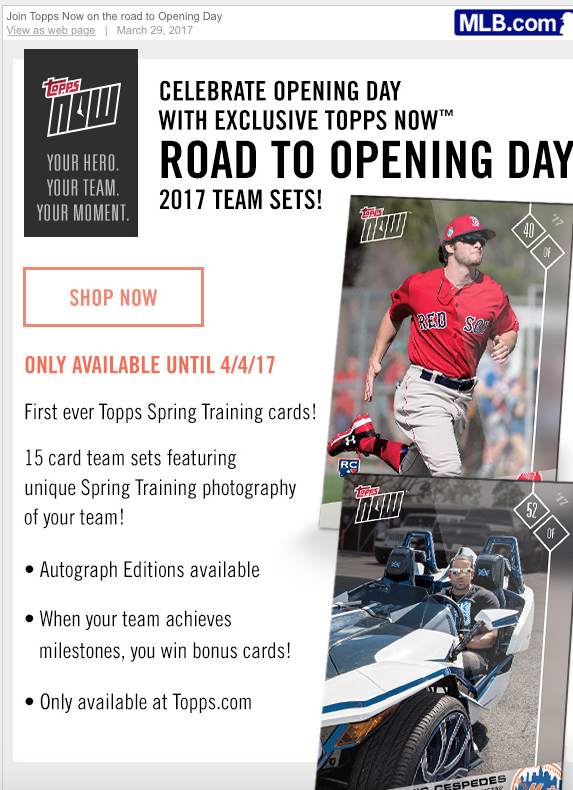 Category:
Uncategorized
Comments Off

on Spring has Sprung but This is Ridiculous: Spring Training Cards!
Posted by Cliff Tuttle| February 26, 2017 | © 2017
No. 1,309
COMMONWEALTH OF PENNSYLVANIA v. MARIO GIRON, SUPERIOR COURT, NO. 1300 EDA 2016, FILED JANUARY 31, 2017
"Appellant, Mario Giron, appeals from the judgment of sentence entered on April 15, 2016. In this case, we hold that, pursuant to Birchfield v. North Dakota, 136 S.Ct. 2160 (2016),[1] a defendant who refuses to provide a blood sample when requested by police is not subject to the enhanced penalties provided in 75 Pa.C.S.A. §§ 3803-3804. As Appellant was subjected to the enhanced penalties provided by sections 3803 and 3804 for refusing to provide a blood sample, his sentence was illegal and although we affirm his convictions, we are constrained to vacate his judgment of sentence and remand for re-sentencing."
Postscript: Related Tweet:
"I'm not too drunk to think, but just enough that it is hard To form any letters with my mouth" #Alexis
Excellent.  Don't.  Exercise your Constitutional Right.
CLT
Posted by Cliff Tuttle| February 26, 2017 | © 2017
No. 1308
On This Day. 1803: A hallmark of American
democracy—the principle of checks & balances—
was affirmed by Supreme Court in Marbury v. Madison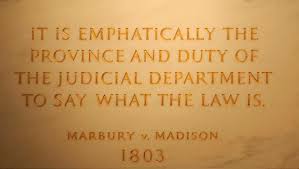 Posted by Cliff Tuttle| February 20, 2017 | © 2017
No. 1,307
Every few years on President's Day, somebody conducts a survey of history professors to determine the rankings of Presidents.  Lincoln always wins and Washington is always second.  The two Roosevelts follow behind.
There hasn't been much movement in these top ranks.  James Buchanan has been ranked at the bottom of this poll.  The reason, of course, is that he presided over the years in which the United States slid into the Civil War.
There is no question that Buchanan provided very little leadership during this critical time.  However, it is doubtful that Buchanan or anyone else could have prevented the Civil War. While his administration had few accomplishments, there are many others that could claim the prize for least accomplished.  On the other hand, Buchanan had an excellent resume — he had held many high offices, including Secretary of State.
Despite all of that, there are a handful of Presidents who accomplished even less in office.  William Henry Harrison caught pneumonia in the Inaugural Parade and died shortly afterward. James A. Garfield was assassinated relatively early in his administration and never had an opportunity to exercise leadership.
The Vice Presidents who succeeded these two were not, very frankly, Presidential timber — Tyler and Arthur.  And then there was Andrew Johnson, who succeeded Lincoln. All three of these ex-Vice Presidents were unprepared for the challenge and had very little political power.  They were swept aside by strong leaders in Congress and left almost no legacy.
Benjamin, the other Harrison, hated being President. He belongs in a trio of mediocres, including Filmore and Harding.
So who is the worst?  It depends on what you value most in a President.
Here's my ranking. Not the same as the C-Span Rankings.  Politics shouldn't play any role in these rankings.  Leadership should be the chief criterion.
Lincoln
Washington
FDR
Jefferson
Theodore Roosevelt
Eisenhower
Lyndon Johnson
Madison
Monroe
Polk
Reagan
Truman
Clinton
Jackson
JohnAdams
George H W Bush
Obama
Nixon
Cleveland
Taft
Carter
Wilson
John Quincy Adams
Hoover
McKinley
Kennedy
Van Buren
Taylor
George W Bush
Ford
Coolidge
Pierce
Hayes
Arthur
Benjamin Harrison
Fillmore
Tyler
Harding
Buchanan
Andrew Johnson
William Henry Harrison
Category:
History
Comments Off

on Who Is the Worst President?
Posted by Cliff Tuttle| February 20, 2017 | © 2017
No. 1,306
A colleague told me recently that he had received an unsolicited email from an alleged jobseeker.  At the bottom of the page was a link to his supposed resume.
You guessed it. My friend had fallen for a ransomware scheme and it was costly.  Lawyers are particularly vulnerable because there are client files that cannot be abandoned.
Two lessons.  Be extremely careful when clicking on any link.  But just as important, don't send unnecessary links in email to others.  They may just ditch the email.
I get unsolicited emails every day that are supposedly from Google, Apple, FedEx and other legitimate sources, some of which look pretty authentic. In addition, there are inquiries from potential clients.  Fortunately, most of phishy ones are still dead giveaways.  But times are changing and (in this respect) not for the better.
CLT
Category:
On-line Security
Comments Off

on Please Don't Send Me Emails with Links
« go back
—
keep looking »