Posted by Cliff Tuttle| May 5, 2018 | © 2018
No. 1,486
Here's a few things that may not make your to d0 list in a busy law practice:
 Update software.
File papers.
Put away files.
Review dockets.
Clean up the computer desk top.
Clean up the real-life desk top.
Scan documents.
Make notes on important items that cross your mind.
Send thank you emails, notes.
Get some sleep.
CLT
Posted by Cliff Tuttle| May 5, 2018 | © 2018
No. 1,485

The Pennsylvania Bar Association announced that it is taking over the mission of the Pennsylvania Bar Institute, which is being disbanded. Here is the report that appeared in the Legal Intelligencer.
If the mission of the Pennsylvania Bar Institute is not carried on, the members of the Pennsylvania Bar and their clients will be the big losers.  The general opinion is that PBI could not break even because a large number of Continuing Legal Education providers are offering for-credit programs at lower cost or even free of charge.
Everyone who takes continuing legal education classes would have to acknowledge that the PBI has provided high quality programs that cover a broad range of practice topics.  The printed materials are excellent and many lawyers stock their libraries with them for reference.  While other providers put out programs of differing quality, it is fair to say that all of them together do not cover Pennsylvania practice as well as PBI.  The best and most experience lawyers in this Commonwealth have traditionally donated their time, knowledge and brain power to informing fellow members of the Bar.  This is a resource we cannot lose.
We lawyers need to fix this.  And we need to do it without delay. But how?  One way might be for county bar associations and educational institutions across the Commonwealth to jointly put together programs with the high standards of PBI.
Unless the Pennsylvania Bar Association acts decisively, whatever rushes in to fill the vacuum will probably not be as good and may ultimately become more expensive.
CLT
Category:
Legal Education
Comments Off

on After PBI Will the Quality of Continuing Legal Education Suffer?
Posted by Cliff Tuttle| May 3, 2018 | © 2018
No. 1,484
In a surprise move the Pennsylvania Bar Association Board of Governors voted to disband the PBI.
Here is the full article, published in Law 360, this evening.
Pennsylvania Bar To Dissolve Its Legal Education Arm
A mid-April vote to dismiss PBI's governing body and wind up the organization came in response to a performance audit that Sharon Lopez, the bar association's current president, said had uncovered what she called severe financial problems that required immediate action to begin to address.
But Dennis Whitaker, a partner at Hawke McKeon & Sniscak LLP who was removed as the president of PBI's board of directors as a result of last month's vote, told Law360 on Thursday that the takeover plan had come as both a complete surprise and despite what he said were viable plans to right the institute's finances.
"The action was unexpected and we all felt it was unwarranted," he said. "We were on a path to turn the organization around."
Whitaker said that the bar association's move to dissolve and absorb the institute, which has provided continuing legal education programming as an independent entity for more than half a century, was unveiled at a meeting between the leadership teams of the two organizations on April 11.
"We had no notice this was coming," Whitaker said.
A week later, on April 18, the bar association's board of governors voted to approve the proposal.
Ousted as part of the dissolution of the board were a number of legal luminaries in Pennsylvania, including two judges on the state's Commonwealth Court.
"This isn't a fly-by-night bunch of people," Whitaker said. "It wasn't like this was a bunch of people who had no clue about what to do."
Also out following the shake-up was PBI's full-time Executive Director Richard McCoy, who had spent close to 40 years at the institute.
"I think it was very disappointing," McCoy said.
Other members of PBI's now-disbanded board said they were similarly taken by surprise at news of the organization's dissolution.
"I was shocked," said Daniel Siegel, the head of a three-attorney firm outside Philadelphia who said he served on the PBI board for about a year and a half before it was dissolved last month. "There were rumors that something might happen, but I don't think anyone expected it."
Whitaker said the ultimate decision to abolish PBI had been a surprise, but he said he was aware of ongoing concerns from the bar association's leadership about several years' worth of red ink for the organization.
After two consecutive years in which Lopez, the head of Lancaster-based Triquetra Law, said PBI had been forced to tap into reserve funding to the tune of some half a million dollars, she said that the bar association's board voted in January to begin a performance audit.
A final report returned at the beginning of April, she said, revealed significant problems.
"What we saw when we looked at the audit was the need for a nimble change, the need for an immediate change and the need for leadership that had more urgency to it than what we were witnessing," she said.
She admitted that the decision to dissolve PBI came quickly, but she said it underscored the severity of the institute's financial problems.
"The fact that it was done that expeditiously should be an indicator of how serious and impactful the findings were in the audit," Lopez said, adding that she personally reached out to members of the board after the vote and sent a letter aimed at explaining the move.
The shake-up was not formally announced, however, until PBA issued a press release on Thursday a day after being contacted by Law360 about the institute's dissolution.
At the heart of PBI's recent financial woes, both Lopez and Whitaker agreed, was the rapidly evolving marketplace for continuing legal education programming across the country.
With continuing legal education credits being offered for free or at extremely low cost by law firms and other organizations, and with the Pennsylvania Supreme Court's move in recent years to allow more credits to be notched through online programming, they said that there was less appetite for the sort of comprehensive, in-person training traditionally put on by PBI.
"That all started to eat into PBI's bottom line," Whitaker said.
But Lopez said that the bar association's concerns about PBI's financial performance had been clearly communicated to the organization for years and there had been quarterly meetings between leaders of the two groups to discuss the problem.
"We definitely had been meeting with the officers," she said. "We definitely had been giving them our concerns about it and had been asking very pointed questions about their business model and marketing strategies and plans for change."
Where PBI's former leadership team and Lopez disagree, however, is on whether the institute was in the right position to evolve with the marketplace.
McCoy said PBI had put significant resources in recent years to updating its software and revamping its website to offer on-demand continuing legal education programs that could be streamed online.
"We had put all of the infrastructure in place to compete in this new marketplace that we've come into, and we were poised to do that," he said. "I think the bar association sort of ran out of patience."
At the heart of the move, Lopez said, was a desire to preserve the high-quality programming that PBI has become known for over the years.
"It's important to us that it exists and that it continue to provide the gold standard education that lawyers and consumers have come to expect," she said.
What exactly continuing legal education offerings through the bar association will look like after PBI is formally dissolved later this year, however, remains unclear.
"The way I envision it is the big picture changes will likely include some reduction in the diversity of [continuing legal education]; it might include some reduction in live programming of [continuing legal education] in multiple locations; it might include greater access to simulcast or downloading of [continuing legal education]," she said. "We're not at a point where I can even tell you what that would look like, because we're still in the assessment period."
Whatever changes might be needed to right the operation's finances, Siegel said he hopes that the quality of PBI's brand will not be effected.
"The PBI name is an important name," he said. "It is and has always been considered one of the finest providers of [continuing legal education] in the country, and I don't want to see anything happen to that name."
–Editing by Stephen Berg.
Category:
Uncategorized
Comments Off

on PA Bar Governors Vote to Disband Pa Bar Institute
Posted by Cliff Tuttle| May 1, 2018 | © 2018
No. 1,483
Here's a thought to mull over, if you wish.
The culture that develops in most groups, including law firms, develops without anyone planning it to be that way.  Consider what's right or wrong about the culture of your office.  What should change?  How can you help make it happen?
CLT
Category:
Decision making
Comments Off

on Fifty one words on Culture By Default.
Posted by Cliff Tuttle| May 1, 2018 | © 2018
No. 1,482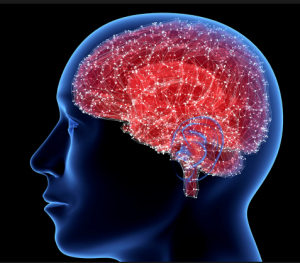 Yes, mind monitoring is not only technologically feasible, it is actually in use in various places around the world, especially in China.  Here is a Chinese newspaper article (in English of course) that explains how employers use sensors installed in hats and caps to monitor brain waves.  This can enable the boss to detect when a worker is about to fall asleep on the job or is in need of break time.  It is reported to result in greater productivity and thus greater profits.
A light-weight electronic monitor in a pilot's cap can inform the airline whether he is mentally fit to fly a plane.  Apparently, it can detect if one is drunk or on drugs or preoccupied with personal problems.  The company wants to know that pilots and others whose job requires full attention are fully awake, alert and ready to rock and roll.  What's wrong with that?
What's right with that?
Presumably, these employees consent to having their brainwaves examined.  After all, they don't have to work at a certain factory and maybe they are even being compensated for the loss of privacy.  When work is over, they take off the cap and their mind is once again their own.  After all, the boss doesn't know what you are thinking, she only knows the brain wave types you are transmitting.  No harm in that, right?
Don't overlook the possibility that this technology might help detect anger, frustration or any of a host of negative emotions.  We can use it to screen dangerous employees, the kind that might go to the Christmas (excuse me, Holiday) party with a couple of semiautomatic weapons.  It might even help us to detect and prevent sexual harassment and other undesirable behavior in the workplace.
With all these societal benefits available, who could complain?  Privacy is just another word for selfishness, isn't it? Wrap your mind around that one.
In America, since we have certain, er, cultural qualms to overcome, it will be necessary to take a different approach.  We will have to make this technology available to individuals to use to improve their personal productivity. What is unacceptable when imposed from above, will be happily self-administered. That's the ticket!
Then, one day, we will learn that there has been a security breach somewhere and someone has mined our minds.
CLT
Category:
Personal Privacy
Comments Off

on Wake Up! Mind Monitoring Tech is Used by Employers, Especially in China.
Posted by Cliff Tuttle| April 29, 2018 | © 2018
No. 1,481
Art must be accepted on its own terms.  So, Avengers: Infinity War must be judged within the superhero genre developed by Marvel Studios. I don't have the right to have an opinion on that subject. I guess I am just not a fan.
It seems to me to be one too-long special effects fireworks display on film. I like pyrotechnics, but not for two  hours.  I appreciate that the characters poke ribald fun at themselves in a brutal, no-rules way, but I must admit that I don't get the joke half the time. I'm not so sure about the hoards of ten year olds  that were out too late without parental supervision.
I read that many fans were broken-hearted by the mass killing of so many superheroes. Don't grieve. Death is only a minor setback in the world of Marvel.
I think I'll go watch my favorite show now; "Call the Midwife,"
CLT
Posted by Cliff Tuttle| April 29, 2018 | © 2018
No. 1,480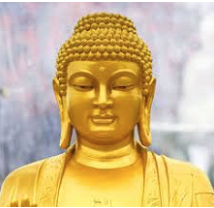 I read a lot of stuff on the internet extolling the value of living in the present.  It is an idea that was undoubtedly an ancient one when the Buddha, about 2,500 years ago advised:
Do not dwell in the past, do not dream of the future, concentrate the mind on the present moment.
Of course, it is impossible to block all thoughts of the future or the past and it is doubtful that any rational human would wish to do so.  We appreciate the value of presence of mind, but actually attaining that mental state is another matter.
Consider driving.  Driving is dangerous business.  You and I travel at speeds that would have terrified our ancestors a couple of centuries ago.  If you make a mistake or if someone in another vehicle makes one, the cost can be tremendous.  Property damage, serious injury, death.  Even if you concentrate single-mindedly on the process of driving, you cannot fully eliminate the risk. Other people are out there, too.  Some of them are drunk, very tired or concentrating on text messages.  Even if you try to eliminate every distraction, your mind automatically visualizes other things  and for a few moments you are looking at that mental image, not the road. In a sense, if you drive long enough, you are absolutely certain to have some kind of an accident. Hopefully, you won't need to drive too much in a lifetime and so, inevitably encounter the end of the road.
While you can't and shouldn't banish all thinking about past and future events, you can exercise enough mental discipline to make a difference.  Practice watching the road.  Look for erratic drivers.  Look for erratic pedestrians. Concentrate on navigating through the maze you encounter as though you were playing an electronic game or sitting behind the console of a flight simulator. After all, this exercise is not a simulation. You won't be permitted to reboot after you crash. This is the real thing.
Now you get to your destination.  You carefully park.  You look in the back seat for your briefcase, which you carefully packed and then checked before you left.  As you walk to your destination, you are planning the route, remembering what you intend to do, remembering whom you will meet and what you want to say.  As you walk, you are still scanning the ground and the steps for the unanticipated pratfall.
There's quite enough going on to occupy the mind productively without thinking too much about unrelated and unimportant stuff while there is work to be done.  That's my interpretation of the word mindfulness.
CLT
Posted by Cliff Tuttle| April 28, 2018 | © 2018
No. 1,479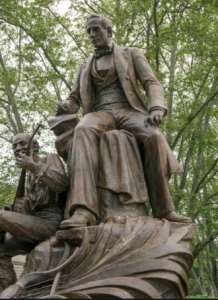 Why is no one protesting the removal of the statue of Stephen Foster, a Pittsburgh composer and an important figure in American history?  And why do the powers that be feel compelled to replace it with a statue of somebody (the candidates are all black women) whom you probably haven't heard about and who is selected exclusively to make a political statement?
The Wikipedia article about it has already been edited to note that Stephen Foster was unceremoniously hauled away to a warehouse on April 26, 2018. They even blocked the area so that no one could interfere with the workmen.  Who did they expect?  A white supremicist mob?  Or maybe a group of musicians?
The Mayor is quoted the the Post-Gazette to the effect that the statue is in too prominent a place  for its importance and will be eventually be placed somewhere more appropriate. Really?  You're kidding, Mr. Mayor, right? The statue used to be located in front of the Stephen Foster Memorial, That's a historical collection and performance auditorium at the University of Pittsburgh.  Why didn't Pitt claim the statue?  We know why.
Since the right to protest was denied at the time of removal of the statue, I suggest that a concert be conducted on the site, in front of the Foster Memorial. The sound of a hundred banjos playing Swanee River would be something to hear.
There is a statue of a woman nearby, though. It is located in front of the Museum of Art. An anonymous one.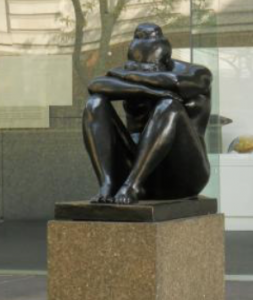 Across the street, in front of the Carnegie,  there are a few other statues, presumably protected, at least for now, by the fact that the City doesn't own the ground where they sit or stand.  These include Shakespeare, Galileo, Bach, Michaelangelo and oh yes, Dippy the Dinosaur.  There are a few more in Schenley Park, including Columbus, Robert Burns and George Westinghouse.  They might be white, dead men, but they are also great.  Except, of course, Dippy.
Category:
Uncategorized
Comments Off

on When Did Stephen Foster Become So Politically Incorrect?
Posted by Cliff Tuttle| April 27, 2018 | © 2018
No. 1,478
Of course, a tree cannot own land under the law, but everybody in Athens Georgia accepts the small testamentary land grant to a beloved tree, including the City, which maintains the tree.  Actually, the original tree, which was quite ancient, was destroyed in a wind storm in 1942 and community members planted a seedling decended from the original tree.  Locals call it the "Son of the Tree that Owns Itself." If you wish to endow your favorite tree or pet, establish a testamentary  trust.
Posted by Cliff Tuttle| April 25, 2018 | © 2018
No. 1,477
We all know that sports teams usually win more games at home than on the road.  While not the only factor, having a large, enthusiastic cheering section is a big reason.
Don't be stingy about offering encouragement to people in your life who are dealing with a challenge.  Tell them that they are not alone.  Tell them you are proud of their accomplishment.  Tell them that what they are doing makes a difference.  Save the criticism for later, if ever.
CLT
Category:
Uncategorized
Comments Off

on Eighty-two Words About Encouragement
« go back
—
keep looking »