Posted By Cliff Tuttle | June 19, 2011
No. 633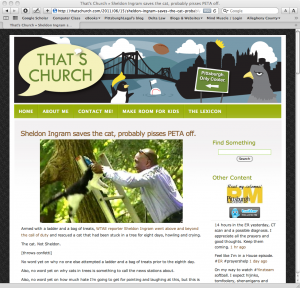 That's Church is the most entertaining, if irreverent and often bawdy, publication in Pittsburgh. The title is derived from an expression (which I have never heard used anywhere else) that is supposed to mean "that's the truth."  I think.
Anyway, the author of That's Church is the famous "Pittgirl" who has won the hearts and minds of a loyal corps of devotees in this town.  Her take-no-prisoners style is fun to read, often hilarious and yes, thought provoking.
I haven't read this column for a while, but I was planning to add it to my blogroll, in keeping with my increasing emphasis on things Pittsburgh.  But I discovered that she is very ill and has suspended writing the blog quite recently for that reason.
Hang in their Pittgirl and get well! We'll be praying for you in our own churches!
Until then, check out some back issues of That's Church in the blogroll.
CLT