Posted By Cliff Tuttle | October 25, 2011
No. 741
UPDATE:  Above the law bounced back today ( October 26) and reassumed the top spot.  China Law Blog is second.  As I surmised, Above the Law wasn't rated by Alexa.  This was the case with a significant number of other blogs, too.
*******************************************************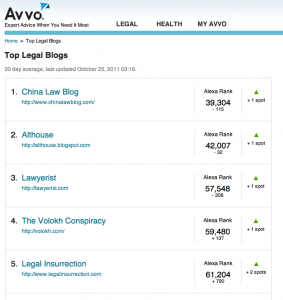 China Law Blog has moved into the top slot on the AVVO Blog rankings.  That spot has been held by Above the Law since the beginning of these rankings.  Actually, Above the Law fell off the rankings completely, probably because, for some reason,  the Alexa Ratings did not pick it up. This may be a more general glitch, since a substantial number of the most popular legal blogs recently fell to the bottom of the list.
China Law Blog contains a great deal of practical information for those seeking to do business in China and their lawyers. This blog has risen rapidly during the past year from somewhere in the pack. It is probably the only blog on the AVVO list that is read by a substantial number of readers in China. As a matter of fact, it has Alexa rank 39,304, which means that only 39,303 other sites of all kinds have attracted a larger audience around the world.
Althouse is holding steady at No. 2.  This blog, which contains a lot more politics than law, is written by a University of Wisconsin Law Prof with a conservative political viewpoint,  It also contains interesting material of general interest, including some excellent photography, and has a loyal cadre of readers who leave scores of comments.
Lawyerist is a favorite of PLBT.  It contains posts on practical lawyering, mostly written by guests.  They are short and direct to the point.
The Volokh Conspiracy is written by a group of law profs and always contains serious commentary on the leading cases of the day.  These included cases coming up before the US Supreme Court and those that represent trends. Today Volohk reports the transcript of a taped conversation between Nixon and Attorney General Mitchell on the appointment of Rhenquist. It was not one of Nixon's finest moments.
Legal Insurrection rounds out the current top five blawgs. It is also written by a law prof, but pitched to the general reader. Like Althouse, this blog has a decidedly conservative bent.
Pittsburgh Legal Back Talk currently ranks at a respectable 196 on a list of almost 500 blogs.  That represents an Alexa ranking of 5,655,988.