Posted By Cliff Tuttle | March 1, 2018
No. 1,432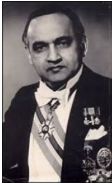 Yes, Guinness really did designate such a lawyer and his name is Lionel Luckhoo. No kidding.
Between 1940 and 1985, Barrister Luckhoo successfully defended 245 homicide cases in a row. A few of them had to be won on appeal. He practiced mostly in his native Guyana and in England.
Think of that.  Winning even a modest number of homicide cases is no small achievement.  Prosecutors, excellent ones,  win that many cases, not defense counsel. What a privilege it would have been to see this master litigator in action.
By contrast, Napoleon personally commanded 60 battles and only lost eight, mostly at the end.  Luckhoo won four times that number.
CLT