Posted By Cliff Tuttle | June 15, 2012
No. 851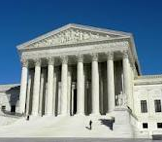 Everybody is waiting for the Supreme Court's decision on Obamacare.  But there are other important cases before the United States Supreme Court. Among them is First American Financial Corp. v. Edwards, Docket No. 10-708.
Scotusblog states the plain English issue of this case as follows:
Whether lawsuits under the Real Estate Settlement Procedures Act, which allows homebuyers to sue banks and title companies when they pay kickbacks for the closing of a mortgage loan, are constitutional if the kickback does not affect the price or quality of the services provided?
Referrals are the lifeblood of residential real estate.  By the nature of the business, settlement services and title insurance companies could not exist without a continuous flow of referrals. How to establish thiswithout violating RESPA is the dilemma. If Edwards prevails, RESPA plaintiffs will not have to prove economic harm from a kickback in order to get into court.
A decision for Edwards by the Supreme Court at this stage would only establish the right to sue.  It would not determine the result on the merits.   That would come after a trial.
CLT