Posted By Cliff Tuttle | June 3, 2012
No. 844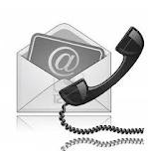 Email seems to be made for lawyers.  It is especially useful to solo practitioners who have long ago become their own secretaries. The time and money cost of sending and filing a letter has been reduced to a tiny fraction.  You may well send twenty or thirty of them a day, maybe more.
And yet, the same tool that enables you to be hundreds of times more productive than you were in the typewriter, paper, envelope, stamp, mailbox era — the technology miracle — can overwhelm you.  If you can send dozens, others can send you hundreds, thousands.  And, as we have all found out, you can be spammed into oblivion.
Julie A. Flemming, author of Seven Foundations of Time Mastery for Attorneys, lays out the rules for handling both the incoming and the outgoing.This includes when to use some other medium of communication.
She also suggests some rules for more effectively working the telephone.  They include making appointments for phone conferences and taking good notes while on a call.  Post-call emails, confirming the information discussed and conclusions reached can be especially productive.  Telephone is especially useful for back-and-forth discussions and email is an effect way to preserve and memorialize the outcome.
CLT