Posted By Cliff Tuttle | December 14, 2011
No. 771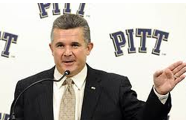 If we could only remember your name, we might sue you for breach of contract. Aha — Otto Graham! No, Martha Graham!
No, that's not right.
You'll always be remembered as the guy who sent a text message to one of the assistant coaches to say goodbye to the team, except of course, that we don't remember who you are — is it Billy Graham?  No, but I think we are getting warm. Alexander Graham Bell?  Getting cold.
Come to think of it, you won't be remembered for anything.  Hope they send a text to one of your assistants when they fire you at Texas Tech!  No, that can't be right.  We've forgotten the name of the place you went, too.
Oh well, that's basketball for you!
CLT