Posted By Cliff Tuttle | June 25, 2017
No. 1,334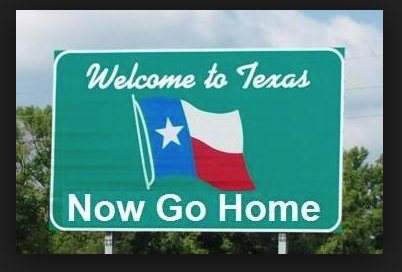 The State of California has a growing list of other states which it believes have enacted laws that discriminate against the LGBT. So says the Washington Post. One of the latest is Texas, which empowers adoption agencies to refuse to grant adoptions to persons believed to lack satisfactory religious convictions. The Texas provision is probably unconstitutional for a variety of reasons and will no doubt be tested in the Courts.
However, some Californians (in positions of power) can't wait for the wheels of justice to grind.  They have provided that State funds cannot be used to fund or sponsor travel to and certain other black listed States.
According to a press release dated June 22, 2017, California Attorney General Xavier Becerra  announced that California will prohibit state-funded and state-sponsored travel to Alabama, Kentucky, South Dakota and Texas based on discriminatory legislation enacted in each state. Tennessee, North Carolina, Mississippi and Kansas are already on the list.
"Our country has made great strides in dismantling prejudicial laws that have deprived too many of our fellow Americans of their precious rights. Sadly, that is not the case in all parts of our nation, even in the 21st century. I am announcing today that I am adding four states to the list of states where California-funded or sponsored travel will be restricted on account of the discriminatory nature of laws enacted by those states," said Attorney General Becerra. "While the California DOJ works to protect the rights of all our people, discriminatory laws in any part of our country send all of us several steps back. That's why when California said we would not tolerate discrimination against LGBTQ members of our community, we meant it."
Of course, it is old news that a host of professional and amateur sports organizations ganged up on North Carolina for its famous bathroom bill, HB2.  But this is a state acting against other states.  What if the target states started to make it reciprocal? This could get complicated very quickly.
But wait a minute! Haven't we been here before?  Isn't there a Constitutional right of interstate travel?
In Shapiro v. Thompson, 394 U.S. 618 (1969), Mr. Justice Brennan, in considering a regulation requiring a one-year waiting period for welfare benefits,  brought us up on the history of the concept:
"This Court long ago recognized that the nature of our Federal Union and our constitutional concepts of personal liberty unite to require that all citizens be free to travel throughout the length and breadth of our land uninhibited by statutes, rules, or regulations which unreasonably burden or restrict this movement. That proposition was early stated by Chief Justice Taney in the Passenger Cases, 7 How. 283, 492 (1849):
"For all the great purposes for which the Federal government was formed, we are one people, with one common country. We are all citizens of the United States; and, as members of the same community, must have the right to pass and repass through every part of it without interruption, as freely as in our own States."
We have no occasion to ascribe the source of this right to travel interstate to a particular constitutional provision. It suffices that, as MR. JUSTICE STEWART said for the Court in United States v. Guest, 383 U. S. 745, 757-758 (1966):
"The constitutional right to travel from one State to another . . . occupies a position fundamental to the concept of our Federal Union. It is a right that has been firmly established and repeatedly recognized.
". . . [T]he right finds no explicit mention in the Constitution. The reason, it has been suggested, is 631*631 that a right so elementary was conceived from the beginning to be a necessary concomitant of the stronger Union the Constitution created. In any event, freedom to travel throughout the United States has long been recognized as a basic right under the Constitution."
Thus, the purpose of deterring the in-migration of indigents cannot serve as justification for the classification created by the one-year waiting period, since that purpose is constitutionally impermissible. If a law has "no other purpose . . . than to chill the assertion of constitutional rights by penalizing those who choose to exercise them, then it [is] patently unconstitutional." United States v. Jackson, 390 U. S. 570, 581 (1968)."
The right of citizens to travel, and thus the prohibition of the states to impede that right, has been interpreted to flow from the Privileges and Immunities Clause, Article IV, Section 2. See Corfield v Coryell, 6 Fed. Cas. 546, No. 3230 C.C.E.D.Pa. 1823. In some cases, it may also be protected under the Fourteenth Amendment.
In addition, the provision is very likely a violation of Article I, Section 8, the Commerce Clause, per Edwards v. California,  314 U.S. 160 (1941). In that case, California had made it a crime during the Depression to transport a pauper into the state.
This is not new stuff.  Yet as times and politics change, the old becomes new again.  See you in court, California.
CLT