Posted By Cliff Tuttle | October 12, 2011
No. 735
You are looking at the marble counter at the Department of Court Records, Criminal Division, formerly known as the Clerk of Courts.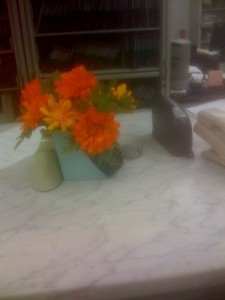 What do you see on the countertop?
It looks like a vase of flowers, doesn't it?   But its not.  Its a container of pens for people to fill out summary appeal forms.
Each pen has a plastic flower taped to it.  Think about it — this is the Criminal Division.  How to keep people from pocketing the pens?  That's right.
CLT