Posted By Cliff Tuttle | July 16, 2011
No. 650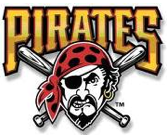 What is the difference between being first and being second?  Luck usually.
LeBron James took the Heat to the NBA Championship and declared himself and his team a failure because they lost. Perhaps they were and he was, but not because they lost.  LeBron was a failure because he said so.
The Pittsburgh Pirates spent, how many? — eighteen seasons on the bottom of the heap.  Yesterday, on the first day after the All Star Game, they were tied for first place for one day.  Perhaps it will not happen again all season.  Perhaps it will not happen again for years.  But would that make them a failure?  Not hardly.
Being first is overrated.  Being good, truly good, at what you do cannot be overrated.  First is wonderful.  But if you consider yourself to have failed because someone else came in first you deprive yourself of the pride in excellence.
Clint Hurdle told the team not to concentrate on the standings, but to focus on winning each game, one at a time.  From what I can see, the 2011 Pittsburgh Pirates are not in danger of falling into the LeBron James trap.  And neither should we.
CLT