Posted By Cliff Tuttle | December 6, 2011
No. 768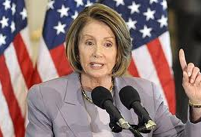 So, according to news reports, former Speaker Pelosi threatened to reveal 1,000 pages of records from the House EthicsCommittee when it investigated Newt Gingrich.
Dumb, dumb , dumb!  Its just like the who-dun-it character who, in Chapter One, threatens to kill the poor bastard who is eventually murdered in Chapter Two or Three. When the material eventually leaks, who do you think they will blame?
Bad, bad, bad!  Its unethical to reveal the proceedings of the Ethics Committee — it might even be a crime.
Just sayin'.
CLT