Posted By Cliff Tuttle | February 14, 2018
No. 1,417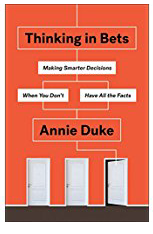 When our team wins, how often do we admit it was luck?  Almost never.
But we are guilty of thinking that a decision is good or bad, depending upon the outcome.  That phenomenon is called resulting.
Professional Poker Player Annie Duke has developed a social science approach to decision-making.  She points out that high probability events sometimes don't happen and sometimes low probability events do.  If the odds of success are 80 – 20, we must expect that the 20% probability might happen in a single trial.  Does that mean that we should decide to do it again?  Probably not.
One example she uses — if you get home safely after driving drunk, does not indicate that it is safe to drive drunk.  While none of us actually believes this if we think it over, a person who has driven drunk without consequences may decide that it worked before.  And of course,eventually the real odds catch up.
Duke says that in order to make better decisions, we must not rely upon a single trial.  Or, as Eleanor Roosevelt said: "Learn from the mistakes of others. You can't live long enough to make them all yourself."
THINKING IN BETS: MAKING SMARTER DECISIONS WHEN YOU DON'T HAVE ALL THE FACTS, by Annie Duke.  Portfolio Penguin, New York, 2018.