Posted By Cliff Tuttle | March 27, 2012
No. 821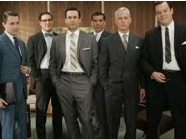 In case you've been in Brazil, or in a coma, you know that Madmen is back.  The two-hour premiere of Season 5 had stirling ratings.  And the times in 1964, they were a-changing.
At the beginning of the episode, a civil rights march is in progress on the sidewalk in front of the Madison Avenue headquarters of our heroes.  A competitor of Stirling Cooper Draper Pryce, located on another floor of the same building, has its own group of grown-up adolescents.  They drop water bombs on the protesters and are soon caught red-handed. Of course, it made the papers.
In their mirth over their competition's embarrassment, and in order to goad them, without the approval of the firm, Stirling and Draper run an ad declaring SCDP to be an Equal Opportunity Employer.
When everyone seems to have forgotten about the incident, one morning the waiting room at SCDP is filled with well-dressed black job applicants.
Lane Pryce, the Financial Officer who came by way of the Anglo merger of the old firm, takes charge.  They are only looking for a secretary, he announces, so all of the men can leave.  He will collect resumes from the women and contact qualified applicants for interviews. As the episode ends, that seems to defuse the situation.
However, there actually is a secretary shortage — Don Draper's secretary died and budget problems are requiring the partners to share.  The plot line suggests that we have not heard the last of it.
I once worked for an elderly lawyer who worried that a black temporary secretary sent over by the Bar Association Placement Service would offend the conservative clientele.  He moved her to the back office to be out of sight.  He needn't have bothered.  The other secretaries quickly introduced the newcomer to clients.  Everybody — staff, lawyers, clients — got on fine.  Sometimes we worry about nothing.
CLT