Posted By Cliff Tuttle | September 20, 2018
No. 1,559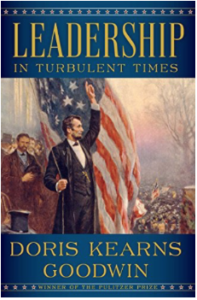 I'm reading (actually listening to) a new book by one of my favorite biographers, Doris Kearns Goodwin. It is titled "Leadership in Turbulent Times".  Goodwin has been writing books about Presidents Abraham Lincoln, Theodore Roosevelt, Franklin Roosevelt and Lyndon Johnson for fifty years. This one draws upon a lifetime of study to focus on the components of great leadership.
All of them were great communicators.  One characteristic they all shared was that they were all superb storytellers.  The stories they told from the podium fascinated listeners.  They were remembered, repeated in the newspaper, quoted in books.  They were often funny, disarmingly so.  They were usually instructive.  They didn't require much education of the listener. And they came naturally.
We lawyers are in the business of persuasion.  Unfortunately, our audience is sometimes predisposed to reject the message we are trying to communicate.  They can also be already bored and tune you out before you even start.
And so you have to wake 'em up and, if appropriate, get 'em laughing.  At least, you must be interesting.  Your presentation should be conversational, not oratorical.  As LBJ instructed the high school debaters he coached, you look one of them in the eye, talk to that person for a little while and then look somebody else in the eye.
When you are discussing the facts of your case, tell them in the form of a story.  When you are discussing a another case in your brief that you want to rely upon as precedent, tell the facts in the form of a story, too.
A well-told story can be disarming.  When Lincoln had removed his Secretary of War for profiteering, he was besieged by demands to fire other members of the cabinet.  He responded with a story about an Illinois farmer who discovered a pack of skunks in the hen house.  "I shot one", the farmer said.  "But the stench was so bad, that I figured that one was enough."
CLT