Posted By Cliff Tuttle | October 8, 2011
No. 732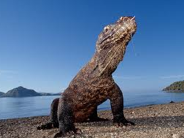 Security officers reported seeing a 5 foot alligator in Beaver Run Reservoir about a month ago but didn't remember to report it.  Big deal, only five feet long anyway.
The manager  of the Westmoreland County Water and Sewer Authority, Chris Somebody, told the press that the Authority wasn't going to worry about it, since it would just die in the winter.  Problem solved.
Not quite.  The Alligator set up a Facebook page to urge the public to rescue him.  Within two hours, the alligator had 4,000 friends.  It seems that everybody likes alligators.
More recently, a six foot alligator wars spotted walking along the beach.  The Dalai Lama called for the rescue of the Alligator.  Chris Somebody told the press that it would just have to die.  He wasn't paying security guards, whose job it was to guard the lake, to go looking for an Alligator.
Then, a seven and a half foot alligator was seen chomping on a goose swimming on the lake.
Okay, said Chris Somebody, if anybody wants to rescue an alligator, be my guest. The staff of Pittsburgh Zoo answered the call.  Hundreds of members of the herpetological society joined in the search.
An eleven foot reptile was spotted swimming in the lake with a cat in its jaws.  Alligators don't grow to be eleven feet long, said a spokesman of the zoo.  It must be a komodo dragon.
A horse was found dead by the lake.  The tooth marks were too large for a komodo dragon, said an expert from Carnegie Museum, who joined the hunt.  It must be a fifteen foot tyrannosaurus rex, said the expert.
Then it was sighted again by a group of movie producers, researching a possible film script.  It was Godzilla, they all concurred and it had left the lake and was heading northeast toward Cleveland.
CLT