Posted By Cliff Tuttle | February 2, 2012
No. 807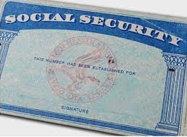 For the answer (which is quite interesting) click onto the blog Tax Girl.
When I was in basic training, the military decided to replace service numbers with Social Security numbers.I already knew that number, of course, because it had been my student ID number in college.
And so it went until the era of identity theft.
Bonus Question:  Where can an identity thief find a treasure trove of identities to steal, complete with authentic SSN's; AND (this is great!) where the victims won't complain?
Give up?  Oh, you knew!
Just look up the record of any estate filed with the Department of Court Records in Allegheny County or the Register of Wills elsewhere in PA.  Yes, they still require you to fill in the decedent's SSN on official documents.  And not the last four, either.  The whole number. [Don't tell identity thieves.]
When will the United States run out of 9 digit SSN's?  By my count, assuming they don't start reusing them, any day now.
CLT