Posted By Cliff Tuttle | April 26, 2015
No. 1,147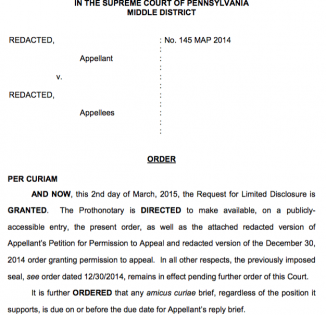 PLBT first reported on March 2, 2015 that a strange case, Redacted v. Redacted,  had been filed in the Pennsylvania Supreme Court.
The case name came about because the names of the parties were redacted from the record — literally, blacked out.  In fact, the record of the entire case was impounded.
In this very unusual case, an attorney for a non-profit alerted the Attorney General's Office of a potential diversion of funds by the non-profit client. This presents a unique ethical dilemma, because it is an apparent violation of the lawyer-client privilege.
We learned about the case from a blog post by Howard Bashman in How Appealing, who reports today that an article appears in the Trib with a meagre case update.
However, the Legal Intelligencer has the best coverage thus far, with an excellent report on April 13 and  a discussion in its ethics column on April 14.
Beyond what is reported in the Legal Intelligencer story, the public record is blank.  As a matter of fact, the index for the Supreme Court docket states that the case doesn't even exist.