Posted By Cliff Tuttle | August 17, 2011
No. 685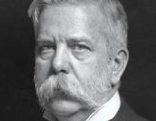 The Westinghouse corporations are marking their 125th anniversary this year with a series of radio commercials focusing on their founder, the great Pittsburgh industrialist, inventor and pioneering engineer.
These include a George Westinghouse quotation worth remembering.  I don't think about the past, he said, I think about what I am going to do tomorrow.
When we catch our mind dwelling upon past events — especially in a repetitive loop — Westinghouse advises us to cut off these thoughts and replace them with thoughts about what we should be doing in the future. If this transition does not come easily, make a list.
George Westinghouse's creative mind was as productive as it had ever been during the weeks and days before his death in 1914.  With World War I looming, he was busy inventing a new propulsion system for ships.  He literally died at work, building a prototype for an electric wheelchair.
CLT