Posted By Cliff Tuttle | February 19, 2018
No. 1,423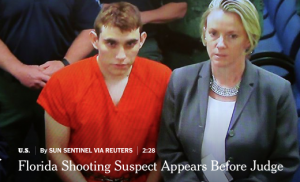 That's the situation that Nicholas Cruz finds himself facing.  Of course, it is of his own doing and he has already confessed.  Under our system of justice, however, he has a right to competent counsel, even if he cannot afford it — which he can't. We do this, not to give him some undeserved chance, but to be as certain as we can that we have it right.
I heard some criticism that his court-appointed public defender hugged him on the shoulder at the moment they walked into the arraignment and the full force of what was happening must have washed over him like a tidal wave.  In that moment, she told him that she was on his side.
There is nothing wrong here.  That's her job.  If you or I were dragged into court, wouldn't we want to know that the lawyer representing us was diligently working for us?   I would.
Nicholas Cruz is not going to escape justice (or whatever modicum of it may be possible in a circumstance like this) because he is represented by counsel.  The system works best when both sides are properly represented.
Being a public defender is a mostly thankless and poorly compensated job.  But, for our criminal justice system to work properly, somebody must present whatever defense there may be and do it properly.
CLT