Posted By Cliff Tuttle | April 28, 2018
No. 1,479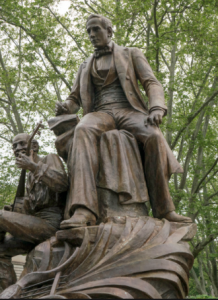 Why is no one protesting the removal of the statue of Stephen Foster, a Pittsburgh composer and an important figure in American history?  And why do the powers that be feel compelled to replace it with a statue of somebody (the candidates are all black women) whom you probably haven't heard about and who is selected exclusively to make a political statement?
The Wikipedia article about it has already been edited to note that Stephen Foster was unceremoniously hauled away to a warehouse on April 26, 2018. They even blocked the area so that no one could interfere with the workmen.  Who did they expect?  A white supremicist mob?  Or maybe a group of musicians?
The Mayor is quoted the the Post-Gazette to the effect that the statue is in too prominent a place  for its importance and will be eventually be placed somewhere more appropriate. Really?  You're kidding, Mr. Mayor, right? The statue used to be located in front of the Stephen Foster Memorial, That's a historical collection and performance auditorium at the University of Pittsburgh.  Why didn't Pitt claim the statue?  We know why.
Since the right to protest was denied at the time of removal of the statue, I suggest that a concert be conducted on the site, in front of the Foster Memorial. The sound of a hundred banjos playing Swanee River would be something to hear.
There is a statue of a woman nearby, though. It is located in front of the Museum of Art. An anonymous one.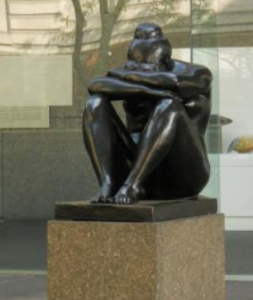 Across the street, in front of the Carnegie,  there are a few other statues, presumably protected, at least for now, by the fact that the City doesn't own the ground where they sit or stand.  These include Shakespeare, Galileo, Bach, Michaelangelo and oh yes, Dippy the Dinosaur.  There are a few more in Schenley Park, including Columbus, Robert Burns and George Westinghouse.  They might be white, dead men, but they are also great.  Except, of course, Dippy.