Posted By Cliff Tuttle | January 4, 2012
No. 782
Now are the times that try men's souls, the Summer Soldier and the Sunshine Patriot.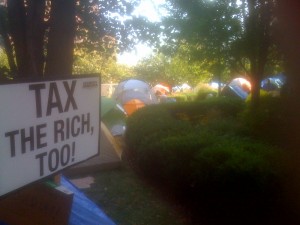 In the warm days of Autumn, Occupy Pittsburgh set up camp along Grant Street, amid the temples of capitalism.
But now it is winter with a vengeance.  Living outside in a tent, even when winterized, must be brutal.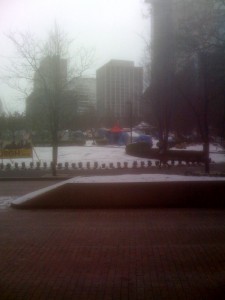 The Occupiers deserve credit for suffering in the cold for their principles.  It is 11 degrees this morning and they are still there. But now that it is serious winter,  why are they still suffering like this?  Are they accomplishing anything for their cause?
If their objective is publicity, and it is, they don't seem to be getting much now. The public has heard what they have to say and has moved on.  True, there will be a court hearing on their eviction, with attendant news coverage.  But the outcome at that proceeding is inevitable.  Judge Ward will treat them with respect and even compassion, as she does all litigants, but everybody knows that the Occupiers have no right to set up an encampment in Downtown Pittsburgh, regardless of weather (excuse me, whether) the park is dedicated for public use.  So, it is inevitable that they will be ordered out.And it is inevitable that if they do not leave voluntarily, they will be legally removed by force.
If I were one of them — and I would never be one of them —  I would accept the ruling of the court, pack up my tent and declare victory.  Yes, there is heat jail cells, but what do you prove at this point by going there?
CLT