Posted By Cliff Tuttle | October 18, 2014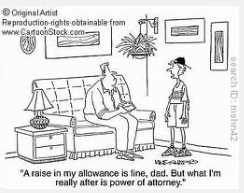 No. 1,114
Just a heads up.  Act 95 of 2014, effective in part on July 2, 2014 with more to come, must be consulted when preparing powers of attorney.
It all started with the case of Vine v. Commonwealth of Pennsylvania State Employee Retirement Board, 607 Pa. 648, 9 A.3d 1150 (2010). Plaintiff had executed a power of attorney naming her husband as agent at a time she was in very poor physical and mental condition. There was apparently some question whether she had the ability to enter into a power of attorney.  Her husband, employing the POA, made various elections in behalf of his wife under the retirement plan.Wife recovered and the parties were divorced.  She then attempted to reverse one of the choices her husband had elected for her under the power of attorney.
The Retirement Board refused to make the change.  Under the applicable statute as it literally stated and had always been interpreted, the Retirement Board was entitled to rely upon the Power of Attorney until revoked.
However, a divided Supreme Court held that, under the facts of this case, the Power of Attorney was not effective because Theresa Vine was not competent to execute a power of attorney and that the Board was liable to her for relying upon it..
This resulted in a reaction by banking and estates lawyers that ultimately resulted in legislation that went far beyond addressing the Vine case. The Advisory Committee on Decedents' Estates Laws had issued a report recommending changes in Chapter 56 of the Probate Estates & Fiduciaries Code, which dealt with powers of attorney and Chapter 54, "Health Care Powers of Attorney."  However, Act 95 went beyond the recommendations of the Committee.  According to one source in the general assembly, moreover, the legislature is not finished revising the law on powers of attorney.
After January 1, 2014, all powers of attorney are required to be executed before a notary (who cannot be the agent) and two separate witnesses.
A power of attorney may be signed by a third party on behalf of the principal if the principal is unable to sign and specifically directs the other person to sign.
In addition, the notices to be signed by the principal and agent have changed.
The powers of the agent have been, in some cases, expanded.  Significant among these is the power to make gifts.
Of course, the moving purpose of Act 95 is to address the holding of the Vine case, which it does. The increased formalities, including the presence of witnesses,  are intended to ameliorate concerns regarding the competency of the principal to execute the power of attorney.  Civil liability is imposed for a third party refusal to honor the power, a somewhat revised format.
The changes under Act 95 are too numerous and have too many new implications to be summarized here.  Any attorney undertaking to prepare a power of attorney after January 1 should become familiar with the provisions of Act 95 before drafting.
CLT