Posted By Cliff Tuttle | June 26, 2018
No. 1,511
At this point in our history, there shouldn't be much disagreement on the proposition that aliens who are physically in the United States are entitled to due process under the Constitution.  The Supreme Court so held a generation ago in Kwong Hai Chew v. Colding, 344 US 590 (1953).
Due process means that an individual is entitled to his day in court, with a fair opportunity to state a defense.  The biggest problem with cutting off such a right is that you don't know the facts of the case until the government, who seeks to take action, is required to present the evidence to an impartial judge who has the power to decide the case.  In four and a half decades of practicing law, I have seen many situations, in cases of all kinds, where the conclusion seemed obvious until the defense was heard.  In America, we protect the rights of a single person, even one who may have little or no power.  We do it as a matter of principle, applying the rule of law in an impartial manner.  Due Process focuses on procedure, not outcome.
The President has recently asserted that undocumented individuals who have crossed  the boarder should be arrested and deported without a hearing. Below is what he said in a tweet on Sunday. 119,000 subscribers to his Twitter feed agreed.  I am not one of them. Such a program would be a clear denial of due process.  And it is very likely that a Federal Judge would issue an injunction against such action; rightly so.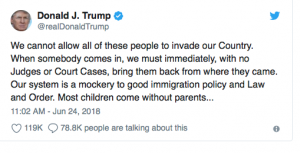 Unfortunately, due process rights that are technically available under law are not always automatically offered by the government.  When ICE arrests an individual and does not give him or her an opportunity to notify their families, that is a denial of due process. The prisoner has no opportunity  at that point, without outside help, to plan a legal defense. Its not that the procedures are not there, but the prisoner being held does not have the practical opportunity to utilize them.  Casa San Jose's rapid intervention program utilizes available procedures to get the defense process started while the prisoner is still in Pittsburgh.  That information can be used later somewhere else, when there is an opportunity to go before a judge.
Due process has nothing to say about the merits of a particular case.  It is not about gaining an undeserved advantage or outcome. It is about receiving a fair opportunity to present the case to an impartial judge. To deny such a right is to pre-judge the case. When put in that light, how can anyone object?
CLT