Posted By Cliff Tuttle | July 20, 2011
No. 656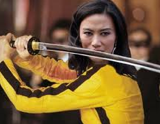 All things considered, it turned out to be a better day for the house of Murdoch (at a day of testimony before a committee of Parliament) than could ever have been expected.  Its an illustration of the adage that when things can't be worse, they start getting better.
No, she wasn't wielding a sword today.  Lucky for the comedian. And no, his name was not Soupy Sales.
Below is a video of how it all happened. Excuse the commercial message, its the price of free. Too bad that the News of the World wasn't there to cover it.  It was their kind of story.